Ali Williams
In 1986, Ali Williams joined together with four friends from Cardiff to create NoFit State Circus. They had no formal training and no theatrical experience, but they could juggle and, at that time, like a lot of people, they had nothing to lose. Britain was in the middle of the Thatcher years, with many of the country's young graduates unemployed, restless and angry.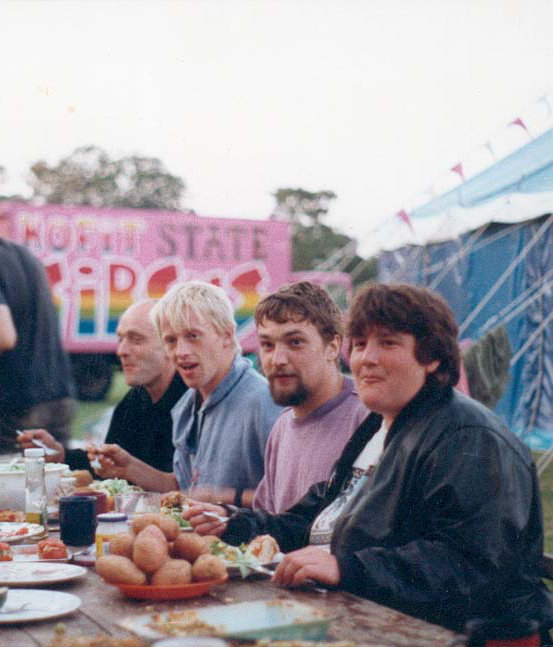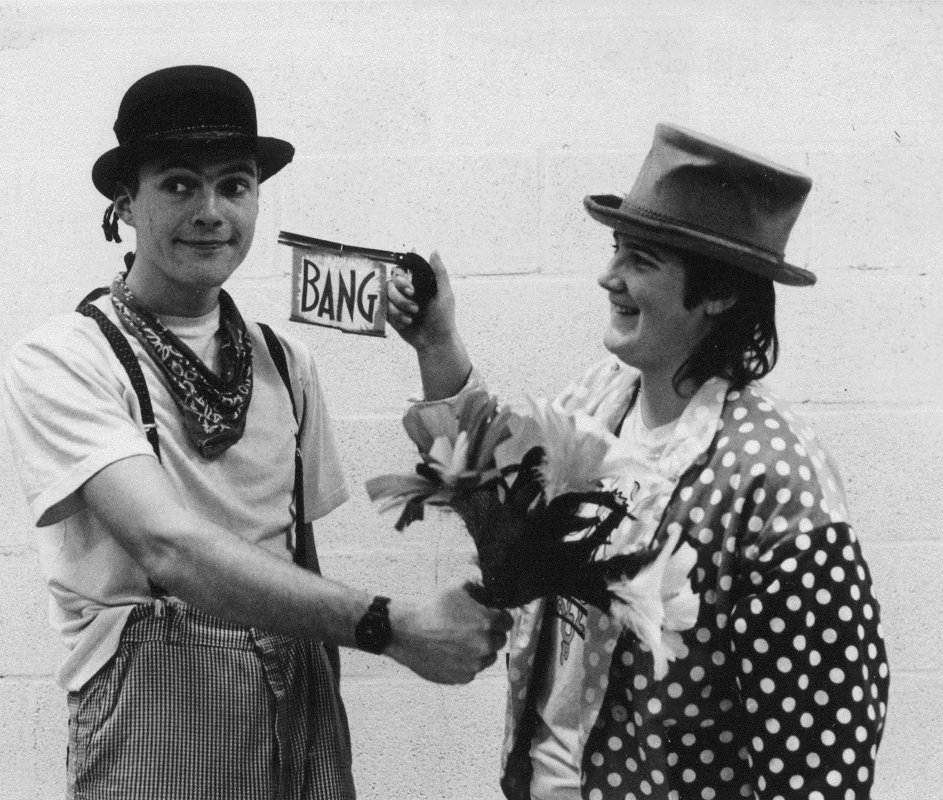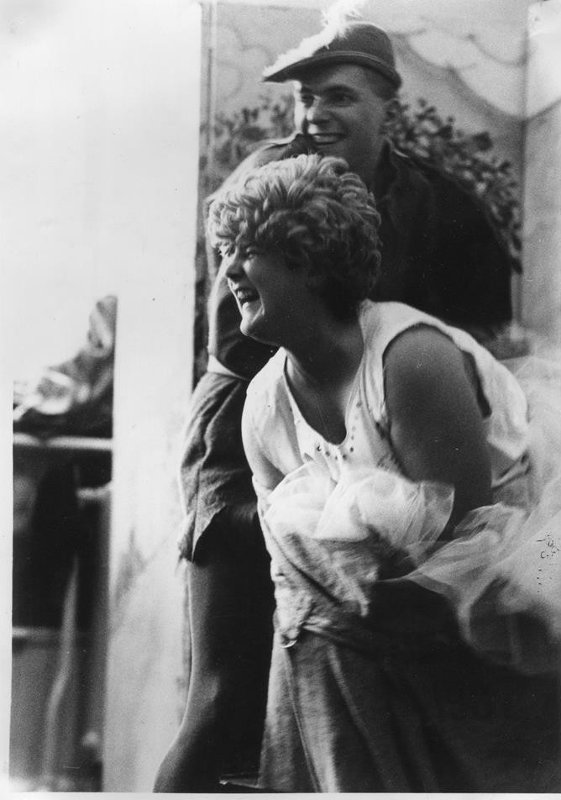 "At that time everyone was in the same position politically: trapped in Thatcher's Britain with not much prospect of any job or hope for the future—apart from a future you could create for yourself."
Nicaragua
In 1988, in response to the murder of the American clown Ben Linder by Contra militia, Ali went on a tour of Nicaragua with Jugglers for Peace. Performing at the schools, orphanages, hospitals and communities of the country was a pivotal experience, and one that inspired the ethos that would drive much of NoFit State's future work.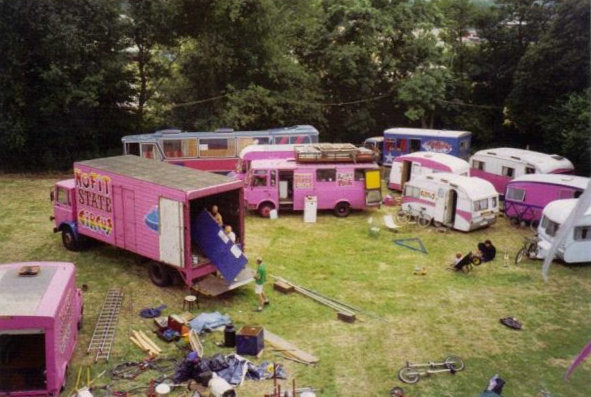 Ordinary People
"Youthful enthusiasm—that's what NoFit State had. Youthful enthusiasm, and the naivety to not understand that actually what we were doing was really bloody crap."
After scrapping it out for two years playing community centres and street shows in Cardiff and the Valleys, in 1988 NoFit State joined the Big Fun tour organised by Arts Play Umbrella and had their first taste of travelling with a circus tent. By 1990 they'd pulled together enough money to buy their own (the Blue Tent), and had joined a small vanguard of UK circus companies—including Snapdragon, Circus Burlesque and Swamp Circus—that'd had the same idea. 'Back then there seemed to be enough work for everyone to go round the country in their tents,' says Ali, 'and there were lots of local festivals to play at. Our tours started in May and went through to September, and we were working pretty much all the time.'
The company fell into a rhythm: they'd rent their tent to the British Juggling Convention in April, use that money to pay for their summer tour, and then go back on the dole in September to organise the next year. Through this period the young NoFit State were making a series of issues-based shows: A Wish Washes Whiter and The Defective Detective (environmental thrillers) Dodo Island (on the damaging effects of the oil industry), and Faust (about political corruption). In 1988 they were banned by Hounslow Council for doing a performance about a villain 'dropping chemicals down the wishing well where the pixies lived'. 'It wasn't deep,' remembers Ali. 'The shows were kind of pantomimes, a mixture of drama and circus skills. It was about being entertaining, spreading a message, and making sure people could come and see it.'
"It was meant to be ordinary work for ordinary people in ordinary places."
(1.03m)
The company continued to take the Blue Tent out every summer, and between gigs would split into two street acts: Ali and Dave Williams as Dangerous Duo, Peter Gregory, Tom Rack and Richie Turner as Risky in Pink. Then in 1993 NoFit State were approached by the Welsh National Opera to work on a community project. The company were already delivering workshops and training, but this was nonetheless a significant turning point: the moment when they realised they could be working with their own communities to deliver performances on a much larger scale.
Absorbing the WNO's process, NoFit State had found a new way of working and a new style of performance—one that they would spend years developing and that would propel the future growth of the company.
A New Style
In 1995 NoFit State produced Autogeddon, a promenade performance in a Cardiff warehouse that was an early precursor of a new style of show. Based on a Heathcote Williams poem that imagines an alien race looking down on the world and understanding that it has been colonised by the autocar, the show was made and performed in collaboration with several local art groups and 100 community members. Circus Space sent a flying team to play the aliens.
The director of Autogeddon, Firenza Guidi, would go on to have a long-running relationship with NoFit State. In practical terms the shows they made together were promenade performances, participatory and large-scale, playing in large warehouses or eventually a new NFS tent (the company's silver spaceship). In aesthetic terms they were colourful, elemental (fire, especially, was prominent), and played tricks with scale and verticality, alternating between 360 degree chaos (wrapping the audience in a lively, noisy marketplace energy) and single-point images with a filmic or magic realist quality (three-storey dresses, columns of rain just a person wide). They had live bands, and complex rigging requirements that saw the counterweighting teams themselves become part of the performance.
After Autogeddon, and some further experiments in the form of a trilogy of 'stepping stones' leading up to the millennium, the company went on to create Immortal, Tabu and Bianco in this style—three shows that had long touring lives (Bianco is still on the road) and evolved enough between runs that the company divided them into versions and sometimes framed them as numbered sequels.
As the performances grew, so did the company. In 2004, NoFit State found a home in Cardiff, the AnneXe, where they could create and develop material as well as house their offices and run an extensive training and workshop programme. When they outgrew this, Cardiff City Council offered them Four Elms, a rundown Methodist Church that had lain empty for a decade. As they worked to renovate it, they picked up another building—John Street, a large warehouse complex formerly used by Welsh National Opera for rehearsals. In 2011, after existing more than twenty years, they became a regularly funded company for the first time.


Managing Risk
NoFit State began as the project of five skint friends with nothing to lose. Now the company has a turnover of around £2 million a year, with a £100,000 chunk of core costs covered by takings from the big tent show. Each year about £30,000 (1.5%) is left over for creative research. What risks can you take when there's so much more on the line?
Conversation Notes
Ali Williams was interviewed on 3 July 2015 at NoFit State's John Street building, in the office of NFS co-founder Tom Rack. NoFit State Circus was founded in 1986 by Dave Williams, Peter Gregory, Richie Turner, Tom Rack and Ali Willams. For 30 years Ali served as joint artistic director of NFS alongside Tom Rack, and now continues to work with the company on a project-by-project basis. Her recent projects include touring Bianco, working on Open House, and managing the development of an NFS oral history archive (led by Toby Philpott, the man who originally taught the NFS crew to juggle). In December 2012 Ali took a year's sabbatical and went to Nepal to work with Circus Kathmandu. With the group she developed the show Swagatam, which, after substantial visa wrangling, played at Glastonbury Festival in July 2014, also touring in Nepal and internationally.
A lot of the dates and chronology given in this write-up were supported by NoFit State's archive project, From Balls Up to Bianco, which launched in December 2015 with a detailed timeline tracking the company's development.
Enterprise Allowance Scheme
In the early 1980s Margaret Thatcher introduced the Enterprise Allowance Scheme, a measure to support unemployed people to set up their own businesses. Mark Morreau makes a convincing argument that the policy was a critical and under-recognised accelerator of the UK's contemporary circus scene, so here's a clip for historical completeness:
Waiting for Funding
Over the course of the interview, and outside of it, we talked a lot about parallels between recession Britain in the 1980s and the atmosphere of austerity today. Ultimately Ali saw there were similarities, but also felt that 'people have changed so much, politics have changed so much, society has changed so much', and that particularly attitudes towards welfare/benefits have shifted fundamentally. 'In the 1980s everyone was on benefits and there wasn't a stigma. It was Thatcher's problem that everyone was on benefits, it was the government's problem. It would be much more difficult to be twenty and creative if I was unemployed now.'
There seemed to be a balance though—between recognising changing circumstances and having the energy to act outside of expectations. With this in mind, I asked Ali if she felt frustrated that more young circus artists didn't just go for it when making work.
"We weren't funded to make work; we just made work because we weren't doing anything else."
(1.40m)
Related Materials