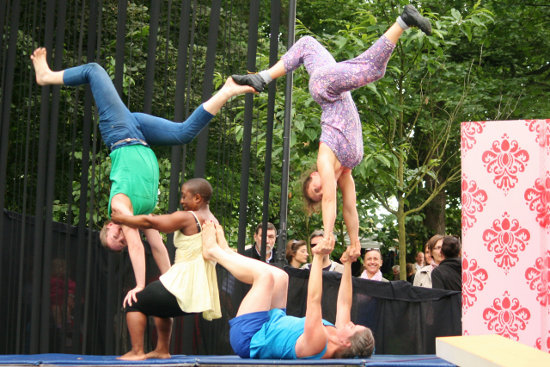 Falling Up is a physical tale of four women and what makes them who they are. There is no such thing as a perfect body, but each one is extraordinary. Devised by the UK's premiere all-female street theatre company, using acrobatics, dance and humour, Falling Up celebrates the beautiful reality of everybody.
Falling Up is a show that raises questions as well as entertains, celebrating the fantastic capabilities of human bodies at the same time as it challenges the notion that we all have to live up to warped expectations of what is 'normal' or 'beautiful'.
Falling Up is a medium-scale acrobatic theatre production which was originally designed for audiences on the street, in parks and squares or any other public space, but which is now also being developed as an indoor show with the support of Jacksons Lane. The indoor piece will begin as a promenade performance, the audience meeting the characters and taking part in their stories across the building before joining up in the main theatre space to watch the show unfold.