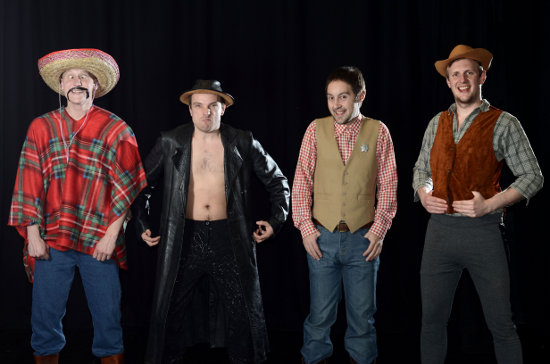 A tumbleweed silently rolls across the dusty stage... The clink clink clink of spurs echoes throughout the theatre... The saloon door opens with a long, drawn-out creak... The piano player hits a bum note and comes to a stop... A short, dark stranger lifts the rim of his hat and shoots a steely stare out to the audience... Welcome... to Kidneystone...
In Once Upon A Time In A Western the audience is taken on an interactive, fast-paced journey across the Wild West as the town of Kidneystone is threatened by outlaw and all-round bad guy Loco Pedro, who is secretly in cahoots with the Mayor to rob the town's train of all its gold. Following the death of Sheriff Ned the town needs a new lawman but, unfortunately, this role falls to Rudi, the saloon's piano player who is just not up for the job. What Kidneystone needs is a hero! Luckily Mr Ruffles, Old Boy John's dog, gets the word to Billy, Ned's nephew and all-round wholesome guy. With help from the locals, Billy aims to avenge his Uncle's death and bring justice to Kidneystone.
The show integrates clowning, live music, physical comedy, audience interaction, pistols at dawn, sugarglass bottles and a gang of inflatable Mexican baddies.