Below are summaries of the speaker presentations and the Q&A session held for the Circus Question Time event on 18 April 2013.
Leila Jones: Introduction to Circus at the Roundhouse
The day began with Leila Jones' introduction to the Roundhouse's circus programme and their biennial CircusFest. Formerly Circus Front, this month-long festival programmes across the Roundhouse's main space (enormous), its studio (small), the corridors and basement spaces of the Dorfman Hub (unusual), and within a pop-up space in the Roundhouse car park (last edition a wood-and-mirror Spiegeltent). In 2012 the festival also expanded to host shows at partner venues Jacksons Lane and artsdepot.
For each CircusFest the venue gives one big commission: in 2010 it was Trash City, in 2012 Professor Vanessa's Wondershow. In 2014 the major commission will be Puffball, a piece directed by Mark Storor and devised following six months of workshops held with LGTB young people.
Each edition the Roundhouse also commissions a photographer — in 2010 Matilda Temperley; in 2012 Phil Fisk — and one or more pieces which in some way explore the combination of live performance and digital technology. In 2012 the digital piece was Il Pixel Rosso's The Great Spavaldos, a video goggle adventure where the two audience members / participants find themselves playing the roles of a legendary flying trapeze duo.
Between editions of the CircusFest the Roundhouse programmes individual shows to develop the audience for circus at the venue — some of these large pieces like La Soiree, De La Guarda's Fuerzabruta, or NoFit State Circus's shows. The Roundhouse also runs eight youth circus sessions a week and operates a professional youth group called Funk Da Cirque.
Phil Newby: CircusFest Brand and Marketing
Phil Newby, Head of Marketing at the Roundhouse, concentrated his talk on the visual identity adopted for the CircusFest, and on the lessons the marketing team learned between the first edition in 2010 and the second in 2012.
First Phil put into perspective the scale of the festival in 2012:
- 67 performances
- 19,000 tickets
- A potential 35,000 tickets at box office
- A marketing budget comprising 10-12% of the total budget
Coming into 2012, the Roundhouse's marketing department had identified three problems from the 2010 festival:
Reluctance to commit to festival marketing: In 2010 the Roundhouse produced marketing materials for the CircusFest's big, headline shows that presented them independently — not under the banner of the festival. The smaller shows therefore didn't benefit from this publicity.
Website limitations: Tied into the point above, the Roundhouse website presented individual shows discretely, in the way of regular events, and didn't give a sense that there was an online space to find out about the festival.
Marketing focus on artist billing: Promotional materials were centered on the presenting company or the artist, but these were artists without much name recognition among the general public. It therefore would have been better to concentrate on the festival brand.
In 2012 the marketing committed much more heavily to promoting the CircusFest itself. For a headline image the marketing team used the Matilda Temperley photo below, something that was traditional and recognisable but that had a contemporary edge. The black and white original was coloured by the design team.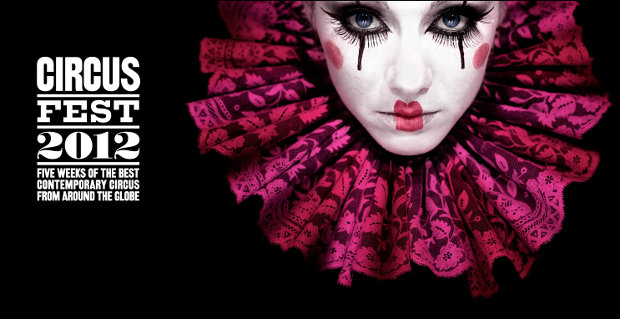 The stacked typography, like the image itself, is both old and new: the visual style recalls traditional letterpress posters, but uses a more contemporary font set. In working on the design and brand the team wanted something that was strong and distinctive but that could be reused as a template — a design that could be updated each year without having to start from scratch.
The festival was given its own sub-site on the main Roundhouse domain and the marketing materials there were led by content: videos and audience interviews (along with prompts to share these over social media). Phil pointed out that reviews are not as important as they used to be in drawing audiences to work, and that social recommendation is the way most audiences reduce the risk involved in buying a ticket.
Angus MacKechnie: Watch This Space
Watch This Space, the National Theatre's outdoor summer festival, was introduced by its Creative Producer, Angus MacKechnie. WTS started as a music and performance festival but moved towards presenting predominately circus and dance work because music festivals, both free and paid, have become abundant in London.
As well as booking existing performance work, much of it by international companies, Watch This Space also has residency weeks where it can invite a company to use the NT Studio to work on an in-progress or entirely new show. Angus gave the example of the UK company Gandini Juggling, whose show Smashed was devised and produced during a WTS residency.
Another annual residency is given to Circus Space, who rehearse and perform their graduation show at WTS (Angus estimates around 6000-8000 people see the students perform or rehearse during their week).
The festival is entirely free, and one of its commitments is to present the work without using it as a way to sell tickets or funnel people into the NT cafe. Angus sees this as being especially important when people have less money for leisure, and says that a big part of the festival's regular audience is parents looking for a free summer for their kids.
The National Theatre don't programme indoor circus because other people are doing it already, and the role of the NT is to focus on text-based work. However, WTS benefits from the NT's cultural and geographical prominence (the festival taking place in the NT Square, right on the busy thoroughfare of London's South Bank). Angus drapes big NT banners around the Square so that the festival's work is connected to the National.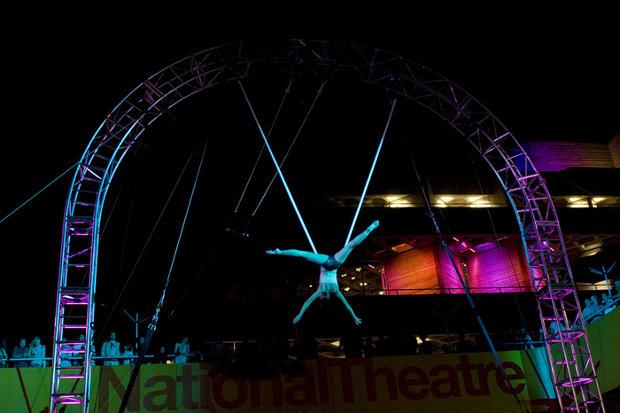 WTS uses the National's regular theatre technicians, and Angus stresses that they quite easily adapt to circus — and that they tend to actually enjoy getting to work outside up a tree.
WTS is currently on a hiatus year as the National Theatre undergoes some major redevelopment work, but will return in 2014.
John Dix: Rigging Circus Productions
In his talk John Dix addressed the question of how a venue's technical specifications affect its ability to host circus productions. His takeaway point was that in general venue's didn't have to invest large amounts of money, and that preparing a space for circus work can mean giving attention to just a few small details. John highlighted two in particular:
1. Attachment points: Most venues in fact already have attachment points that circus artists can use to rig their apparatus, but in some cases don't have information on how much weight they can support. It is relatively simple to have these load tested, or new attachment points can be installed for the cost of a few hundred Pounds.
2. Floor loadings: Likewise, many venues don't have information on how much weight their floor can safely support, which becomes important when artists use ballast weights to rig their apparatus.
John also emphasised that circus companies are usually largely self-sufficient: they bring their own equipment, which they themselves test / rate and take responsibility for. At Circus Space the students are also taught how to produce a method statement and risk assessment, and John recommends that venues ask for these two documents upfront when hosting a circus production.
John closed his presentation by urging venues to invest in training for staff, as while outside specialists can be brought in when necessary it's nonetheless helpful for in-house technicians to gain an entry level understanding through short training courses (such as a one-day Working at Height seminar).
Fiona Greenhill from the Albany echoed some of John's points, saying that the companies brought their own equipment when performing in the Albany's Circus Bites cabaret. Fiona also pointed toward the venue's relationship with associate artist Vicki Amedume as a good way of bringing in specialist knowledge and handing it on to the in-house technicians.
Adrian Berry: Jacksons Lane
The last speaker was Adrian Berry, the Director of Jacksons Lane, a leading venue in the UK for the support, advocacy and development of contemporary circus.
Asked to talk about programming small- to mid-scale work, Adrian's response was that he doesn't, or doesn't really: there's no work to programme.
The reality is that work is being created but that it's not touring. Jacksons Lane is funded as a receiving venue rather than a production venue, but has given in-kind support to assist the creation of around 80 contemporary circus shows — of which only 15 have toured. New companies are created, but quickly die because they make the work and then can't show it.
Adrian closed by saying that it was the duty of venues to support the work, to have faith in it, and to create a viable ecology for emerging companies to tour their work.
Q&A
Below are summaries for some of the topics discussed during the Q&A session following the presentations.
Marketing circus
Asked how to describe circus in layman's terms, and especially how to encapsulate shows that have no clear story, Phil Newby responded that for the CircusFest the Roundhouse marketing team started by trying to think how to describe productions in one sentence, keeping in mind their audience and its knowledge. Phil sees marketing as something that mediates between artist and audience, bringing them to the work.
Ben Travis from the Marlowe Theatre said that there's always a temptation to dumb down the marketing of the shows, and that it was difficult to keep a balance between preserving the individual character of a production and giving the audience what they want (skill, excitement, recognisable images). Ben also pointed out that if you push the spectacular nature of the work too hard then it perhaps only works once — or only every once in awhile, as there's not enough to distinguish the different experiences of two circus productions (when in reality they are likely very different in their content and style).
Programming circus
Michelle Dickson from Oxford Playhouse said that they programme circus work and get great audiences with it, but that they mostly programme international companies. They want to pick up small companies, but they don't know the artists and the artists seemingly don't know the venues.
Nicolas Young from the Riverfront in Newport said that they are also a venue who programme circus and want to put on more, but that they find that there's a 'bizarre, artificial barrier' between England and Wales, and that English companies are scared of spending their ACE funding in another country.
Lina B. Frank from Bristol Old Vic offered the example of BOV's partnership with Circomedia: BOV sometimes supports the development of work (such as Apocalyptic Circus' "Push Me, Pull You!") that's too big for its Studio, and so sends it to Circomedia's St Paul's Church. Both parties benefit, and both bring their own audience to the show.
Short work
Jude Hutchen from Circomedia said that much of the work being produced was not full-length and that they'd found people don't pay to go and see a 25 minute show.
Adrian Berry explained that Jacksons Lane started their Postcards festival as a platform for short work, and that they partnered with Circus Space to present a night of very short pieces developed through the research programme Lab:time. One of those was by Arron Sparks, who showed a ten-minute juggling piece that later became the Circus Geeks show Beta Testing.
Another suggestion was that a short live performance could be combined in a double-bill with a film screening.
Artistic residencies
Bill Harpe from Black E Arts in Liverpool said that they have just finished construction on a space built and designed with aerial circus in mind, and that they also have accommodation that can host visiting artists. They have no budget to commission, but can potentially give space in return for companies doing youth workshops and outreach.
Lise Hoez from La brèche said that their strategy is to give residencies tied to free, unticketed work in progress showings: people come to the free performances, and then later buy tickets for the finished shows when La Breche programmes them into its festival Spring.
Elspeth McBain from Lighthouse in Poole said that they started off very nervous about programming circus, but have stuck with it and developed it as a strand of their programming, and that doing so has brought new audiences to the venue. Lighthouse have also dipped their toe into European funding (becoming a partner in the PASS network) as a way of raising the money to both programme international work and have companies do creation work at the venue. She said that bringing companies into the space in this way has been crucial — it's meant that the venue, and the people who work there, have 'touched the art'. As a receiving venue you don't actually get to know the company and the work.
Touring networks
House came up several times as a viable model for a touring network: an initiative that works with both artists and venues, giving administrative support to companies (including helping the to book tours) and advising venues on their programming. Over 100 venues have signed up to House, and of these about 40 have programmed work.
Circomedia as a mid-small scale venue is interested in consortium programming.
Pontio in Bangor already have consortia for theatre, dance and music, but nothing for circus — and would like particularly to connect with venues in Manchester, Liverpool, and nearby areas.
Technical requirements
Touching again briefly on the subject of circus' technical requirements, Fiona Greenhill from the Albany said that they'd be happy for technicians from other venues to come in and observe the rigging of a Circus Bites night.
Vicki Amedume said she thought that many of the issues around rigging for circus centre on language — and that circus technicians and regular ones often use different terms, but have mostly the same knowledge.
Leila Jones said that even though the Roundhouse programmes a lot of circus work and do much of their rigging in-house they still work with an outside company, High Performance, as expert consultants.