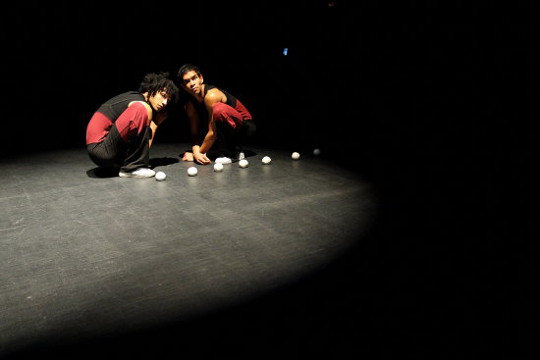 Technique-focused juggling monkeys. Laurates of the Jeunes Talents Cirque Europe scheme, class of 2009-2010 (and a standout company from that year), DeFracto are jugglers Guillaume Martinet and Minh Tam Kaplan working with the musician David Maillard. Their first piece, Circuits Fermés, turns on a dime – beginning as a sweet expression of the interactions between two harmless juggling animals, then snapping into a dark sort of reimagining of the Cain and Abel story. Their cooperative juggling style is fast, uneven and precise – arrangements with definite end-points rather than cyclical patterns.
Magazine
By John Ellingsworth on 9 November 2011 in
Reviews
Going in for the finished version of Circuits Fermés at Auch's Festival Circa I'd seen it twice before as a twenty-minute presentation, and was stuck with this idea that it was like an opus of juggling études.