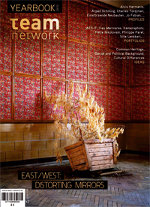 A strange, lyrical review-essay about Latvian director Alvis Hermanis, the Iron Curtain, and the songs of Simon and Garfunkel; a miniature, sideways reflection on the fall of the Berlin Wall, seen through the lens of a documentary film about the Berlin industrial music group Einstürzende Neubauten; a trip through the urban and mental landscapes of post-Soviet Georgia and Armenia that takes in kamikaze loggias (housing extensions), euroremont ('eurenovation' – political movement toward Westernisation, pro-euroatlanticism and pro-capitalism), and ad hoc public transport as a living map of the pre-Soviet city and language; a ten-page catalogue of sometimes obscene Russian porceline figures representing riot police in explicit liaisons, women stretched over stacked bags of Vetonit brand wall plaster to accommodate the hard-hat builder behind, lesbians with rottweilers, etcetera.
East/West: Distorting Mirrors is broad and deep. Collecting from the 09/10 output of TEAM Network, a consortium of thirteen arts magazines from eleven European countries, it touches on dance, circus, sociology, visual art, architecture, film – and in the context of many different cultures and local histories. Each article is a window onto a carefully chosen and revealing scene.
A couple of the anthology pieces are outright fascinating. In choosing a favourite I'm torn between Jean-Pierre Thibaudat's elegant, laconic travelogue recounting a formative trip to the 'godforsaken town' of Nurba in the company of Charles Tordjman, later to become director of Metz's Passages Festival, and, then, Tim Schall's 'Guns and Roses or Dancing Through the Cold War', a piece about the CIA's secret funding of artistic exports as a form of cultural warfare. The former almost could have been written by Bruce Chatwin, the latter is a drily funny record and microcosm of the Cold War's deadly seriousness and, yet, essential ridiculousness: 'In fact, early US attempts to send ballet to Russia were rebuffed. In 1949, Ballet Theatre offered to tour Russia if the USSR would provide the orchestras. The first secretary of the Soviet Embassy in Washington wrote a frosty letter in which he recommended that US dancers "acquaint themselves with the achievements of the ballet art in our country, which has stepped up to a new high level of perfection during the days of Soviet power".'
One point of disclosure for those with limited interests – and as a weary, mandatory nod to the fact that this is a circus website – is that the only fully visible circus connection is a feature on Árpád Schilling, a Hungarian director who recently worked with students of CNAC on their degree show Urban Rabbits. After a quick rundown of his work there's a brief – very brief: three-question – interview with Árpád about working with circus artists. For all that it's abrupt, it's interesting to hear why he took the job: 'What else could it be other but admiration? Is there anyone more wonderful than the person who leaves a safe point when the point of arrival only exists in his imagination? I can learn from how they practice their trade. I'm also attracted to this experience because it gives me the possibility of finding within myself, for the first time in my life, the person who serves. I'm not the one bringing the ideas, but they are gently leading me along the path that they are searching out for themselves. Even if they are not aware of their search, I can see the direction they are headed for. It's as if I were moving between the lines of a huge poetic work.'
As is often the case with European arts publications in English, the translation is quite a way short of flawless – it varies from article to article, translator to translator, but I found it was only in the slightly stodgier, academically-minded pieces (of which there are two or three) that this became a drag. Elsewhere it is simply put aside, or occasionally turns up some poetically twisted phrasemaking. In the case of 'The Orange Dog and Other Tales (Even Better than the Real Thing)', a series of portraits compiled by the art collective Kontejner I, it creates something illusive and compelling. The Orange Dog project is essentially to document Croatia's (poorly recorded) history of performance art, but in doing so it intends to 'skip the step of attempting to create a convincing historical "text" and [go] directly to the stage where this "text" is revealed to be fiction – art history drama as an invented genre, where history keeping is closer to oral cultures and medieval sacral plays than a scientist's archive'. The article itself takes the form of 14 portraits of performance art events, with a short descriptive paragraph and two photographs – one of the original performance, one of a recent recreation. The live slaughter of a turkey? An artist madly destroying an art gallery with a sledgehammer? A woman covering her naked body with dough and cherries? Musical vomiting to the tune of a famous song about a dalmatian (Dalmatinac nosi lančić oko vrata)? All plausible. The translation seems to hide something behind its skewed syntax and word choice. I have absolutely no idea whether the whole thing is a joke, stunningly told – absolutely no idea, and, honestly, I'd rather not know.
All in all, it's a satisfying and nourishing read. Presentationally, the anthology is not quite a book, not quite a magazine – A4-size; perfect bound; thick, good paper. It looks very nice, feels very nice. I've seen similar annuals on sale for more like £10 or £15; this one is a remarkable 6 Euros. It's such an easy one to recommend. Buy it.
Contents
Experiences
André Dourado, 'Twenty Years of Encounters and Disagreements in Freedom'
Gwénola David, 'Árpád Schilling: Counter-Courant'
Árpád Schilling, 'The Essay Notes of an Escapologist' (extracts)
Arnd Wesseman, 'Jo Fabian: I Am To Blame'
Gianni Manzella, 'Alvis Hermanis: Hello Darkness, My Old Friend'
Jean-Pierre Thibaudat, 'Charles Tordjman: Charly in Shamanland'
Jeannine Dath and Célyne Van Corven, 'Touring Outside Western Europe' (interview with Nicole Moussoux, Thierry Smits and Rahim Elasri)
Goran Stefanovski, 'Transartists and Cisartists'
History
Tim Scholl, 'Guns and Roses or Dancing Through the Cold War'
Karolina Markiewicz, 'Post-blocs and Alter-blocs'
Thibaut de Ruyter, 'The Walls Down... Who are you Trying to Kid?'
Joanna Warsza, 'Ruins of our Times: Urban and Mental Landscapes of Post-Soviet Georgia and Armenia'
Eda Cufer, 'Enjoy Me, Abuse Me, I Am Your Artist: Cultural Politics, Their Monuments, Their Ruins'
Portfolios
Ville Lenkkeri
Martim Ramos
Petre Nikolovski
Philippe Paret
Kontejner I Bureau of Contemporary Art Praxis
AES+F
Ilias Marmaras