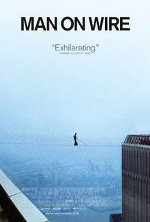 First, Man on Wire is a love story, starting from the moment wirewalker Philippe Petit, a young man in a dentist's waiting room, first sees a magazine article on the construction of the World Trade Center towers. 'It was as if they had been built specially for him,' says his friend, and Philippe is smitten. He walks between the towers of Notre Dame and Sydney Harbour Bridge, trains and improves, but his eye is always on the bigger prize, and when finally, years later, the WTC is nearing completion, he brings together a team to plan and execute a forbidden walk. The act is all that matters to Philippe, not the before or after: 'I must be a castway on the desert island of my dreams.'
Second, the film is a heist movie, with Philippe and a band of supporters and accomplices planning the WTC attempt: they pose as journalists in order to enter the towers, take pictures of structural supports, and interview construction workers about the dangers presented by extreme weather conditions; they set up a long wire in a field for Philippe to train on, his friends hanging off and jerking up and down to simulate wind turbulence; they build tiny models to try and see a way through the considerable difficulties of rigging between the towers. The story is told through archive footage, reconstructions and interviews, and there's a nice counterplay between the film's talking heads: the French group, Philippe's friends, who are quiet and intense and shy, pulled in by his charisma, essentially working as his servants; and the American accomplices, out for the most part for adventure, reading the WTC attempt perhaps more as a countercultural act than a poetic one (best among them is Barry Greenhouse, the man on the inside; he was the Assistant Director of Research for the New York State Insurance Department on the 82nd floor, but in an archive photograph looks like a Crowley-esque demonist, and perhaps just liked a bit of trouble).
Third, finally, Man on Wire is a portrait of a confounding, arrogant, blinkered, brilliant man. In interview Philippe is animated by the memory of his genius, mixing metaphors like a mad alchemist and re-enacting tense moments within the tower by using a curtain as a stand-in for some tarpaulin he hid under to elude a guard – his childish and excitable rambling radically at odds with the absolute, iron self-belief required to perform his art, and with the 'ageless mask' of his face on the wire. You feel as though wire-walking might have been the only thing Philippe Petit ever found to take seriously.
In the end, the strands of the film are tied together in the walk itself, an act of great beauty and great calm, told mostly through still photographs. When the police come they are powerless and wait either side, Philippe dancing close and then away to tease them, and on the street far below his friends are joined by a crowd of passers-by, who see something they might never forget. As one says: 'It was against the law but not wicked or mean – it was wonderful.'