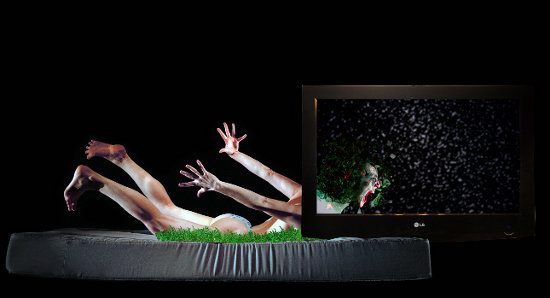 I first came across Precarious when they were showing Junction 8 at C Chambers during the 2006 Edinburgh Fringe. The fire alarm went off halfway through the performance and the venue's several audiences trooped outside, mingling in the street with the large and costumed casts of the other productions that were running that afternoon. It was a good while before we got back in and resumed the story, but it didn't at all matter. Junction 8 could have taken any improbable incident in its stride—it was already so improbable itself: a play with no interval or scene changes where the crossed lives of six characters in a motorway service station were played by two performers (Dan Shorten and Karla Shacklock), a play where janitors and waitresses and boy racers speak in a versified cut-up of famous texts, a play with the weirdly touching birth of a virtual foetus. I remember it very fondly. In the time since, the company has grown in success and stature with two new productions, Druthers (2007) and The Factory (2008), that have expanded the company with new performers and collaborators when needed (Dan and Karla remain as original members and artistic directors), and seen them tour extensively around the UK. They received Arts Council England funding for Druthers, which also won the Total Theatre Wildcard Award in Edinburgh 2007, a sort of audience choice award that happened once and I'm not sure will ever happen again due to administrative difficulties (I was working for Total Theatre at the time and went round the venues duct-taping these hideous flatpack ballot boxes to sloping surfaces when all the best table space was already taken).
Precarious started on its new production, anomie, back in March 2008. I got an e-mail from them that they were looking for people to conduct research into online interaction by signing onto various social networking sites and keeping diaries of their experiences—early R&D which, Dan told me when I met him and Karla in Bristol to talk about the show, anomie has since developed quite a way beyond:
'Back in November we thought, Is the show about technology and the way we use technology, interact with each other through it, or is that just one of the symptoms of something greater? We kind of decided that that was it: in the world today there are many, many wonderful things that are a part of contemporary life, but also there's sort of fractures in the way that people interact and behave. It's some of the stuff that Durkheim talks about in his discussions on anomie: about how the breakdown of traditional social values and normal behaviour can create these little pockets of deviance, and one of those is technology. As a company I think because we work with video so closely technology is always going to be something that fascinates us—something that we want to artistically explore. But sometimes we can get a little too het up in that—the work can become about that and really it's not so interesting, when the technology is leading the art rather than the other way round.'
With the foundation of anomie laid down, the company started looking for performers ('the first time we'd cast after we'd made decisions about the show'). Around 300 people applied for open rehearsals—'actors, dancers, performers, live artists, anybody that wanted to come'—and, after auditioning for a whole weekend, Precarious had three new members and one returning: Michael Spenceley, who's been on tour with Protein Dance and trained at the Rambert School and has a lot of acting training as well; Scarlett Perdereau, who trained in Paris, went to CSSD, and then trained Butoh with Marie Gabrielle Rotie; Jessamin Landamore,a recent graduate of contemporary dance school, The Place; and Fionn Gill, who was in Druthers and has his own company Lost Spectacles. A couple of the cast have aerial skills and Karla is now an associate artist at Circomedia, which has allowed the company to take their choreography up in the air.
'I was really keen for the work this time to be more three dimensional with the space,' says Karla, 'so the set design is a truss structure and there's lots and lots of mattresses so we can create levels and have crashmats and build walls. The whole truss can be climbed on at any point: I wanted to create this urban space that wasn't just flat on the floor. So the choreography I tried to make really three dimensional and for the space to have depth and height, and within that we started to introduce some tweaks of aerial work if and when necessary—so there's one particular character we call Surveillance who's constantly up in this other space looking down on the action.' For the aerial sections, the company have been getting some mentoring from Mike Wright (aerial tutor on the Circomedia degree course; he also has his own company, Above and Beyond), who's lending equipment and coming to a couple of rehearsals to advise the rigging and 'help find ways of using the apparatus that aren't just trick-based'.
Another new departure for anomie will be its text. 'In the past we've tried to piece together a script and then visualise and physicalise the script,' says Dan. 'This time we've kind of done it in the reverse order—started thematically and pieced together a series of images or interactions that then, when we need to, we'll find words to help explain.' But he and Karla are keen to explain that, among the changes, anomie will still inherit some of the characteristics of the last three productions: original electro-acoustic composition; 'lots of contact work and lots of kind of grounded floor work'; and video projected onto bodies and props (this time with a 'graphic novel aesthetic').
The methods, though, aren't all of the point. Karla: 'It's just a story this year—of six characters who live in the same apartment block in a city, and each doesn't necessarily know the others exist but they're all tied together in some way.' Like Junction 8? 'There are flavours of that definitely,' says Dan. 'I think there was something in Junction 8 that—although the production values maybe weren't that amazing and it was flawed on many levels—there was something that was truly our voice.' Karla and Dan talk sanguinely of being caught up in the 'snowball' of the last few years, and feel that perhaps Druthers and The Factory were made a little too fast and pulled in too many directions. Dan again: 'The last few years have been a real learning curve for us. But now we've got some brilliant people onboard, people who're willing to give us time or space or money or advice, and it's allowed us to sort of calm down a little bit and not feel like it's Now or Never. It's taken us a year to get anomie to this point and we're still not ready…. Calmer. Calmer.'
anomie is on at Zoo Southside 7-31 August 2009 as part of Edinburgh Festival Fringe.