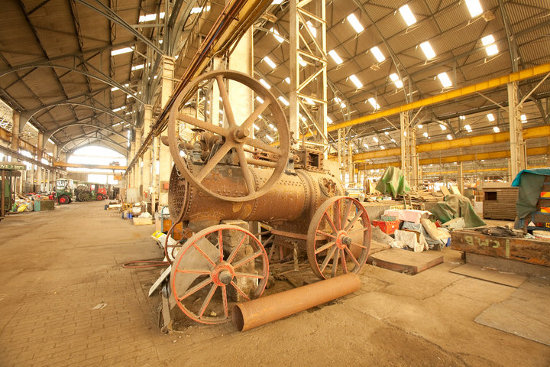 Sideshow pays a visit to Slip 6, a 19th Century warehouse in Chatham's Historic Dockyard, once used to build and launch ships, now the shell-home of a new creation centre with big aspirations.
A Marvellous Shed
The thin iron of the ceiling, rolling down and peaking, striped with rows of spaced rectangular skylights, reminds me sideways of the slotted paper of a player piano roll or an early computer punch card – coded, readable. The Slips are unwalled, divided by the dips in the roof, and by lines of short iron pillars from which an arched frame curls out delicately. Noise flows freely from one Slip to another, and out to the courtyard where there are clusters of lorries transporting the set and crew of the new Sherlock Holmes film. The building is very wide, and open, and cold – magnificent in its way, but you understand from looking that it was built as a shed: it is without convenience; dusty, cluttered, bracingly uninsulated; originally a place of hard and driven labour.
During the early twentieth Century and through the two World Wars, Slip 6, part of Chatham Historic Dockyard, backed on to the River Medway, built submarines; before that, battleships. Now it's planned as the site of Britain's first dedicated creation centre: a giant warehouse space that can accommodate structures built for the outdoor and carnival arts, the development of large-scale work (large on the vertical as well as horizontal axis), or that equally can run multiple concurrent residencies for smaller companies.
Kate Hazel (of Alchemy Productions, who're heading the project) met me at Slip to show me around and tell me about a project which began in October with an open call for artists, working in any discipline, who wanted to take a residency in the space. 'Arts Council South East were very clear that they didn't just want a feasibility study,' Kate explains. 'They really wanted real artists in real time working on real projects, so I advertised the space and sort of said, Here you go, there's some free space available, it's in a raw state, we know that, that's why it's free – but it's yours so long as you feed into our evaluation process.'
Pyrotechnicians The World Famous took occupancy, carnival arts organisation Kinetika held their second Imagination Our Nation Residency in the space; among the others who visited were Loop Dance Company, Wet Picnic, and Acrojou Circus Theatre. Between them, reporting back, they nailed a few of the practical requirements for Slip in the future – accommodation, on-site or near-site catering, a place for large teams to run meetings, a quiet space – but there was no consensus on the level of development the building could, or should, aim for. Kate: 'With the feedback we've had everything from 'Oh God just leave it as it is, this is a really creative, inspiring space', to 'Put in a mezzanine floor, Let's put office spaces all down one side, We'll have rigging points over down one side, We'll have a projection screen' – you know, the whole shebang. There's always that period of time when you're doing research where you get all this information and it all muddles around in your head, and you get all confused because you question how you can bring all of these different elements together, and eventually through all of that research you start to develop a clear line of thought over what you think the space is about and what it needs to be – and how it can properly serve its purpose.'
£1,000,000 Or By Degrees
I first met Kate at a promoters exchange organised at La Brèche, Cherbourg's fairytale castle creation centre dedicated to contemporary circus. We toured the modern, extensive, pristine facilities with the centre's director Jean Vinet, who explained that the building had been custom designed and built, that the huge main space could be divided any which-way and rigged wherever and accommodate any style of work, and that the annual budget for costs associated with artists fees and residencies was 1,000,000 Euros per annum (80% coming from subsidy).
«
I like the idea of people leaving their mark on the space – you know, leaving something that's a memory of their project that someone else can use.
»
So this is the model for Slip, right? Kate, dubiously: 'Well, no. Being realistic we're not going to attract half a million, a million Pounds worth of funding – which, you know, two years ago we might have been able to. But while there is the La Brèche model, these other places like Atelier 231, these French centres that people hold up, they actually started out in a fairly rudimentary state and have been developed over the years and through many residencies. And in a way I almost prefer the thought of a more organic approach that adapts and develops depending on the work that goes in there. I also quite like the idea of people leaving their mark on the space – you know, leaving something that's a memory of their project that someone else can use. Or it could be that we put a load of sheds in there that become people's hubs and they can do what they want...'
A big asset for the space will be The University of Kent's School of Arts, which has recently relocated to Medway, and which will provide a renewable resource of enthusiastic and interested volunteers – with the future possibility of formal channels for students to get experience and industry placements through Slip's activities. Alchemy are also planning to get some input from the School's architecture students – first their ideas of what they would do with an unlimited budget, then how they'd pull that down to a more realistic cost and scale.
«
The French creation spaces don't have community engagement programmes in the way that we do – it just is.
»
Pulling in local volunteers makes good practical sense for a large project in straitened times, but it also reflects a characteristic of La Brèche which struck Kate when she visited: 'The thing I've really taken away from the French creation spaces is how they incorporate the community into the space. They don't have community engagement programmes in the way that we do – it just is. It's a really natural relationship, and as a result there's a sense that the community have ownership of the space and feel like it's part of their community. And they go and they bring the family out to see whatever it is – and it might be some piece of really weird avant garde circus, but that doesn't matter, it's their space in their town and they'll watch whatever goes on. And that's something that I'd really like to mirror with Slip 6 – and to get to a point where we actually have a really valuable resource in our community for the artists that are working in the space; where we have a sort of arts-educated audience who are able to provide feedback and comment on what they think; and where we very much make sure that the space is opened up and that we don't just have all this wonderful stuff happening that appears and disappears and has absolutely no impact on Medway whatsoever.'
Fuse and the Circuit and the Endless Treadmill
Medway's outdoor festival Fuse is an obvious ready platform and public access point for some of the work created at Slip, but the intention is to tie the space into as many networks, festivals, consortiums and commissioning bodies as possible – in order to draw in funding for the centre's own projects, but then also to give supported artists and companies the maximum advantage after their residency. One possibility Kate discusses is pulling together a package of work that's been created at Slip and selling that to international festivals – part of a broader strategy to extend the touring life of outdoor productions and get companies off 'the treadmill of funding, producing, touring, funding, producing, touring'.
«
The plan is to have specific points during the year when Slip invites companies in to do whatever they want, with no pressure to show anything at the end of the week or to go in with much of a plan.
»
The plan is to have specific points during the year when Slip invites over maybe three or four companies and allows them to do whatever they want, with no pressure to show anything at the end of the week or to go in with much of a plan. It's another characteristic of the French R&D process that Kate wants to pick up: 'In this country we're very driven by deliverables and output – What are the deliverables? What are they?! And what are you going to achieve by this time next week? And I think that's the key difference culturally between us and the French: there's more of a sense that the French are allowed to grow a bit more organically. The reason that La Machine and Nantes is as it is, is that they've been around for years and years – a staff team of 40 people working in two creation spaces in two different parts of the country doesn't happen overnight, and I think it's important to remind people that yes we've got the potential for this kind of creation space and yes it's moving along, but we're not going to suddenly open the doors and say welcome to our shiny new space. It's going to be a much more gradual process than that.'
Future Vision
Early on it was decided not to make Slip artform specific – partly to give greater flexibility over which projects to commission and which sources of funding could be subsequently pursued; also because the space is difficult to heat and it's logical to let that seasonally guide the work that's programmed. Circus will want to push its way to the front because of the enormous height of the Slip – and because, Kate reveals, almost casually, there's a crane that can be used to fly aerialists back and forth across the space – but it'll have to share board with puppetry, dance, carnival, street arts, and everything else.
Programming who comes into the space will be a delicate task ('we don't want to put some nice little puppetry company in there when we've got 50 carnival artists welding'), one Kate sees as being taken on by an individual or single company – someone who can take the role of an artistic director / creative producer, who can broker relationships with other centres and networks and festivals at home and abroad, and who can maintain a strong identity and purpose for Slip. 'From the outset it was clear that the space has to be more than just a big space for hire,' says Kate. 'It has to be a centre with a clear artistic mission / DNA / vision that contributes to the outdoor arts sector, the circus sector, the cultural sector. And what needs to happen, and eventually will happen, is for Slip 6 to become part of the fabric of the cultural sector and what makes up sort of the opportunities and potential within the sector.'
And as we head toward 2011, what now? 'The next Arts Council application is going in before the end of the year, and then we'll have a bit of time to get the space more ready over the really dark winter months – hopefully to open again in March. The view is once we've got our proper Arts Council funding we'll sign a lease with the Dockyard in sort of March/April 2011 for an 18-month period, which will take us to the other side of the Games, and then we'll see where everything sits post-Olympics...'
So it's a case of watch this space – or that space – Slip 6.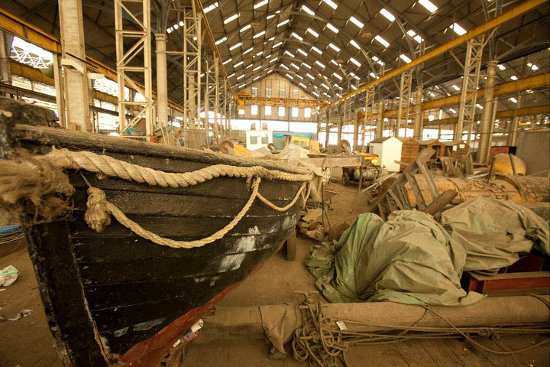 Slip reopens March 2011; if you're interested in trying to talk your way to a residency then get in touch with Kate on katehazel@alchemyproductions.co.uk A strong play might be to include in your proposal an offer to clean the windows.
Kate Hazel was interviewed 21 October 2010 in the well-vacuumed lobby of Chatham Historic Dockyard's Ramada Encore Hotel.