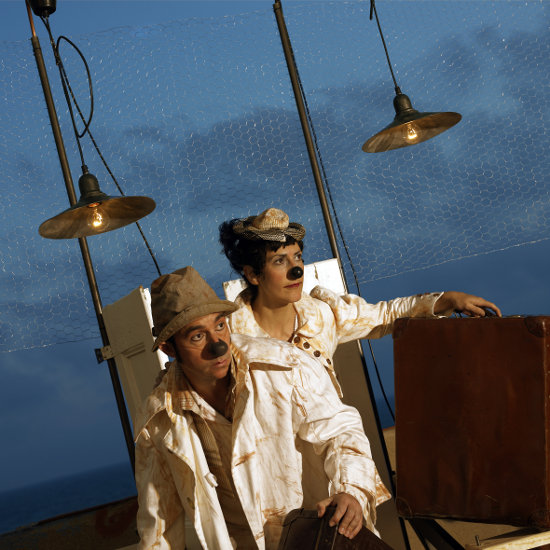 The damp cold and restless wind that blew through the open boards and wire fencing of Rojo's miniature arena probably helped the performance as much as hindered it. Something in the character of the weather seemed to suit the weary sleeplessness of Jaume Navarro and Mamen Olías's clowns, who at the start of the show troupe in with the audience to begin (separately, competitively) the serious business of staking out maximum seat-space for personal use. I think I liked this extended intro best: after a good long time spent queuing outside the performance area—sort of like a large, roofless chickencoop with a semi-circle of raked seating—the audience are let in by Rojo's intense, staring soundman and spend a good 10 minutes trying to cram onto the tiny seats while Jaume and Mamen do everything possible to preserve and expand their own small kingdoms, draping feet over seats and using large suitcases as pushing blocks to force more legroom. They're trying to lie down and sleep, but the audience—bothersome, incommodious—are keeping them up.
Of course eventually they notice the plump inviting mattresses of the double bunk bed arranged out in the stage area and their attention shifts. Even there it's not so easy—they're kept awake by each other, but also by outside anxieties and threats that seep in: an air raid siren intermittently sounds, there might be something under the bed, using newspapers to keep their dirty boots from the floor they keep catching sight of articles that illicit a single response: 'no! no no no no!'. The release from these pressures is the world of dreams, Jaume and Mamen having their own separate scenes where they overcome fear and find happiness, love, escape in risk. Maume climbs red silks that tumble down from nowhere, her terror turning gradually to giddy infatuation. Jaume on aerial hammock is at sea—a great, rustling air tunnel expands below him; each time he bounces down the push and papery rush of the escaping air is the sound of a breaking wave.
The final exhortation to 'dream… dream!' comes across a little strained and might have gone down better on a sunnier evening, but Rojo is still a warm and attractive two-hander, sustained by Jaume and Mamen's excellent clowns, one dour and short-tempered, the other airy and absent-minded—already a dreamer.