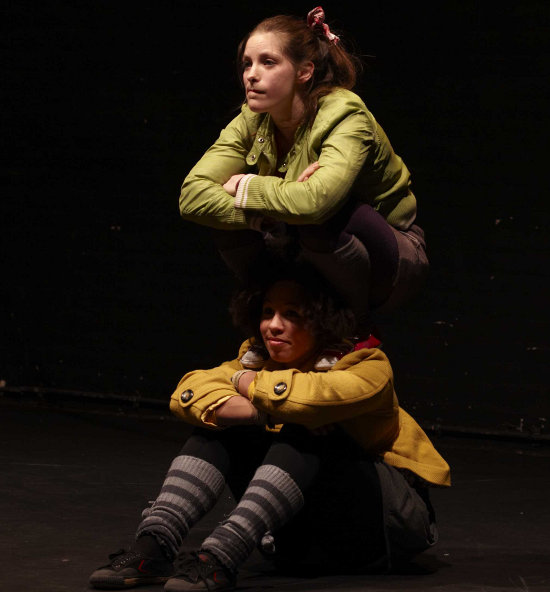 Ah, circus theatre! The age-old dilemma of how to combine two opposing forces: the drive from 'theatre' to present characters telling stories that reach us through memory and imagination (evoking 'there' and 'then'), and the drive from 'circus' to be in the here and now, presenting bodies in space that explore the relationship between air and ground, or between body and body, or between body and object.
Collectif and then… are a young troupe (recent graduates from Circus Space, led by Francesca Hyde and Lucie N'Duhirahe) who handle this dilemma a whole deal better than most. They've taken their cue from the likes of 7 Doigts de la Main and Mimbre—opting for a whimsical/lyrical approach to storytelling, giving us sweet and touching duets and ensemble pieces that are more visual poetry than full-scale narrative drama.
They also cleverly bring the here/now versus there/then dilemma to the foreground as an essential element of the piece: 'What better a time to begin than now…' says a young woman into a microphone at the start—and so off we go into a delicately engineered tug-of-war between past and present, with performers stepping in and out of the onstage action to reflect on each other's (real or imagined, who knows?) life stories.
On this journey we meet four twenty-something characters—Victor, Telma, Francesca, and Lucie, the names of the performers retained for their onstage personae—who are finding themselves and finding their way in the world. Snatches of personal history are presented through a stylised and sometimes surreal set of images—Victor's former life as a city mortgage adviser, travelling daily from the Docklands to Bank station, is played out beautifully with one carefully manipulated juggling club representing ticket barriers, hanging straps, briefcase, other travellers. Just one example from the piece of a very interesting mode of object manipulation that exists somewhere between circus and puppetry, the object slipping easily in and out of representation/metaphor and a purer engagement with the material world. Victor Garmendia is a juggler to watch: he has something of the Sean Gandini about him; a fluid way of moving and manipulating that makes his relationship with objects into a dance.
In other sections, dislocated hands become animated objects, and the arm of a dismembered mannequin takes on a life of its own whilst also replacing the juggling club in its role of manipulated/balanced object—with no meaning beyond its physical existence in space as viewed in relation to the body doing the balancing. A recurring motif of a tossed coin reminds us that everyday objects are very often manipulated and invested with meaning beyond their immediate purpose and value.
Elsewhere in the piece we find Chinese Pole used elegantly and eloquently by Telma Pinto, who (as with Victor and the juggling kit) manages to make the pole morph from piece-of-equipment-to-be-conquered to metaphorical object, as she acts out the 'dancing soul' liberated from a body during a traffic accident. She also works very well with Victor, and together they create innovative inter-relationships between themselves, the pole and the clubs. I'm less taken with the Lucie/Francesca 'double cloud swing' aerial routine—not because of any lack of technique: it's a clever routine, light-hearted and full of joyful play—but it feels like a self-contained circus act with little theatrical purpose in the show. In this case, the equipment stays locked into its literal existence—pieces of rope to be swung or dangled from.
The sound design deserves a mention: an eclectic mix of recorded music and generated-on-stage sound that veers from Adam and the Ants' punk-pop classic Dog Eat Dog to live cello to body percussion. In one particularly lovely section a rhythm drummed by hand on a cello is echoed and built up on the Chinese pole, to be later refrained in claps and stamps.
Like the rain when it stops feels like it could do with a little more 'cooking' here and there: there are times when the pre-existing set-piece or the workshop exercise are too close for comfort onstage—but it is only a matter of time until these small creases are ironed out. We will, I am sure, hear a lot more of these young circus-theatre artists over the coming years…