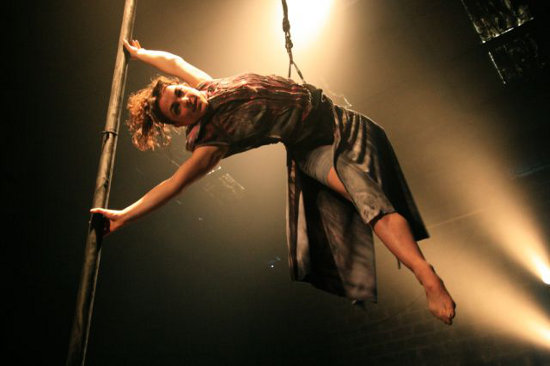 There's a rather untypical theatre audience waiting to go into the Out of the Blue Drill Hall, a venue that's a fair way out of Edinburgh's centre—a long line of chattering twenty-somethings who look like they are up for a night of clubbing rather than a Fringe show.
This, no doubt, is exactly what Irish company Fidget Feet were hoping for when they decided to bring Raw, a show about rave culture and clubbing, to the Edinburgh Festival Fringe—their stated aim being '[to make] contemporary circus and aerial dance accessible to a non-theatre-going audience'.
Entering the space, an airy high-ceilinged gymnasium, we are led to tiered seats at one end of the hall, behind the large square performance space, which is set on three sides with an assortment of ropes – some hanging free, some slung in loose 'swings' or coils. At the far end of the hall, high up on the back wall, is a DJ in a booth, dancing his heart out as he spins the tunes.
In front of this wall are two ceiling-high poles, and a selection of bungee ropes and harnesses, ready for action. The lighting set is a very 90s combo of purple, turquoise-blue and fuchsia-pink. To the side, four people (two men and two women) stand in a line, dancing on the spot in eager anticipation of being let in. 'How do I look? I'm a very stylish girl' booms out from the DJ booth as the would-be clubbers chomp at the bit, fenced in and then, at last, released….
Once in, our four 'ravers' (aided and abetted by the DJ and a couple of onstage performer-riggers cum counterweights) play out a succession of vignettes exploring the clubbing world—a world apparently rife with attention-seeking characters, angst-ridden dramas, romantic trysts, night-time traumas, and soul-searching dilemmas.
This is all enacted using the tricks of the aerial dance trade, which for the most part means harnessed bungee rope flights and spins—solos, duets, quartets. As is often the case with good aerial dance work, it is the relationship between ground and air that becomes of most interest dramatically – as demonstrated in a rather exciting Crouching Tiger, Hidden Dragon influenced mock-martial arts catfight between the two female performers.
Off the harnesses, there's a fair amount of sinuous polework and beefy floor-based dance. Raw was directed by David Bolger of the renowned CoisCéim Dance Theatre company, and his characteristic postmodern and ironic style was on show here. Bolger seems particularly at home enacting sexual rivalry and passion in dance form, and this is evidenced in Raw's choreography (although the show is co-choreographed by Fidget Feet's own Chantal McCormick, and it is perhaps dangerous to make assumptions about whose work this is!)
It all bounces along quite nicely, but the ante is upped with some beautiful rope work, played out on the set of ropes nearest the audience. Perhaps it is because we now have the performers right in front of our noses, rather than viewed from afar; perhaps it is because, off the harnesses, they are suddenly very human and vulnerable. Whatever the reason, we are transfixed as a man and a woman edge towards each other, rope by rope, and meet each other with a tenderness that comes as a welcome contrast to all the brash and breezy choreography of preceding sections.
The close proximity of the performers in this section of the piece invites the thought that it would have been great to have seen the show close-up in a promenade setting—the obvious comparison being with NoFit State Circus, who similarly combine contemporary circus, dance, and music to attract a young 'non-theatre-going' audience. Yet as soon as the thought is out, it is countered with the responding thought that it would be mighty hard to find a way to do that, given the amount of space the aerialists use when in full flight—a very different spatial dynamic to static trapeze or corde lisse—and given also the interplay between ground and air that is so crucial to the piece.
A final scene adds a touch of physical theatre excess to the proceedings as the floor is flooded and the performers splash their way to the end of their clubbing evening. It's hard to say what purpose this serves dramaturgically—although someone afterwards suggested to me that the creation of this onstage lake represents the desperate desire for water experienced after taking Ecstasy. Perhaps—but it seems a pretty pointless piece of stage trickery, and although it is perhaps a crowd-pleaser, I feel that the piece would stand up well without it.