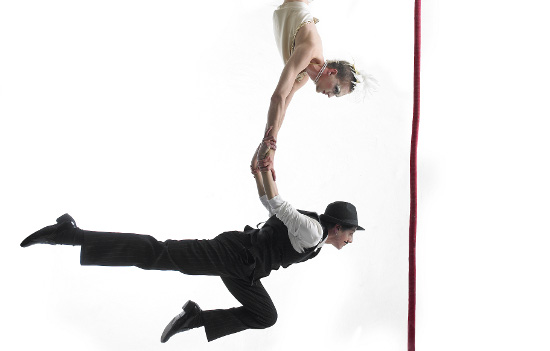 Leo and Yam describe Panoramic as an 'androgynous cinematic circus show' which seems a pretty fair summary.
We start with an empty stage, bar a lone musician, Joanna Quail, who is teasing a mournful, yearning tune from her cello. Enter mic stand festooned with black feathers (brought on by stagehands who seem a little unsure about whether they are visible or not), and crooner Dusty Limits, who sings a melancholic version of I Wanna Be Loved By You. Then, as the moving images flicker on the silver screen, there's a voiceover intro to our main themes, channelling the ghosts of Runyon, Chandler et al: the city at night; a woman who might not be what she seems; a tough man who might be hiding something…
To the searing trumpets and saxes of a big band blues-in-the-night medley, we meet our two main characters: a suited and booted tough guy who likes his whisky straight and his women loose; and a begloved and bejewelled femme fatale who knows what she wants and how to get it. Playing on the aesthetic and motifs of silent melodramas of the 20s and film noir of the 30s, their tangled romance is fought out through ringing telephones, golden guns, the turn of a playing card, and the sharp edge of a blade.
The twist is that he is a she and she is a he… the reversal allowing for all sorts of interesting play through some very funny mime and clown vignettes, and through aerial solos and duets that subvert notions of 'masculine' and 'feminine' movement, gesture, and physical expression. Thus, Leo as femme fatale does a pretty mean corde lisse cameo in heels, but is later defrocked to reveal a very manly set of pecs; Yam does a great boxing-gym-inspired straps routine that is as butch and beefy as you could desire, then pushes desire to its limits by pulling off the pin-striped suit to reveal a push-up basque and leather stockings.
Their doubles work similarly plays with gender; toying with the notion of 'base' and 'flyer', 'lead' and 'follow', 'active' and 'passive'. The duets are occasionally a little too laboured and fussy– I could do with a few more moments of calm and stillness – and it sometimes feels a bit like pre-existing cabaret acts have been bussed in, or that they are concerned that the tricks need to be got in (they don't – less is more!) – but generally it all works well. A special moment, later in the show, is a bathtime sequence which gives an opportunity for an unusual aerial routine on a hanging sheet of plastic – and a very funny parody of the iconic Psycho shower moment…
What works less well is an early scene starring juggler/object manipulator Hugo Olivera (of Cia Huma), featuring eight white balls manipulated every which way, a kind of puppet booth, and a roll of newsprint paper covered in symbols. It's a lovely act by a very skilled performer, but I struggled to understand what it meant and what it was doing in this show – the performer is not really used anywhere else other than in a couple of tableaux, at the beginning and end of the show.
Also, as mentioned earlier, there is an odd vibe to the constant appearance of stagehands moving things around in the half-dark. They are neither unobtrusive nor a part of the action – so their role also needs thinking through in the future development of this show.
Singer Dusty Limits, on the other hand, fits perfectly well into the scenario, his beautifully delivered torch songs forming links between scenes or opportunities to introduce new elements – a particularly marvellous moment is his version of Piaf's French cabaret classic Padam Padam, in which our femme fatale friend, now clad in black evening wear and clutching a rose, makes a dramatic re-entry into the action through the audience.
The music needs a special mention: it's a great bunch of tunes – the live voice and that gorgeous cello mixed and matched with big band jazz tracks, contemporary electronica, toy instrument tinklings, and strings playing wistful waltzes. There are, however, some odd moments of clumsy mixing that is not bad enough to be deliberate, just a little jarring – so that's another 'homework' note!
Panoramic is a highly enjoyable evening's entertainment, full of delightful moments – there's been some great work done to date, but this should be just the start: there's work to be done! It all feels almost a developed show, but still a little too close to a series of circus acts and cabaret vignettes, and with a fair few dramaturgical glitches. Leo and Yam have a fantastic set of ideas here, have John-Paul Zaccarini of Company FZ as an outside eye, and have a skilled set of performers to play with. If those resources are built on, and that work gets done, then I'm sure we have the makings here of a truly great piece of visual theatre!