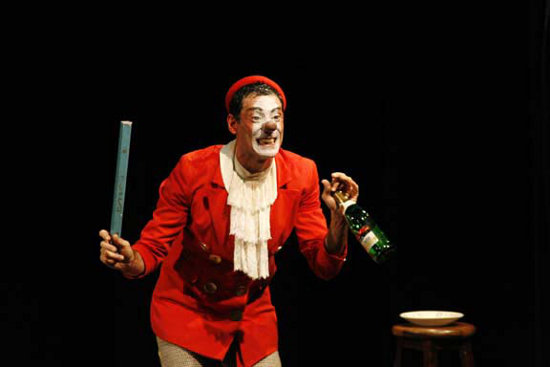 As we enter the auditorium, the lights are dim and rosy, and there's recorded piano and accordion music playing (sounding like something that might be on the Amelie soundtrack). It all feels very warm and welcoming. Onstage, a handwritten sign saying La Scarpetta is delicately perched above a fragile frame supporting a flimsy red curtain. To each side of the stage there's a three-legged stool bearing a wine bottle filled with flowers, and a microphone has a sweet little red ribbon tied around it. We're in our seats and all ready for what looks to be a gentle and whimsical solo clown show.
The music halts, the house lights come on, and the mood is broken with a terrible crash, as someone enters through a door and onto a balcony above our heads. The 'someone' is tall and leggy, with too-tight flared trousers, big black clown shoes and a rubber nose. He's wearing a scarlet jacket and a frilly white shirt – and his extreme agitation is tangible. He tries to get back through the door to the safety of backstage, but no one answers his manic banging. He looks at us nervously, and eventually gives up. He pulls up his jacket and exposes his navel, hoists the trousers up even further, and fiddles with his backside like an agitated child. Slowly, painfully, he makes his way over the rails of the balcony towards us, legs swinging and heels clanging wildly on the metal fittings. Once he's down, he moves through the auditorium to the stage, clambering over us and through us – losing his balance and grabbing hold of heads and arms to steady himself, those big black shoes in constant danger of treading on someone's fingers. People move themselves and their belongings out of the way hurriedly. Our clown friend hones in on those of us who shy away from him, shaking out coats or rifling through bags, grinning wildly an inch or so from our faces, like a puppy dog determined to win over those who kick him away.
The tone of agitation and demented nervous energy is kept up relentlessly throughout the whole show. In scene after scene the classic clown scenario of 'what might happen if things were to go wrong' is played out with a savage and pitiless intent. It is no surprise to learn after the show that performer Ricardo Puccetti (whose 'guerrilla clown' character is apparently named Teotônio) trained with that master of dangerous and uncomfortable clowning, Philippe Gaulier. This may also be the moment to mention that the show is directed by the legendary Italian clown Colombaioni Nani (a collaborator of Federico Fellini).
La Scarpetta could be described as everything you might hate or fear about clowns multiplied, magnified, teased out and force-fed to its audience. It's theatre clown of the highest order, but it is painful stuff, playing with that perilous line between delight and despair, balancing grotesquery and charm on a knife-edge.
So… first up, the red-curtained construction falls apart and the poles of the frame are given to someone in the front row to hold, the curtain then draped over her head. Then there's lots of play on the performer/technician relationship. Lights go on and off seemingly randomly, and the microphone veers from stubborn silence to full volume screech. There's a desperate a capella song-and-dance routine to Volare, and a kind of mad matador dance to Hawaii Five-O in which the CD sticks constantly, gets restarted, jumps, and grinds to a halt. A note of praise here to LUME company member Naomi Silman for her skilful work on the desk – this isn't a show you could just hand over to a venue technician!
Then come the magic parodies, the terrible attempts at object manipulation and balancing, and some of the best-worst puppetry you are likely to see on a stage, acted out with a manically grinning rubber-faced Japanese figure. Throughout all this, our eyes wander over to a sign hung forlornly in the dark netherlands of the auditorium: 'Spettacolo Artistico'. Pointing to the sign, our clown is wild-eyed and desperate, and our discomfort grows even while we laugh hysterically. The red jacket comes off and a chef's hat and apron go on for a routine with plates and 'genetically modified' eggs that ends in chaos, with audience members invited into a plate smashing game to the tune of Zorba the Greek.
Eventually, our clown tries to end the show, but nothing will stop. He pulls down numerous signs and banners – Finale, Fin, Fim – but still the music plays and the lights stay up. Finally, he sets off a sparkler in a cardboard box, which sets fire to the box, which necessitates two fire extinguishers and a couple of ushers to sort it out – this last disaster apparently unplanned but it is a marvellous ending.
Presented under the auspices of Casa Lume, the company's travelling residency of workshops and smaller-scale performances, La Scarpetta is one of a number of LUME shows and events that are currently touring Europe – offshoots from the ensemble movement theatre work of this highly-regarded Brazilian company whose reputation in the UK was secured with an appearance at the Aurora Nova festival of world theatre at the 2005 Edinburgh Fringe.
Stepping out of his clown character, Ricardo Puccetti, obviously touched by the rapturous applause from a small but highly appreciative audience, thanks us and encourages us to return tomorrow night for what he says will be a rather gentler clown duet from Casa Lume. But I am happy to have been there for the edgy delights of La Scarpetta. I squirmed in my seat, but wouldn't have missed it for the world.