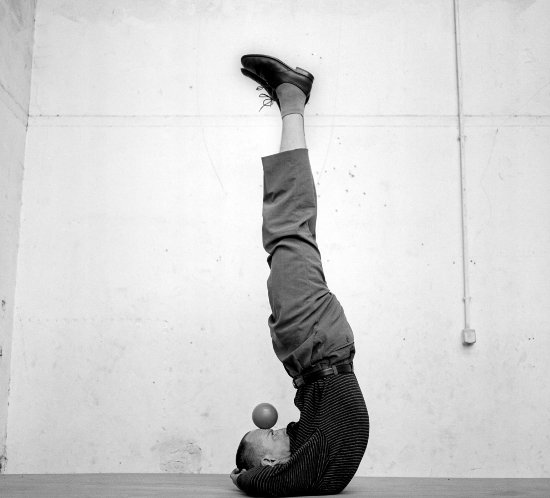 Nez Rouges, a little annual festival held in an arts centre on the outskirts of Toulouse, offers a selection of accessible, diverse clowning, much of which is locally produced, but with an emphasis on new or rejuvenated work. Le Jongleur is performed for the first time tonight by soloist Nikolaus-Maria Holz, whose CV includes a stint in Archaos and teacher of clowning at top French circus schools Châlons-en-Champagne and Rosny-sous-Bois.
Nikolaus' stage is 'cluttered' with artfully arranged props, and his show commences with an astonishingly adept warm-up of repetitions in which he keeps contact with a large red ball the whole time. Good job this is interesting to watch, as it is a while before everyone has taken their seats, and this is in fact the longest unbroken section of juggling we get to see this evening.
Le Jongleur is Nikolaus' life story, which means an exploration of his relationship with juggling, which means a presentation on juggling. Through simple storytelling (in French, bien sûr), Nikolaus considers gravity, bouncing an apple off his own bald head until its juices and flesh are everywhere. He discusses the gravity involved in birth, his own birth – we see him learn to walk; we see him teach a villager in civil war stricken Congo to chase a falling ball, to eliminate its gravity. We hear the story of a trapeze artist girlfriend's fall, and are presented with the different attitudes to gravity required by an equilibrist and a juggler. Nikolaus, battling with a clown's comedy chair and three-legged table, types his thoughts on gravity, his discoveries about juggling, about life, on a typewriter.
Precise movement, cute classical clowning interludes and occasional juggling demonstrations underpin the narrative, offering a glimpse of Nikolaus' considerable abilities, but the 21st Century consumer in me wants to see MORE juggling, BIGGER tricks, FUNNIER jokes. I have to admit it. I do. Towards the end of the hour, it becomes clear that Nikolaus, now the ageing clown, has all along been arranging his props into an almighty 'mousetrap' style sequence for the finale. Suspense builds, the clown's knees start to go, he loses his teeth, a custard pie is artfully balanced, the wheels are set in motion... but, underwhelmingly, the sequence is rather slow, and Nikolaus has to help himself get pie in the face. Quel dommage! If only he had been doing some good quality juggling at the same time.
If refined and sped up, this piece would be fun on a sunny day at a festival. In the theatre, it is frustrating to watch a (possible) master not making more use of the array of interesting props and juggling balls to hand.