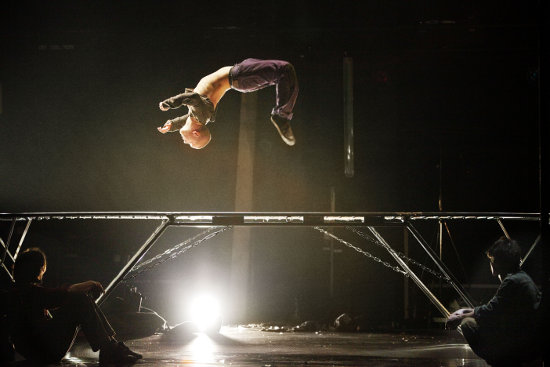 Following on from two previous editions (in 2003 and 2005) of its smaller cousin the Suburb Festival, Subtopiafestivalen had its inaugural year in 2010 to coincide with the opening of a new building in Stockholm's Subtopia complex – a huge 2300m2 warehouse, its centre specially and enviably heightened for swinging trapeze. The festival ran through this main warehouse, a smaller adjacent building, and the surrounding Subtopia grounds – a park, a lake and strip of woodland providing different possibilities for presentation.
Subtopia is a creative centre, renting space to cultural organisations (mainly those working in contemporary circus and film – Cirkus Cirkör are based there), as well as offering residencies to artists and companies. Almost by default, it's also a network, and the festival is like a meeting of Subtopia's extended family – the companies who rent space at the creative centre, or who have taken residence on the grounds, or who are otherwise in some way connected to the site – mixing professional and amateur work with student presentations in a warm and familiar atmosphere.
« The festival was held over quite a small area, not like a city festival, and the mix was the same as with Subtopia – so it was circus, film, local dance companies and local associations that we programmed. Also some of the schools did shows and we invited a few international shows that had some kind of connection to our place – like Race Horse Company had a residency when they started out creating Petit Mal... The point of the festival was to present what is created in Subtopia but also to represent the community in Botkyrka, which is a multicultural community where 100 different languages are spoken.
This year [2010] it was four days – two evenings and two whole days, parallel programming, indoors and outdoors, so you could see twelve shows a day. Altogether there were eighty different timeslots for shows. It grew a bit bigger than we planned – because we said, Let's make a small festival, but then 80 performances in four days is not really all that small. »
Kiki Muukkonen, Subtopia Artistic Programming Director