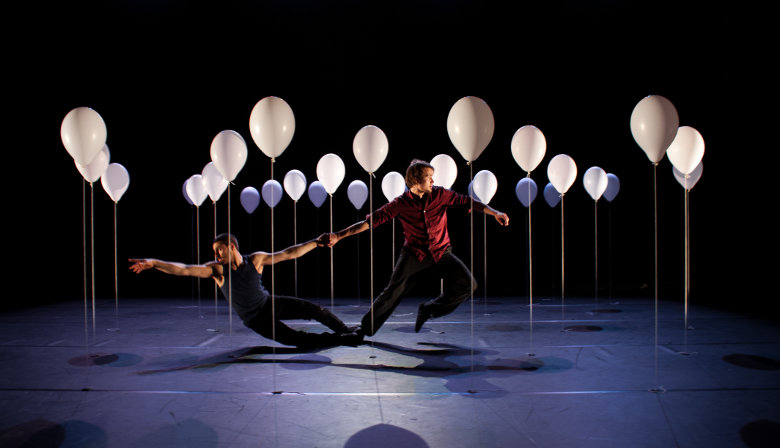 Festivals: Just to touch briefly on a few... I have a lot of fond memories from past editions of Greenwich + Docklands, now in its 18th year and headlining this time with Voalá and Rara Woulib. Fuse Medway is looking a'right – lots of outdoor work, and Acrojou showing their new performance Frantic. The City of London Festival will soon lay their Bowler Hat – a venue literally shaped like a bowler hat in a touching tribute to the spirit of London tourism – in the square outside St Paul's Cathedral. The programme for it is nice – it's like a mini circus festival that starts end of June and runs into July. This month it's the Catalan company PSiRC with their show Acrometria (cf Cesc Martinez's interview), but also check out Lento for next month – I saw about 20 minutes of it a few years ago and it was interesting, a piece performed in the middle of a little garden of floating helium balloons. And then a last mention: Mirabilia in Italy is a heavyweight – the programme this year featuring 43 companies including Cie XY, Atempo Circ, Sisters, Galapiat, La Scabreuse, and Animal Religion.
Deconstructing Circus: The summer blockbuster you've all been waiting for: the Deconstructing Circus Evaluation. Stats! Reflections! A car chase! Subheadings! It's got it all. Widescreen PDF Dolby Surround. Some mild horror; strong language everywhere.
Best Artwork 2014 Award: There's no music. Also there's no one here. Actually – four or five people are here, but they're only festival stewards / installation guardians, plus a couple slumped side-by-side against the back wall of the warehouse, who look as though they could have sat just there all morning and now incline heads to talk inaudibly. Light comes in from skylights, pillars rise from a gritty and uneven concrete floor, the walls are blank and far away. This used to be a fruit and veg market, and eventually it's destined to house a dance centre, located behind and parallel to Brighton's Grand Parade on the kind of quiet industrial lay-by that usually bespeaks car garages and tyre shops. Walking down there you don't see the entrance to the market until you're halfway along and the festival banner hoves into view – and below that the man in the high-vis jacket, who met my eye from across the road and welcomed me politely to the installation: 'Enjoy it. And if you go inside, don't let the pendulums touch you.'
The installation is the size, shape and volume of the warehouse, scaled down to provide a channel of free air along the perimeter for observation and unchallenged movement. The space inside is full of hundreds of long pendulums sweeping laterally or in thin elliptical orbits. Silver conical weights travel just above the ground, attached to the ceiling by fine white lines which blur in movement to draw a transparent filter across the room. The sound is silvery as well – delicate ticks and whirs. Getting closer, you hear something like the exhalation of a small piston and look upwards to discover that each pendulum line is attached to one of about twenty grids which are themselves arrayed in a grid – a grid of grids – and that every ten seconds or so one of these smaller units will slide a few feet in one direction and then stop. The first impression is of a sliding tile puzzle constantly trying to complete itself above your head, or an unseen hand moving pieces on a board – ordered, musical, mysterious.
I stalk around. He meant I could go into it? Stand on the edge so the white threads are only a few feet away and think about going in: you see clear channels open and close as the individual paths of the pendulums diverge and return. It's like watching the breaking sea: it's a rhythm but it never repeats itself, and sometimes a wave is bigger but you don't know why.
When you step in there's a little frisson of pressure – the people on the edges are watching of course, and you mustn't let a pendulum touch you – but it turns out that it's actually zen: without your asking it the mind's eye models the trajectory of each silver weight as it swings past and out of vision. You can feel things behind you; it's a new sensation and not unpleasant. As you navigate through you perform sidesteps, vary pace, stop dead for a few seconds here and there, and concentrate all the while on your own little envelope of relevant space. Reaching the other side you're pleased by your journey and ready to reflect on the deeper meaning and choreographic significance of a machine that compels unplanned movement, then three small kids come in and barrel straight through in ten seconds without touching anything, and that's fine as well.
William Forsythe, Nowhere and Everywhere at the Same Time No. 2. If I ran a circus festival with millions to spend I'd programme it and bend over backwards to classify it as juggling. (The artist calls it a choreographic object, which sounds good as well.)