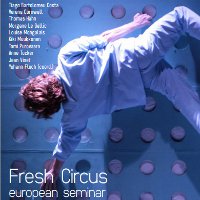 Published by Circostrada, this report covers the activity at the first Fresh Circus, a European seminar bringing together 288 professionals from all corners of contemporary circus (producers, directors, artists, critics, policy-makers, etcetera). The different chapters of the document cover the various thematic working sessions that made-up the main part of the seminar.
Contents
1. Access to the circus profession
2. Technical regulations for tents
3. The creativity and innovation of the contemporary circus
'Freedom is ours'
4. Knowledge of and access to information
5. Diversity and intercultural dialogue
'The circus esperanto'
6. The Production and distribution of circus works
'The driving networks'
7. What does contemporary circus mean?