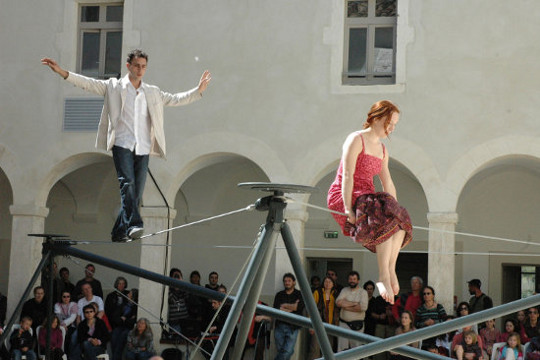 The poetry of the wire. Les Colporteurs are, simply, the world's finest tightwire company – specialists, masters, artisans who go deep into the mechanics of their discipline while simultaneously mining its expressive potential as a poetic metaphor. Their willingness to use their closest personal experiences to shape the work they make can be seen in the love story they use to explain the company's origin, and, as well, in Antoine Rigot's Sur la route..., a solo about retraining his body for the wire following a dreadful accident.
Magazine
By John Ellingsworth on 4 September 2009 in
Reviews
A member of the audience is stepping over the guard rope and posing in front of the Colporteurs' rig, a confused triple wire structure where the underbeams run slanted to the ground, hitting a pose while her friend takes a picture.