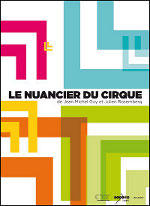 Le Nuancier du Cirque is a compendious video anthology of the last couple decades of French circus – in all 178 extracts from almost as many companies, spanning two DVDs and six hours.
Translated, Le Nuancier du Cirque means something like The Shades of Circus, with the first DVD (The Circus Spectrum) tracing some of the roots of the contemporary circus, and the second (Aesthetics) beginning to lay out categories for the different performance styles that now proliferate.
You can read a long appraisal of the contents and the presentation here, but the main points are that: it is probably of highest value for researchers, programmers and circus nerds; you don't need to speak French (there are introductory mini-essays that are translated to English; some of the extracts have speech that isn't subtitled, but not so many); a lot of the material isn't available elsewhere online; it doesn't matter how hungry you are for circus videos, you will eat your fill; French circus is the best, or at least the biggest.
The publishers are also planning to release further, themed DVDs, and to link these with searchable online archives – so keep an eye on things.
Contents
DISC 1: THE CIRCUS SPECTRUM
CONVENTIONAL
1. Big show circus
Cirque Pinder-Jean Richard, Le Royaume des Animaux
Cirque d'hiver-Bouglione, Étoiles
Cirque Phénix, Extra
Cirque du Soleil, Quidam
2. The fairground universe
Cirque Bidon, Ca Tourne!
Cirque Tsigane, Romanès
Les Zampanos, La Strada
Les Frères Kazamaroffs, La Caravane Suspendue
3. Blurring the boundaries
Compagnie Prana, Kalam/Terre
Émission Les Coulisses de L'exploit, La Capoeira
Émission Stade 2, Le BMX
Le Zèbre de Belleville, Le Cabaret Cirque d'Alyona
CIRCUS SPACES: FROM THE STREET TO THE SCREEN
1. Choosing the big top
Compagnie Le Pied Sur La Tête, Cirque Bang Bang... une nuit sur Terre
Compagnie Attention Fragile, Fournaise
Collectif AOC, Question de directions
2. Circus on stage
Cie 111 – Aurélien Bory, Plus ou moins l'infini
Collectif Petit Travers, Pan-Pot
GdRA, Singularitiés Ordinaires
3. Street circus
i) Entertaining
Pascal Rousseau, Le Bateleur Circassien
Compagnie Contre Pour, The London Philharmonic Circus
Les Apostrophés, Le Passage Désemboîté
Le Nadir, Omnia Palace
ii) Engaging
Les Hommes Penchés, Le Mâtitube
Apprentie Compagnie, La Fabrique de Liens
Compagnie Bal, Chez Moi
Compagnie Les Choses de Rien, Bull
iii) Astounding
Circo DéTourNez, Événement Ciel
Jörg Müller, c/o
François Chat... et Compagnie, Le Sacre du Printemps des Rues
4. A screen of possiblities
Damien Manivel, Viril
Compagnie Carpe Diem, Un Horizon Vertical
Compagnie Origami – Gilles Baron, Crashed Body
Compagnie Adrien Mondot, reTime
BP Zoom, Wonderful World
Pierre Kudlak, Tempus Fugit
FROM CIRCUS TO CIRCUS ARTS
The multidisciplinary show: a rarity
Compagnie Anomalie, Bascule
Cirque Désaccordé, Après la pluie
Compagnie Feria Musica, Le Vertige du Papillon
The equestrian arts revival
Au Cirque Arlette Grüss, Lucien Grüss
Ô Cirque, Saudade
Baro d'Evel Cirk Cie, Le Sort du dedans
Théâtre du Centaure, Cargo
Acrobatics
i) Tumbling
Compagnie XY, Le Grand C
Cirque Aïtal, La Piste Là
Compagnie Prêt à Porter, Histoire amère d'une douce frénésie
Compagnie Les Acrostiches, Les Acrostiches à contretemps
ii) Apparatus
Collectif AOC, La syncope du 7
Odilon Pindat, Une part des nous
Cirque Pochéros, Entre chien et loup
Compagnie chabatz d'entrar, Mobile
Compagnie Dare D'art, De l'autre côté du chronomètre
Compagnie Ieto, Ieto
iii) Balancing and contortion
Compagnie 3.6/3.4, Trois-quatre petites pièces pour vélo
Association W, comme en plein jour
Compagnie Angéla Laurier, Déversoir
Wire acts
L'Envolée Cirque, Et Moi
Compagnie Mauvais Esprits, Léonard... Malagomie
Rémi Luchez / Cie Pré-O-Cuppé, Miettes
Les Colporteurs, Le fil sous la neige
The aerial arts
i) Trapeze acts
Les Arts Sauts, Ola Kala
Le Trapèze Ivre, Sorcière
Cirque Hirsute, Bal Caustique
Compagnie Moglice-Von Verx, Nimbus
ii) Single aerial apparatus
Compagnie 9.81 – Eric Lecomte, 9.81
Compagnie Moglice-Von Verx, Croc
Compagnie Morosof, Prochain
iii) Vertical rope and silks
Volodia Lesluin, The Pink Room
Compagnie Lunatic, Ariane(s)
Les Escargots Ailés, Le Passeur
Juggling the act: a new genre
ARMO / Compagnie Jérôme Thomas, Cirque Lili
Rémi Laroussinie, Le Groom
Ezec Le Floc'h, Un
Compagnie Les Singuliers, Hodja
Compagnie Les Argonautes, Pas Perdus
Circo Aereo & Les Objets Volants, Espresso
Variations on a clown
i) The grotesque...
Cie Via – Les Nouveaux Nez, Le Cirque des Nouveaux Nez
Okidok, Ha Ha Ha
Giovanna d'Ettorre, La Maison des Clowns
Les Cousins, Y'a pas de quoi rire!
ii) ... and the burlesque
Cie Pré-o-ccupé / Nikolaus, Raté – Rattrapé – Raté
Franck Dinet, La Voix de la Muette
Cie Maripaule B. et Philippe Goudard, Anatomie d'un clown
Gilles Defacque / Le Prato, Loin d'être fini
DISC 2: WRITINGS
CIRCUS WRITING: NEW COMPOSITIONS
The purpose: a cardinal notion
i) The laws of nature
Compagnie Kitsou Dubois, L'Espace d'un Instant
Compagnie Les Intouchables, Objet Nature
Compagnie du Singe Debout, La Course en Forêt
ii) Revealing the intimate
Compagnie Non Nova, P.P.P.
Compagnie Les Mains Sales, Sway
Groupe J.M.a.n, Magica Melodia
Compagnie Le Nadir, ex madame v.
iii) Social engagement
Cheptel Aleikoum, Fanfarerie Nationale
Compagnie Cabas, Les Yeux Pour
A.K.Y.S. Project, 100% Croissance
iv) Celebrating conviviality
La Famille Morallès, Michto
Gosh, Pelahueso
Compagnie Galapiat, Risque ZérO
v) Poetic escapades
Compagnie La Manœuvre, Mue
Yannick Javaudin, DiabologioM
Atelier Lefeuvre & André, Le Jardin
The diversification of writing principles
i) Sober and austere
Cie Maripaule B. et Philippe Goudard, À Corps et à Cris
Circo Aereo et Les Objets Volants, Espresso
Compagnie Nö, La Voix de l'autre
ii) Baroque and culturally diverse
Compagnie Non Nova, Jongleur pas confondre
Cie Cahin-Caha, Cirque Bâtard, Moby Incarcéré
La Scabreuse, [Taïteul]
A fertile exchange with other art forms
i) Theatre
Compagnie Des Équilibres, Ma vie, Mon œuvre, mon pédalo
Compagnie du Singe Debout, Animalité
Cie Les Hommes penchés, Human (articulations)
Compagnie Au Fil du Vent, Vents d'horizons
Cirque Baroque, Frankenstein
Cie Moglice-Von Verx, Temps Troubles
ii) Dance
Compagnie Propos, Zooo
Compagnie Oki Haiku Dan, Gaï-Kotsu (Squelette)
Cie Archaos / Cie Guillerman, Parallèle 26
iii) Plastic arts
Cirque Plume, L'Atelier du Peintre
CNAC, Lecirqle
Cirque Ki – Johann Le Guillerm, La Motte – Prototype IV – (Attraction)
iv) Film on stage
Association W, Intérieur Nuit
Aurélien Bory – Phil Soltanoff, Plan B
O Ultimo Momento, Peut-être
v) Music
Cie HVDZ / Cirque Désaccordé, C'est pour toi que je fais ça
Compagnie Larueforaine, Salamandre
Compagnie Chant de Balles, Le Chant des Balles
vi) Magic
Cirque Plume, Mélanges (opéra plume)
Compagnie Larueforaine, Perdre la tête
Compagnie 14:20, SoloS
AESTHETICS
From the familiar to the strange
i) From classic to exotic: charming archtypes
Cirque Pinder-Jean Richard, Frédéric Edelstein et ses Fauves
Compagnie Rasposo, Parfum d'Est
Groupe Acrobatique de Tanger – Cie 111 / Aurélien Bory, Taoub
La Troupe Circus Baobab, La Légende du Singe Tambourinaire
Le Cirque de Tunis, Halfaouine
ii) A familiar strangess
Cirque Désaccordé, PMP – Petites Mythologies Populaires
Compagnie les Choses de Rien, Phare
Le Boustrophédon, Court-Miracles
Cahin-Caha, Cirque Bâtard
Compagnie 2 Rien Merci, Moulin Cabot
Circo Aereo, Un Cirque Plus Juste
Baro d'Evel Cirk Compagnie, Bechtout'
iii) Authentic: an impression of truth
Compagnie XY, Le Grand C
Compagnie Chant de Balles, Paï Saï
Cirque Ici – Johann Le Guillerm, Secret
iv) From absurd to monstrous
Tide Company, Grunsvägen 7
Cridacompany, On the Edge
Cheptel Aleikoum, Crôassance
Cirque Pocheros, Entre chien et loup
Compagnie Anomalie, Le Grand Nain
Compagnie Bal, Eloge du Poil
Ludor Citrik, Je ne suis pas un numéro
From laughter to tears
i) From comical to caustic
Compagnie Max et Maurice, Oups!
Cie Maripaule B. et Philippe Goudard, Motusse & Paillasse
Compagnie Singulière, SoliloqueS
Compagnie L'Entreprise, Le 6eme Jour
Marie-aude Jauze, Angelina
Gilles Defacque, Mignon Palace
ii) From tender to gracious
Tr'espace, Le Cercle
Arts des Airs – Cie Armance Brown – Bruno Krief, Bambous de Souffle
Cirque Romanès, Romanès, Cirque Tsigane
Compagnie Carpe Diem, Sieste Verticale
ARMO-Cie Jérôme Thomas, Rain/Bow, arc apres la pluie
iii) From wondrous to vertiginous
Cirque Plume, Plic Ploc
Etienne Saglio, Le Soir des Monstres
Compagnie Adrien M, Convergence 1.0
Jörg Müller, Les Tubes
Théâtre de Portimao, Cie Tichobates, Spectacle d'inauguration
Les Arts Sauts, Kayassine
iv) From contemplative to poignant
Cirque Ici – Johann Le Guillerm, Monstration (Attraction)
Contemplation – ARN, Cube à Exhibition / Cube à Contemplation
Les Objets Volants, Tournemains et autres objets
Janie Follet, Moi y'a une chose que j'comprends pas... c'est la beauté
Compagnie HVDZ, Base 11/19
Cie un Loup pour l'homme, Appris pars corps