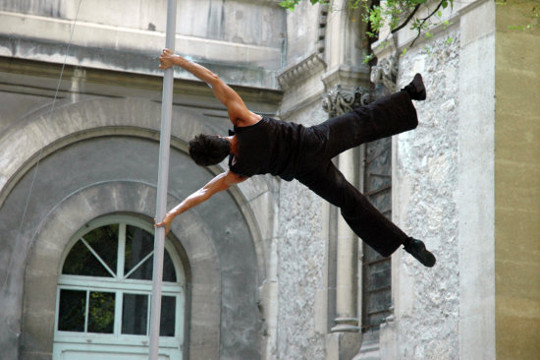 Tireless future pole cyborg built for climbing. Known – either through his own or his publicist's efforts – as The King of the Pole, João Paulo dos Santos is a young French-Portuguese circus artist who has already made a name for himself on the European circuit. Whether partnering with a jazz musician for a piece creating synaesthetic links between sound and movement (Peut-Être) or performing a dark solo turning around the fulcrum of a single, tiny pebble (Contigo) his work grows out from his technical practice as a Chinese pole artist – aided always by his literally incredible athletic stamina. João makes work under the company name O Ultimo Momento.
Magazine
By John Ellingsworth on 22 January 2010 in
Reviews
There is a stone. A deep, obsidian black, it is wrapped in white cloth, held in a square of light, until a man comes to unwrap it. It is not something he's found, but something he has been drawn back to, a token of his past that he swallows and carries like the memory of a sin.
By John Ellingsworth on 22 October 2009 in
Features
'Attention spans will be even shorter than now, perhaps too short for words. Stitched together from the strongest limbs of circus, puppetry, movement and dance, visual theatre is an unconquerable monster destined to overcome all other modes of discourse.' - Joseph Seelig, co-director, London International Mime Festival.
Sideshow searches for the strongest monsters in the 2010 line-up, including work from six countries and nine companies.