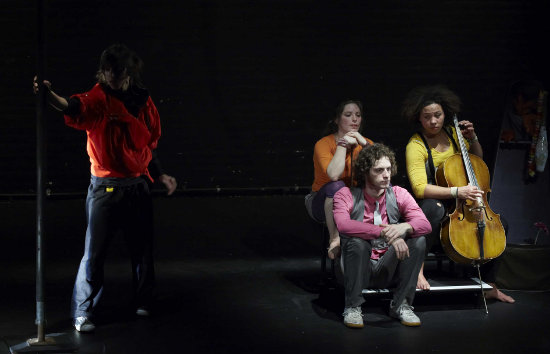 Francesca Hyde, Lucie N'Duhirahe, Telma Pinto and Victor Garmendia of Collectif and then... reflect on the making of Like the rain when it stops
The process began with four friends sitting down together and talking about making a show, which somehow (maybe inevitably) ended up being about us and set in London. Then, as luck (and hard work) would have it, our company Collectif and then… was granted the Deutsche Bank Award from Circus Space for its 'business plan', and awarded a mentor and a small grant. The project was about being inspired by your environment and the people around you, and part of the award would help us turn our ideas into a show.
We approached Adrian Berry at Jacksons Lane, as we were aware that he was interested in helping emerging circus artists and in developing circus in London. So & So Circus had helped us a lot for the Deutsche Bank Award, and they had a good relationship with Jacksons Lane, so encouraged us to approach them. Adrian had also expressed interest in our work having seen us in our earliest stages at Stratford Circus' Saturday Club, where we had performed two years previous.
Nights were spent brainstorming about London and how to capture the essence of London through circus. We ended up with notebooks crammed with words and crumpled-up pieces of paper. On them were scribbled ideas such as the parallels between London and circus (i.e. violence or immediacy), words (rain, grey, loneliness), physical ideas of how to use the space, and some indecipherable things that have been forgotten. Before paper made it to physicality, Victor went to Spain and Telma to Portugal.
Lucie and Francesca remained in London. Aware of the little amount of time, space and money we had, we started madly planning. We thought about storyboarding to save time in the rehearsal room – but this proved impossible (for us); the ideas that emerged in the rehearsal room and by accident later on were far richer than anything we could conjure up in our heads. Fairly close to the beginning of the rehearsal period, we started to think we might need a director. But who to ask? There's only a handful of people working in the UK who we felt could work with circus in the way that we wanted. So we consulted Daisy Drury (head of Circus Development at TCS and our saviour!) and she suggested a few people, one of whom was Camille Litalien.
We knew nothing of Camille prior to this, other than a small amount of info on the web and a good feeling following a telephone conversation. After the first meeting, we felt like this relationship could work. It turned out that we were right to trust our instincts, and everybody was very happy with the choice. Originally, Camille was supposed to take the dramaturgical role of an 'outside eye' offering guidance and support for our material (as we had already developed our ideas quite far before she came on board). In reality, she gave a lot more – offering us a perfect balance between the freedom to develop our own ideas and the benefit of her own input and suggestion.
Before we knew it, we were at Jacksons Lane on the first day of rehearsal, armed with all things inspirational: bricks, clubs, poems, thousands of fragments of ideas and no clue as to where to start the puzzle. But that was OK; first, we had to rig our equipment. This gave us some time to digest the space and gather our thoughts. After a lot of nudges of ropes, kicking of poles and a bit of a play, we were ready to start. But where to start?
The questionnaires. Over the previous few months, we had been collecting questionnaires from people – about London, and their feelings toward the city. We read, and we read and we read. London is the colour of a bruise, violent, yet beautiful. London is grey, grey, grey, grey, grey. London is full of surprises round every corner: a girl's dog is kidnapped and she has to go and pay the ransom in a London basement; a kitten is dressed up and put in a pram; a man is mugged for cheese. Great – more ideas, but still no idea where to start. So we abandoned the idea of thinking too cerebrally about the show, and had a good play. We climbed on all the balconies, ledges and surfaces available in Jacksons Lane, hung from them, juggled on them and jumped off them (this involved a few elbows hitting faces). We wrapped the ropes around the Chinese pole, used them to swing down from the balcony and to walk along the edge of the stage. This seemed to free up our minds a bit, and we felt less 'stuck'.
Camille came in on the second day. We shared our ideas and showed her what we had worked on the previous day. We had a long discussion about whether we wanted characters or not, if we wanted to tell a story, or if we wanted to remain more abstract. We decided to try some character work and see where it took us. We looked at the questionnaires (again), and chose some aspects of them to inform our characters. Camille led us through some Michael Chekhov exercises, and we began to discover and develop our characters. We wrote character profiles for each of us, which eventually formed the text that we used in the show.
We began improvising scenes and stories, some based on the characters and some based on an environment (for example, the city on a cold morning). Camille helped us not to be too abstract, and reminded us of our aims for the piece. At the end of the first week, we had a lot of short scenes and character introductions. We wrote these scenes down on pieces of paper and played around with different possible combinations. We then spent the second week trying out the scenes in various orders, finding ways to move between the scenes, and finding out what made sense.
A few issues came up. One was about the use of the text: should it be voiceover, live, in English, in our own language? We opted to try voiceover to see if it could work (aware that voiceovers often sound very flat and we would have to be careful about how it was used). The second issue was the cloud ropes. When they were rigged as clouds, they looked as though they belonged in a different world to the one we were presenting on stage. When they were down, they took so long to rig – and if we did rig them during the show it had to be done as part of a scene (no naff paging). We didn't know how to end it – should the spirit of Telma's character, struck from her body in a car accident, return to our world or leave? If she leaves is it too cheesy?
At the end of the week we had a showing of our work in progress to friends and colleagues. This, we hoped, would help us to address some of these issues, and help us to see if the story we had created made sense. The audience was mainly made up of fellow circus artists (a hard audience for any circus performer). Performing something at such an early stage (after ten days of creation) when we felt so unprepared was quite nerve-wracking for us, but we made it through the piece, after a couple of stops and starts. The feedback session was long and passionate. There was a lot of useful feedback (and a lot of un-useful feedback) flowing between audience members. We had made the mistake of telling the audience that originally the show was supposed to be about London. They fixated on this during some of the feedback, when in fact we didn't mind that the show wasn't about London as long as it retained a sense of the city. Another expectation of the audience was that we were going to show well-developed movement and tricks, when in fact we had barely worked on our technique at all yet. We knew we had the technique; what we wanted to find out was if we had a story that worked. We felt quite vulnerable, but were grateful for the advice of our peers. We spent the next two days going through the feedback, seeing what we agreed with, what points were reoccurring and what we felt needed the most work. Then we had another break. Telma back to Portugal, Victor to Spain.
We had three weeks apart to reflect on what we had made, and to work on our individual technique. We also used this space to work on publicity (with which, thankfully, we had a lot of help from Jacksons Lane). Three weeks seemed like three seconds, and we found ourselves back together once more (this time with a more pressing deadline). We worked through the sections and scenes, after much debating found an ending, and spent one horrible day fighting our way through Primark to find costumes. We received our music from Alex Norgate – the sound designer (who we had been communicating with via Skype and email as he lives in Exeter).
It was a time of decision making. At the beginning of the week, we decided to speak the text into a microphone in our own languages. At the end of the week, we decided that the text worked better in English. We didn't find a solution for the ropes, and so left them rigged as clouds throughout. We found more detail in our characters and in our interactions. We made the violent scene more violent. We added, we took away – until we were satisfied. Alex Brooks (the lighting designer) came in towards the end of the week to set the lights. Once we had proper lighting, we all felt elevated – it seemed more complete, more like a show.
The run went well. People seemed genuinely happy with what we had created, and the feedback was very positive. It felt like this was the beginning. The piece is not finished yet, but we are happy with where it is going. In May we have a residency in Switzerland at L'Élastique Citrique's 'La Caserne' where we can develop it further, Jacksons Lane would like us to return next year, and we will try to tour in 2011. We needed more time and we spent too much money, but we are proud of ourselves and feel we are moving in the right direction.
Like the rain when it stops
was first shown at Jacksons Lane 25-27 February 2010. You can read Dorothy Max Prior's review
here
.