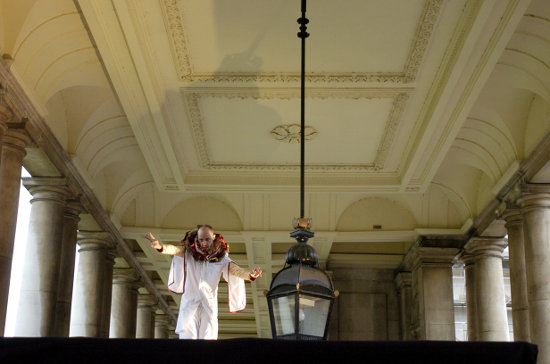 A squally clouded-over day, then, to accompany the revival of Greenwich Fair, a hoary old tradition in Greenwich Park which, until it was banned a century and a half ago, annually saw the erection of open-air markets, lurid theatres, bandstands, fairground rides, penny shies, and insalubrious premises (licensed and unlicensed), to accommodate a sudden competitive influx of entertainers, musicians, hawkers, and exotic beast-tamers—plus of course the roiling crowds of audience/punters/buyers/marks who came to be amused by the dreadful melodramas, fleeced by the mountebanks, and psychically obliterated by liquor.
The 2011 reimagining of the Fair, contained within Greenwich + Docklands International Festival, is a rather more genteel affair, shifted in large part from its ancestral pitch on the sloping green leading up to the Royal Observatory to the the flat, lovely grounds contained within the squared walls of the Old Royal Naval College, alongside the Thames and across the water from the Isle of Dogs. Nested within the Fair, which is nested within the Festival, the smallest matryoshka doll is Gravity, an open showcase of circus, street arts, dance and physical theatre co-presented with FiraTàrrega.
So here along one tree-lined avenue, audience mounted either side on the slick grass, rolls Acrojou's The Wheel House, company members Jeni Barnard and Barney White crammed into the interior of their German Wheel, the frame of which is fitted out with miniature cupboards, drawers and curtains that fly open and slam shut as they circle over gravity—the compaction of living space, the awkward exits, the clambering all instantly familiar to anyone who's lived on a boat. Our two performers are covered in grime and wearing rags in what is possibly becoming the Acrojou couture, and play an old couple living in a bleak, depleted future of junk vehicles and windstorms, the piece a dusty kind of conflation of Mad Max and When the Wind Blows. It's a meandering, gentle sort of show, sweetly good-natured, a little unfocused, best perhaps unannounced and encountered—as a strange visit from another world—and best also I think to imagine that in the entire time between performances the House is only rolling slowly between festivals, dropping clutter along the way, London to Whitfield to Uckfield to Chilstone, all the summer long.
Elsewhere in the Naval College grounds, two shorter works from circus artists: Max Calaf's trampoline solo, Somewhere... nowhere!, and an acrobalance set from the French/Catalan company Fet a Ma. Somewhere... nowhere! I liked when I saw it at a Circus Space show; it's a magic realist sort of evocation of drifting and the road, with Max a hitch-hiker in a dirty vest and open shirt, but the piece is perhaps not that suited to the well-tended grounds of the College, and the details of Max's interaction with a frontline audience member are (even though I'm nearby) lost on the air. Fet a Ma – the acrobatic pairing of Pau Portabella and Marta Torrents Canals – perform a short, pitch-perfect piece of outdoor theatre, he a stocky/beefy archetypal base, she a slim gymnast who is both as rigid and as pliable as a wireframe sculpture, the two of them acting out a fresh and playful act—because it is, definitely, an act—that spins out from the man's exertions to avoid the woman's queerly reaching embrace, and that wins the applause of the audience as well as the catcalls of a gang of boys passing at the riverside.
Company FZ, having decided to disband (with founders John-Paul Zaccarini and Flick Ferdinando continuing to work independently), gave one of their final performances at GDIF: a weird string of motifs that begins with John-Paul Zaccarini—immaculate and white-suited, resembling perhaps a character from a Poliakoff garden drama if not for the handsome leather boxing gloves enclosing his hands—tied by several lengths of string to a bale of hay that anchors his movement and slows to a crawl his progress toward the scissors that he anyway can't pick up because of the gloves; then there's a long section carrying bales over tottering wooden planks; a slow-motion boxing match that our performer can't be said to win; and a final strip-down on top of a bale tower as JPZ is showered with water from a hosepipe and gives a faltering rendition of 'Suicide is Painless'. Taking a guess, I'd say it was sort of a purposefully obtuse collage of previous FZ shows. I haven't seen most of their work, but figured the bales were alluding to Horse, the string to We Can Be Heroes and the wet nakedness to Throat—and always in a rough, dismissive, disrespectful way, like these careful pieces of art had been broken to pieces and re-combined in a mosaic of a cock. The girls in front of me were quite pleased with the final nudity, but mostly the audience were baffled. Personally I enjoy the keen edge of disdain that seems to underlie JPZ's actions as a thinker and performer—if for no other reason than no one else in UK circus is saying Fuck You with any vigour—but would rather see that combative, destructive attitude directed toward bigger and more deserving targets than his own work and its attendant audience.
Finally, it isn't circus by anyone's definition, but Elastic Theatre's Baroque Box capped the day and ended the Fair on a high note. Presented in the King William Colonnade, the pillared walk skirting the edge of one Naval College building, the piece is a compact mask / physical theatre / opera piece performed in and on top of a compartmented black box, the audience split and placed at either end to see characters continually disappearing and reappearing within the box's curtained interior.
Supported by the Wellcome Trust (who seem to have a really good eye for artistic projects) Baroque Box takes, in a way, a pedagogic approach: by the end of it you know a little about the four 'humours' recognised by 17th Century science—sanguine, choleric, melancholic, phlegmatic—and about some of the era's conceptions of the body, but it's all delivered through the narrative of an Italian painter (inspired, apparently, by Caravaggio and Bernini) who's been commissioned by the Pope to paint The Ecstasy of Saint Teresa and who's stuck with the question of how to depict ecstasy. What is ecstasy? Is it in the body or in the mind? Played by Chiara D'Anna—wearing a half-mask, sporting an impassioned, trilling accent, and fairly sloshing with choleric humours—our artist rushes around and through the black box, seeking out Teresea, the Angel and Jesus himself ('Hesus!'), exhorting the audience to watch out for these characters and fuming at our uselessness ('You are against the pope and you are against me personally!').
Introducing each of the four humours is the Scientist, played by baritone Nicholas Simeha, who climbs on top of the box to sing the factual interludes. I loved this; loved all of it. The production, written and directed by Jacek Ludwig Scarso, had such a light touch in its depiction of a moment when religion and science parted company forever, and it was a simple but genuinely moving ending when, after a fervid ecstasy of dry ice, the two audiences were chivvied around by the artist, united to watch the final painting played out. Elastic Theatre recently put out a call for circus artists to participate in the R&D of a new show, so keep an eye out...
John Ellingsworth was at Greenwich + Docklands 24 June 2011.