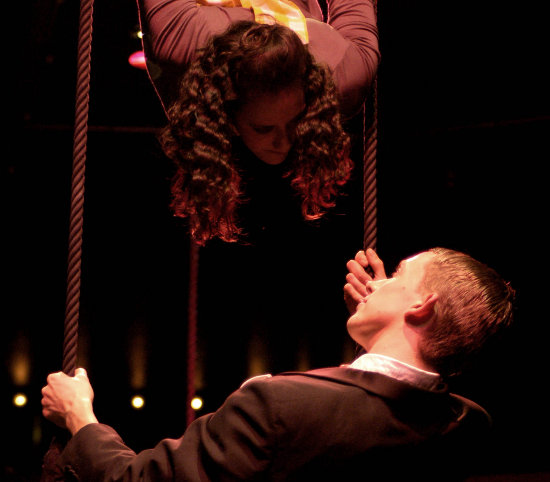 In a largely uncurated festival, the Gilded Balloon nonetheless rises above the other Edinburgh Fringe venues to present the strangest and most various programme. So Tales of the Apocalypse, a dystopian circus cabaret, was delayed while the Balloon's Debating Hall disgorged 300 screaming, unsteady, overstimulated women who had just enjoyed a performance from the Chippendales—that show in turn preceded by comedian Janeane Garofalo, and her by the Nearly Naked Chef. The thing is the Debating Hall isn't actually a good venue for Tales, and I don't think the show really works there. It was originally produced in the Shunt Vaults as an immersive event—where the proximity of the artists would have given them greater impact than they could manage on the Hall's high, far-back stage, and where the rigging changes wouldn't have created so many dead points. Perhaps, too, it would have felt less like a series of themed acts and more like a cohesive show. As it is a much better ticket is Airealism's stage show Noir.
I first saw Noir at the Albany in London a few years ago. It's changed a great deal since then, and for the most part for the better—the Albany was a better venue (having a thrust stage and probably greater flexibility with its rigging points), but the technical skills of the company have improved and the plot, a traditional noir story of love and betrayal, has become tighter and faster. There are some great touches now and the aerial work is extremely well integrated—whether it's the gang boss sitting atop a high trapeze as a vertical reading of his status and controlling influence, or the henchmen crawling down ropes to chloroform our detective hero. A dream sequence works beautifully, the detective slumped on a trapeze while white fabric billows behind him and the threatening characters that form his story and dominate his mind come out to express their shifting relationships and loyalties through aerial performance. There's a little that's obvious: red silks falling to mark a death for instance, but part of the pleasure of the show is that it's drawn with clear lines. It's never hard to understand; you're never left behind. You know who's a bastard.
Chief among bastards, playing the gang boss, Will Davis has an exultant smarm, but elsewhere the company would benefit hugely from working with a mime to strengthen the physical acting during the floor sections—the one weak link in the production, but an important one as it keeps Noir a pulp fiction: compelling and extremely fun, but without a true emotional frequency. Still, maybe the aim was to create a genre piece, and with that ambition Noir is an extremely successful hour of theatre—fluid and engaging; an improbable combination pulled off.