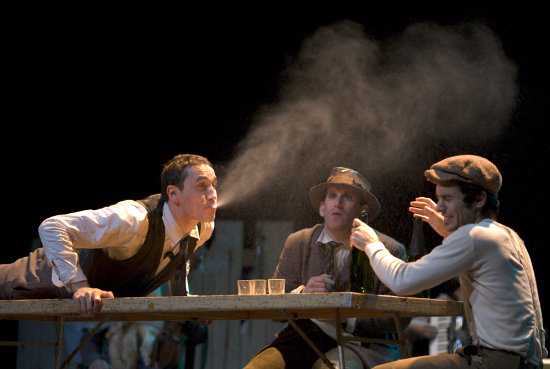 Gosh, I wouldn't have wanted to be the man, just across the aisle from me, who got pulled up on stage and held there for the production's entire second half. Less an audience participant than an extra, improvised cast member, he wins Best in Show: the perfect victim in displaying just the right levels of resistance and compliance, and, crucially, someone who very clearly did not want to be on stage. We all know the only thing worse than a participant who's nervous and horrified is one who enjoys the attention, and Circus Klezmer lucked out in picking a man balanced always between unwillingness and equanimity as he was lead on stage for a comedy striptease, tied to a chair, discovered by the cuckolded husband, and hidden by the cast when same husband returned with a sledgehammer. By the end, still tied to the chair, he'd been given a violin to play along with the back rank of musicians.
So then Circus Klezmer, the story of a Jewish wedding that's derailed when the clown (Adrian Schvarzstein, credited as the 'village idiot') loses the rings. There's circus mixed in, and it's neither entirely spectacle nor a deep channel for emotional or metaphorical drama: acts, then, but played down, and fitting closely enough with the narrative that they don't pause or overwhelm it. Bride and aerialist Eva Swarcer performs silks, trapeze and Spanish web, of which the trapeze best suits her neat, rhythmic style; the couple experiencing marital strife act out a comic, aggressive acrobalance routine; and then there are several juggling sequences, with the best a trio sequence of plate and bottle juggling characterised by the increasing drunkenness of the jilted husband (our participant still tied to a chair in the background, a cardboard box over his head). After a frantic search for the lost rings which sees the village idiot tossing bags and coats all over the auditorium (I can still feel where the metal buckle of a thrown handbag fetched me a whack on the head) two members of the audience give up their own so that the couple can marry. Everyone dances round.
The juggling groom probably wasn't having his best ever night, but on the whole the production is a solidly executed night of entertainment that you wouldn't, or shouldn't, visit with the expectation of seeing artistic risk, subversion, or great originality—but it's fun, and the music is great, and you can take anyone, of any age. What I'm saying I guess is that it's largely review-proof, and you should have a fairly good idea in advance of whether or not you'll like it.