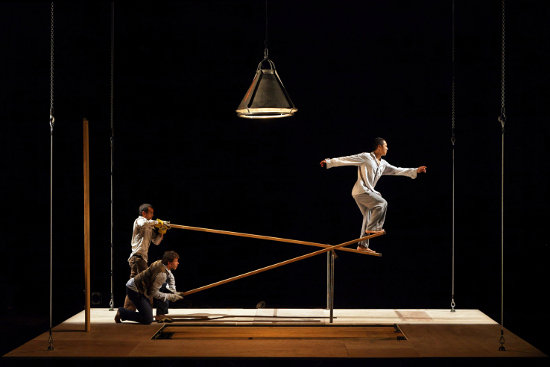 The most resolutely outward-looking of the UK's visual theatre festivals (it imports the large majority of its programme) and perhaps now the oldest, LIMF has been running over 30 years and a look back at the programme archive proves their eye for for picking the greats before they've made it. In London, and, more widely, the country, it's unchallenged in size and reach. Certainly there's nothing else going in January.
It's not a hub festival, strung as it is over two weeks and half a dozen central London venues, and the workshops it offers annually are half-hearted – in the main it's the same people running them each year, and the incoming artists and companies, who in some cases have come many hundred of miles, are seldom drawn upon.
Over the years the festival has built up strong relationships with particular companies and artists (Aurelien Bory and Collectif Petit Travers have been favourites in recent years), and there are other recognisable trends to the programming – you can for instance be sure that there will be a Kids and Granny show, something gentle and soft and suitable for the whole family – but you can be sure too that there will be something unlike anything that's gone before.
And there will always, always be at least one show that reflects the festival's taste for – relish for – the weird and the inscrutable. There are plenty of programmes out there that encompass strange or outlying work, but LIMF's unique victory has been to establish itself as the festival where mainstream audiences seek and pay for exactly this quality of esoterism – even if they do it only once a year. Hence and therefore: Buchinger's Boot Marionettes.