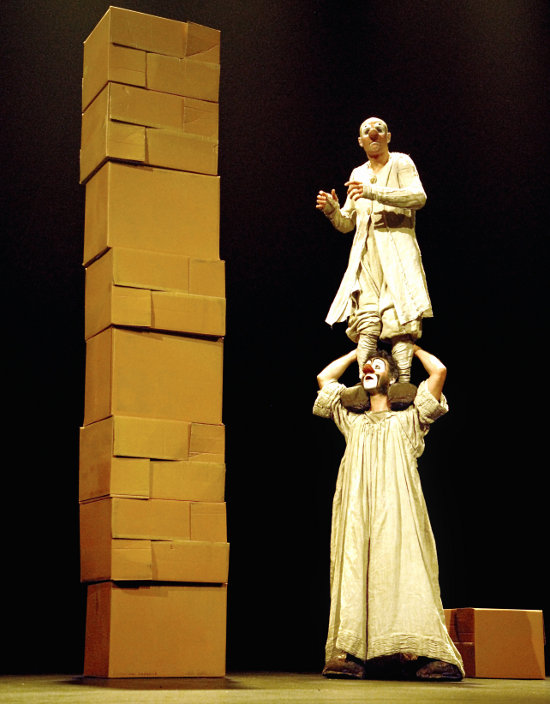 I think really I had my fill of Okidok with their first Mimefest showing, Slips Inside, and going back within a week to see their second piece was never going to show them in their best light. By about the midpoint of HaHaHa I wanted it to end, and for most of the show found myself somewhere outside of and underneath the general appreciative flow of the audience response.
That said, I think HaHaHa has some problems, and is perhaps a weaker piece (or has become a weaker piece) than Slips Inside. Dressed in voluminous white smocks, with whited-out faces and red noses, Xavier Bouvier and Benoît Devos cycle through a series of discretely presented scenes or acts. Some work better than others, and I think where the show is strongest is in its simplest moments—soundless conversations between the two clowns through a minute but densely communicative language of raised eyebrows and titled heads. Beckett is used as a touchstone in the marketing pitch for HaHaHa's visual style, and certainly there are moments of intensely desolate humour and profound stasis (that perhaps draw some of their truth from the fact that Bouvier and Devos have been performing the show for nearly a decade)—but this subtlety starts to fade as the production moves closer to a broad slapstick style that feels as though it has been developed for a bigtop: a setting where the action necessarily has to be viewable and comprehensible at a greater distance.
The audience seemed to flag a little as the show went on, but for the most part they were entertained, and there's no denying that Okidok are technically very skilled mimes/clowns. I just won't mind too much if it's a long time before I see them again, and if the next show has greater and more ruthless economy in its presentation.