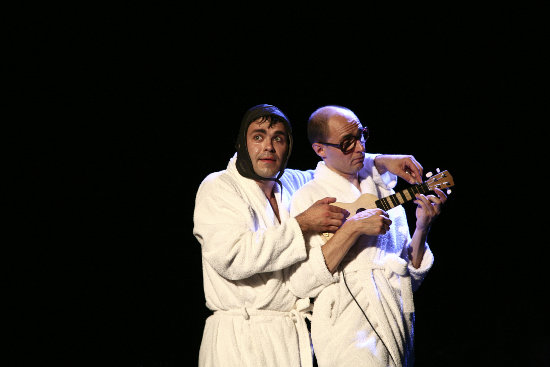 Okidok got all kinds of laughs over the course of Slips Inside, but seemed particularly to generate isolated giggleloops that they would always stop to chastise, absolutely worsening the situation for whichever audience member was at that moment trying to control herself. They practically murdered a girl in the front row who was having trouble breathing and kept fanning at her face with spread fingers. They got plenty of regular laughs too.
I guess I don't know anything about clown lineage, but Okidok reminded me of Gamarjobat with their disappearing thumb tricks and fast sight gags, and Slips Inside has some of the flavour of an outdoor show (it doesn't really need the stage or its lighting) with much of its material generated on the streets. Starting dressed in twin white dressing gowns before stripping to underwear only (there's a running gag about the artificially increased contours of Xavier Bouvier's pants), the duo compete to see who can perform the most incredible number of press-ups, the most beautiful dance routine, the most devastating kung fu move. Despite the immensity of their physical gifts they do occasionally overreach themselves, and one of the more memorable images is of Bouvier staggering around like a newborn foal after a particularly bitching somersault leaves his legs inextricably crossed.
The show moves forward headlong. There's a great switch where, for no reason at all, Benoît Devos becomes a silverback gorilla and inquisitively knuckles toward an increasingly nervous Bouvier. The audience accepts it instantly, and it's like a kind of slight of hand: make the audience laugh, and move onto the next thing while that distracts them. It works because the audience do laugh, and because Okidok are just very skilled mimes and physical performers: Devos makes an excellent gorilla.
To some minds Slips Inside will be a little overlong, though probably not to the point that it collapses under its own weight. Myself I found that by the closing stages Okidok's particular style of clowning had become very familiar: a sort of adolescent intensity in displaying skills—which run from traditional acrobalance to more esoteric tricks (e.g. sliding over the floor on a back slick with sweat)—and of course a canny ratio of failure (frequent) to success (rare). Even so, it ends strong with a daredevil leap into the extra pair of Y-fronts that have all night exaggerated Bouvier's assets. Standing on top of Devos' shoulders as the pants are stretched wide, he makes the jump. One failure, one reprise; and in the brief moments before the second attempt the theatre was cloaked in the thickest and most significant silence imaginable.