London International Mime Festival 2013
Mime Festival directors Joseph Seelig and Helen Lannaghan talk about the six circus shows (and one not-dance show) from January's programme.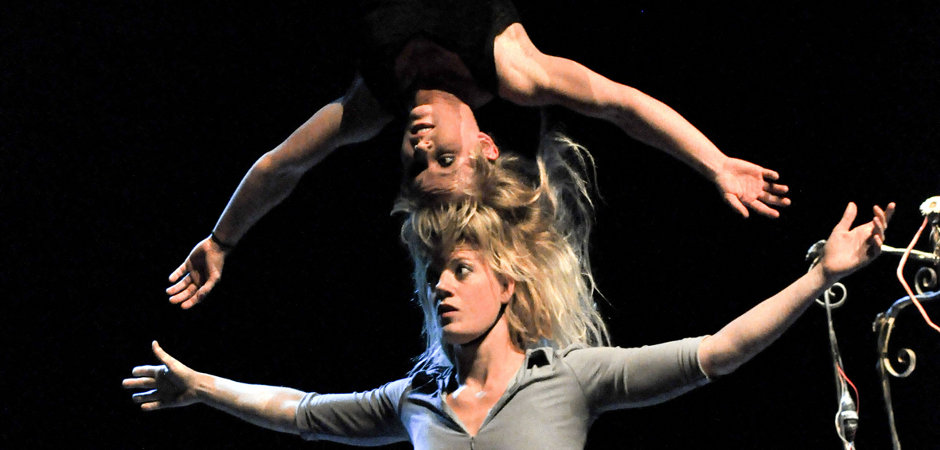 "My!Laika's world is apocalyptic, an electric landscape where a surprising present coexists with an unknown past. There's humour, bold acrobatics, a well-played Chopin waltz – even a popcorn volcano amongst other delights in this hour of surprising circus theatre, in which three charismatic women and one man live out a series of implausible scenes."
Joseph Seelig:
This one's a bit punky, a bit weird, apocalyptic. Quite fiery. We've had lots of small-scale French circus troupes, but I think this one's quite unusual. The performers all come from different places, different backgrounds — it's not just four people who met at a circus school and brought not a lot of experience with them. They say they their inspirations, their muses, come from literature, cinema, music so the aesthetics and the references they bring are really unusual.
Normally we have far more French companies, but this year just two and at opposite ends of the spectrum because My!Laika is a young, unestablished company and Aurélien's Cie 111 we've had five, six, seven times.
12-15 January 2013
@ Purcell Room, Southbank Centre
Book tickets / Artist website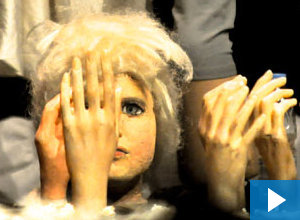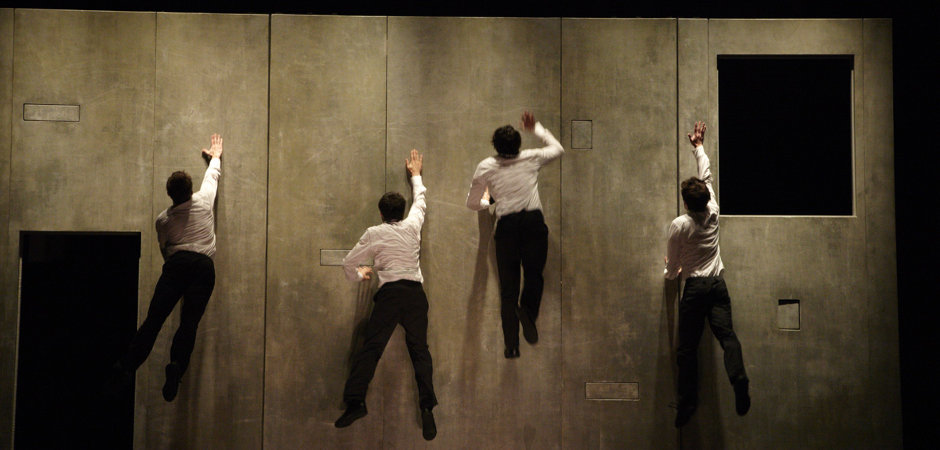 "Performed on a cunning, tilting set, a source of tricks and transformations, this astonishing spectacle unfolds like a dream. A thrilling mix of circus, dance, video, 'sonic' object manipulation and optical illusion, Plan B juggles with gravity and perspective."
JS:
This is the show that's being restaged ten years after its premiere and... it's wonderful, I think it's his best. It's always sort of tricky if something comes back after such a long time — but it was so unusual, it
is
so unusual, and very beautiful and precise and satisfying.
Helen Lannaghan: When Plan B opened in 2003 it wasn't that long after Crouching Tiger Hidden Dragon, and so some of the kung fu scenes in that had a definite influence, and Robert Lepage had just done a piece, Far Side of the Moon, that had some similar technology and effects and so there was also that resonance. So that's part of what's interesting ten years later: to see if, even though those references are no longer current, the piece can still find resonance with the audience.
It's been interesting to watch the progression through Aurélien's work — so the first show, IJK, was a much more straightforward juggling show with a smaller set and Aurélien playing flamenco guitar.
JS: Plan B was the second piece, conceived by Aurélien but directed by Phil Soltanoff, a very uncompromising artist who Aurélien seems to find a big spark with. Yes, it's a slightly different aesthetic from some of his other works, but I think that Aurélien has progressed with every show he's done. It's gotten more complex. It's got more layers to it now. I think Plan B was an amazing step forward: who knows how people will see it now, but 10 years ago people who saw it were very deeply impressed. It's a very ambitious piece of staging, with this big hydraulic wall, but it was still essentially a juggling show that had acrobatics and a piece of moving set. Since then it's always similar themes he develops, but in more and more complex ways until you get to Sans Objet, when it isn't even a human being that's the protagonist on the stage.
HL: I think also his use of space has been quite interesting. Whereas the first shows had a more general appeal maybe his work has moved more toward fine art. So we felt that personality on stage played less and less of a part and the visual side became stronger and stronger until it was more or less an installation that you were watching — so Plus ou moins l'infini, with all those rods moving in sync, some people might have missed the personality in it and yet it became something other.
JS: He's made his work more and more a piece of fine art or performance art rather than a drama where humans interact, but in Plan B I think the human element is very important.
(Also on Sideshow: The Rule of Art, an interview with Aurélien Bory, and a review of Sans Objet.)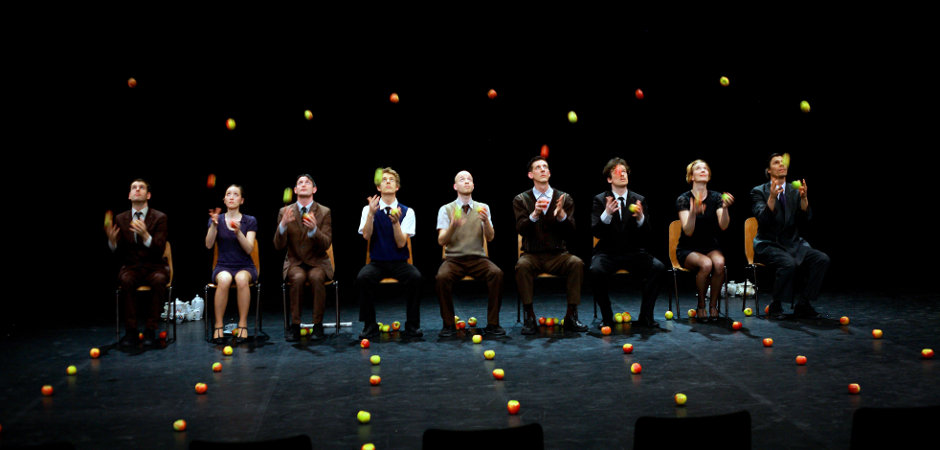 "Another chance to see the big hit of last year's Festival... Nine extraordinary performers, eighty apples and crockery galore combine in a series of nostalgic filmic scenes, hinting at conflict and tense relationships, lost love and the quaintness of afternoon tea."
HL:
I think
Smashed
was a very different thing for the Gandinis: suddenly they had a success that even they were surprised by. It finally seemed that they'd arrived at a show that wasn't just for juggling enthusiasts, but that had a much wider reach.
JS: It's also so nice to have a juggling company performing at the Royal Opera House. Smashed is, as they say themselves, a homage to Pina Bausch, and I think it's sort of sophisticated and complex in a way that Pina Bausch's work often was. But it's done with a great deal of humour and tongue in cheek, and I think last year it genuinely did bring in a different audience. There were lots of dance people who came because Pina Bausch is their goddess and I think they saw something different — light-hearted but worthwhile — and will be back.
The company have come such a long way. I saw them a very long time ago, long before we had them in our festival — and at the start we didn't have them because we thought, 'It's just juggling, it's very academic and dry'. But then something happened there...
(Also on Sideshow: an interview with Sean Gandini on the making of Smashed, and reviews of the company's Watch This Space residency and shows Motet and Blotched.)
24-26 January 2013
@ Linbury Studio Theatre, Royal Opera House
Book tickets / Artist website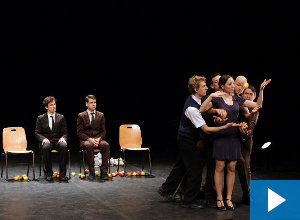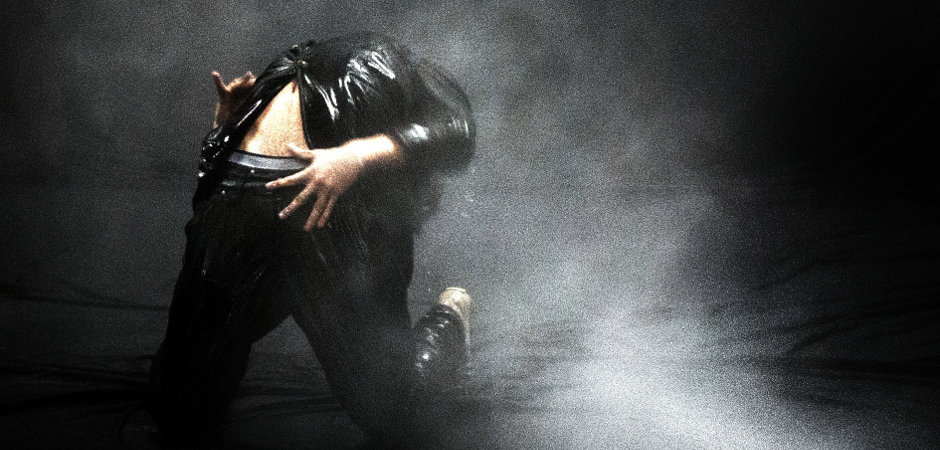 "In a bleak setting that evokes the first, or perhaps the last days of the world, a man slowly stands up in the face of seemingly terrible adversity and tries to construct a thought, a speech that might explain."
JS:
Les Ballet C de la B? What's that doing in the Mime Festival? Well, it's dance by the furthest stretch of the imagination. It's wonderful movement theatre, and it's going to be, I think, quite controversial. There's a scene that lasts perhaps seven or eight minutes of the one actor being subjected to a flood in the form of a water spray. It's like the end of the world, or the beginning of the world, this one powerful image. People won't have seen something like this before, but the performance is a lot like
King Lear
: it's Shakespearean, tragic, a work of epic dimensions.
HL: Not everyone will like it. In fact some people will hate it. Probably some people will walk out.
JS: No, no...
HL: It's one of those really divisive shows; it's a marmite show. You love it or you hate it.
JS: There's no reason to hate it unless you're a narrow-minded... No, no.
HL: It's really disquieting.
JS: It's disturbing — but no more so than King Lear, which features a lot more nasty things than this.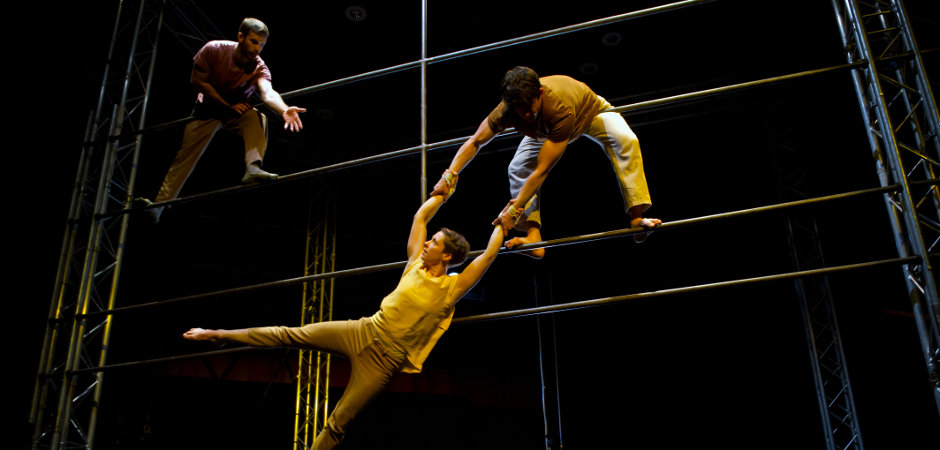 "Not Until We Are Lost is an immersive promenade performance which brings the audience right into the heart of the action, while narrative and images unfold around them. With world class aerial work, and powerful acrobatics performed on specially designed structures, the new show creates an environment which is both physically and emotionally affecting."
HL:
It's a lovely piece of aerial theatre from a British company — work that we wanted to support. Obviously finding a place in the centre of London where they can rig their equipment is quite a challenge, so we were delighted to find the new Platform Theatre. And they're going to open the whole festival, which feels really good, doesn't it?
JS: It does, and it's nice to have the opening in a different place if we can each year. The Platform Theatre is part of the relocated Central Saint Martins College of Arts and Design and it's a really interesting building — it's behind King's Cross station and it used to be a vast grain store. It's the sort of place that you'd see in Germany or Belgium or France and that'd make you go, Oh god why isn't there something like this in London? Well, there is and it's a very exciting space to be in.
This piece is quite different in style to their last, The Mill; it harks back to their earlier trilogy and to the very impressive beginnings of the company.
Also on Sideshow: a review of The Mill, an interview with Ockham's Razor, and the DVD of their trilogy piece.
10-12 January 2013
@ Platform Theatre
Book tickets / Artist website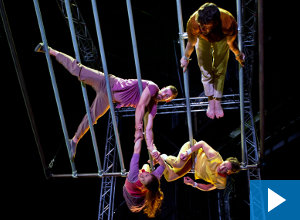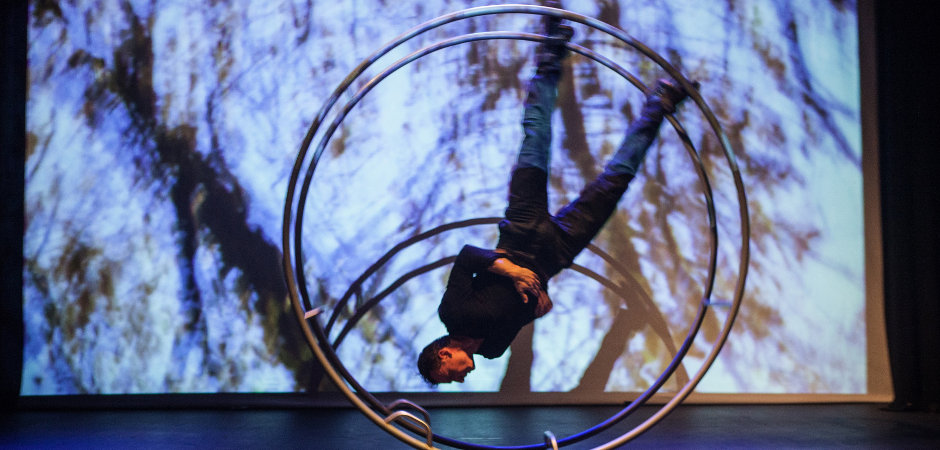 "Meet Guiseppe Tato – a man with memories, fantasies and ghosts… and a few things he thinks he needs to prove... London-based Italian circus-theatre artist Simone Riccio tells Guiseppe's endearing story through a mix of high octane acrobatics using German wheel and Chinese pole amongst other circus skills."
JS:
We wanted to programme somebody that would be appropriate for Jacksons Lane, and for it to be something new.
Nothing Moves
was performed at the Postcards Festival in June, but Simone is sharpening it up and changing a few things.
HL: His earlier version was much wordier. He worked with Aitor Basauri from Spymonkey, who thought it needed a script — that Simone was a clown and he should speak — but in the end Simone realised it wasn't quite right and he's going to save the good elements from that but also strip it right back.
JS: The early showing was mostly on German wheel. Some of these pieces of circus equipment are quite limiting, but there are people who really are, I suppose, great in some way: a Chinese pole, you can go up it and down it, the wheel you can go round and round in — but Simone somehow introduces a poetry and a lyricism to this, and you could watch it for... quite a long time.
16-22 January 2013
@ Jacksons Lane
Book tickets / Artist website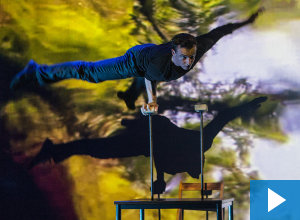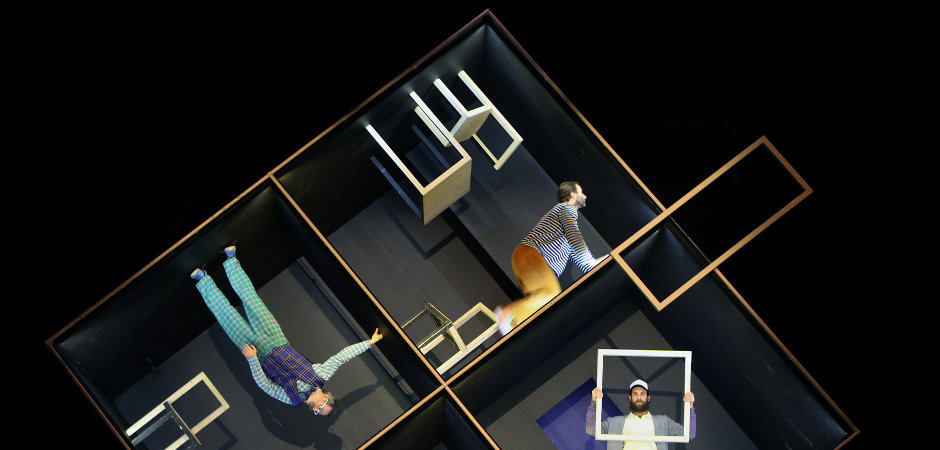 "Catch your breath as seven performers tumble through an astonishing spinning house whose inhabitants miraculously live life through 360 degrees, jumping, climbing or dancing."
JS:
I think Zimmermann & de Perrot's unique selling point is that in the world of new circus they're not French. I mean that's not the best thing about them, but it is a fact! And then Martin Zimmermann is an extraordinary choreographer and thinker about circus, and Dimitri de Perrot is an amazing musician. They think bigger than many other companies and they're used to playing in very big, important theatres all over the place.
Each of their shows are different. Yes, they all involve, a bit like Ockham's Razor in a way, a huge piece of equipment — this one's got a house, a huge box in four compartments which revolves — but we're not just sitting there looking at bits of interesting equipment. There's character, there's a story, and there's a great variety of skills on show there.
HL: Also they like to cast characters — so you get a variety of body shapes, sizes, personalities. It's a really varied bit of casting.
JS: And it works on a very large scale. So this, like all the things that we've done at the Barbican as part of the festival, doesn't look lost in the space — it looks at home there.
Also on Sideshow: reviews of previous pieces Öper Öpis and Chouf Ouchouf.
23-26 January 2013
@ Barbican Theatre
Book tickets / Artist website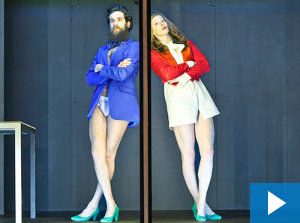 Joseph Seelig and Helen Lannaghan were interviewed 20 November 2012 in The Plough, Little Russell Street. The 2013 edition of the London International Mime Festival runs 10-27 January 2013. For more information on the above shows and for the full programme see the
LIMF website
.