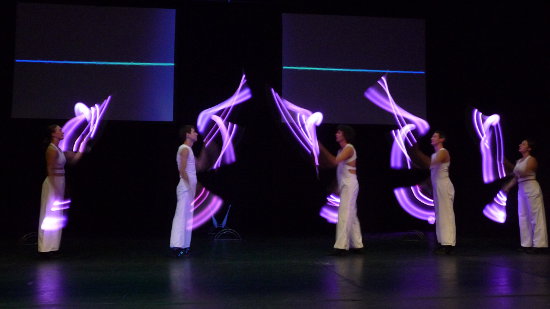 Held in the Astroturf square outside the National Theatre where it was almost magically cursed by bad weather, I'm not sure how much of Watch This Space's third week was either cancelled or abbreviated—but the days I was there the Gandinis (jugglers in residence) seemed like the perfect company to take the problems in their stride. Apart from the quick start and set-up of their shows, they have a natural warmth and affability that smoothes out the drops and wins them a little extra grace from their audiences—this quality of lightness and friendliness strongly present in the two repertoire pieces they brought to the festival, The Cube and Sweet Life.
The Cube is just that—a transparent box that Kati Ylä-Hokkala and Sean Gandini stand inside which allows them to rebound rubber balls off the walls in front and behind, and which has the useful second effect of childproofing the performance zone. Its means of dramatic escalation is the age-old One More Ball callout, but on the whole The Cube is relaxed in its tone and presentation—seemingly as an expression of the performers' own personalities rather than as an aspect of feigned character. Sweet Life goes the other way and casts the Gandinis (six on stage for this one) as cool, carefree Italians with poor time management who ciao everyone in the audience before starting and take breaks to have their pictures taken. It's a fun and frothy short that ends nicely with its big trick ('un, due, tre, wooshy-wooshy'), which pulls a kid up from the audience and mildly terrifies him by trapping him at the centre-point of an X of flying clubs.
As part of the residency, the Gandinis also hosted Gandini Guests, a line-up of invited artists that included the baroque technical excess of French duo Denis Paumier and Sylvain Garnavault of Les Objets Volants, their act introduced as the most complicated ball juggling happening in the world (there's a pattern in there, but for a regular audience it's like trying to discern the pattern in the drum of a lottery ball randomiser); smooth cocksure extroversion from Aaron Sparks with a (mostly) yo-yo routine performed to buffed-up Can Can music; three-ball flurries from Reuben Harry, a young guy in a lime green tie whose hands travelled about three times further and faster than the balls he juggled; and crowd-friendly showmanship from club-passers Bibi and Bichu (who I am 90% sure I once watched for half an hour playing around at an outdoor festival in Bristol where they weren't programmed or even collecting money—they like what they do).
I got more from some of the Guests than others, but I think seeing them in cabaret format, in all their differing styles, was part of the reason that two days later I was so touched by Gandini NightClubs, a new piece that Gandinis and Guests developed together in the NT studio over the week of their residency. It didn't have a narrative or a theme or even costumes, but that was why it worked: it was about juggling. In 40 minutes of juggling clubs and (standard and rubber and giant-size) balls, fragments of the performers solo routines would arise as gestures of personality bound within the larger movements of flocking and deflocking, synchronicity and syncopation that ran through the work. And if you could hear Sean counting time during a particularly complicated, probably mathematical, section where the ten performers passed clubs as they wove in between each other it only lifted your sense that they were a band of individuals pulling off something extraordinary.
It was exciting, too, just to see so many objects in the air, and then the incidental images that came from them: columns of balls rising and falling like the bar readouts on a digital stereo, or luminescent clubs spinning fast enough that they lost their shape and looked like turning galaxies. It was spectacular and it had heart, and culminated in perhaps the nerdiest and most unlikely (but best) choice of finale music ever: French sound artist Alva Noto reading the digits of barcodes. Jugglers to the end.