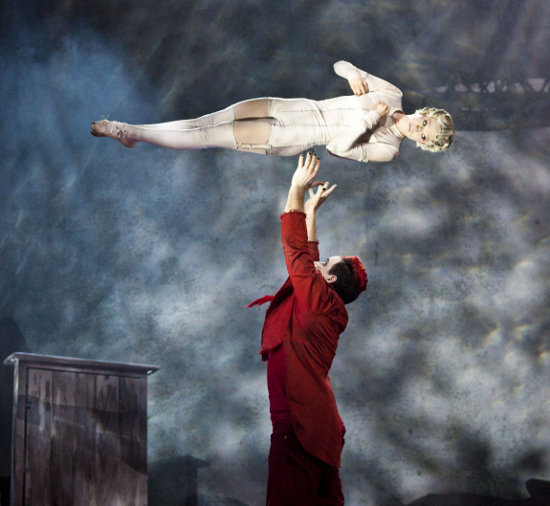 There's a certain kind of imagery that's the imagery of the photoshoot. Objects are cut in for colour or to create visual friction – you know the sort of thing: putting a pale, fey model in boxing gloves, or situating a burly thug on the tiny horse of a bleached-out, ruined carousel. By the end of Cirkus Cirkör's Wear it like a crown the cast have collected a menagerie of objects, hung from strings and fashioned into a child's mobile: hat, knife, juggling ball, shoe, plastic bag, ping-pong ball, plunger. Each is ostensibly connected to a character, and we've seen all these objects before, at points, but they can be read only for their photoshoot effect – their 'impact' if you like – and it's never the poetic image-making or high symbolism of visual theatre, nor the careful animation of puppetry, nor even, to me, the circus spirit, which treats the object as like a miniature performer itself, capable of tricks and feats of its own and a leading partner in the choreography of the performance.
According to the programme notes, Wear it like a crown is attempting to tease out and reflect on some of the complexities of risk and failure that lie embedded in circus work (with the overall message that your failures are to be worn with regal pride). From the performance itself you might not derive this, as it arrives on stage as a sharply executed but conceptually messy 90 minutes of encounters between performers who occupy a sort of dreamscape – a circular stage with a magical door that can run the circumference on rails. It feels, dramaturgically, like anything goes – particularly in the visual design, which sees pole artist Shannon Savage costumed like a character from Farscape, knife-thrower Jesper Nikolajeff as the anti-hero in a gothic Tim Burton production, acrobat Louise Bjurholm dressed and coiffed in a manner eerily reminiscent of the flyer from the graveyard banquine in Quidam, clown/juggler/trapezist Fouzia Rakez as a uniformed train guard from the 1930s, etcetera.
And for all that they are costumed as eccentrics and individuals, this band of men and women remain relatively characterless, rolled into fairytale archetypes in a world without internal logic or consequence. This isn't to say that they are bad performers. Given a perhaps quite difficult role as a blank, unspeaking stalker, lonely and unable to relate to others except with knives and chainsaws, Nikolajeff is a strong and dignified presence, stalking through the set like an old Hammer Horror count. Dressed like a comic interpretation of the devil – red suit, red mohawk – Henrik Agger somehow manages to take on the sweating, nervous aspect of a mobster's clerk – trapped, undeserving. Mostly, though, it doesn't sing, and the video footage that occasionally projects behind the action doesn't bring any focus, setting the characters in some grimy underground bunker in which they look strange and flimsy, like the fantastical heroes of a children's cartoon transported suddenly to the real world.
Two points of disclosure here: one, I don't speak Swedish and therefore couldn't understand the small amount of speech at the beginning (though this was actually one of my preferred scenes, and I asked someone who'd seen Wear it like a crown twice in English what the monologue was about; he just shrugged and waved a hand); two, I long ago shed any anxiety caused by discrepancies between my opinion and the opinions of others (an unnecessary burden), but you might like to know that the audience at Södra Teatern loved it, and it was a full house the night I was there, week eight of a monster nine-week run. The skills are good of course – I particularly enjoyed Agger and Bjurholm's oddly sorrowful hand-to-hand routine – but it feels as though Cirkör are moving into a space similar to Cirque du Soleil: sanding away the edges of their practice for mass consumption. They're very successful, and are using that success to further their outreach work and to support the projects of younger artists (like Poetry in Motion's Undermän, developed in part at the Cirkör Lab), but I came away from Wear it like a crown feeling that the Cirkör production wing isn't where the interesting activity is anymore.