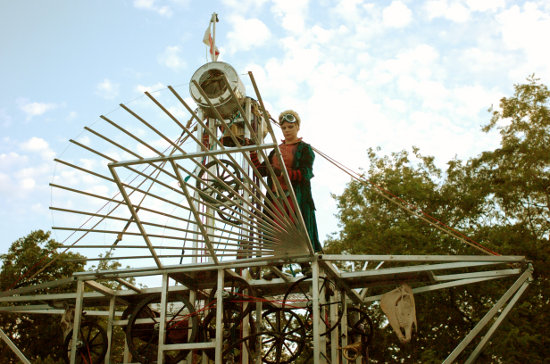 In synopsis Sputnik has a tremendous draw: it's a collaboration between Sharmanka (he of the theatre of kinetic automata) and Fittings Multimedia Arts (who make 'new performance and theatre art works addressing serious issues in the language of variety theatre'). It's performed by Clare Cunningham, whose background is in dance but who started training aerial a few years ago with Blue Eyed Soul, and the choreographer is Mish Weaver. The photos on the publicity are all wonderful, and the quoted text is a siren call to the SF nerd:
'It is becoming impossible to live on this Earth, I have no wish to die, especially not now, but I do have a wish to live elsewhere. Therefore I will develop a machine for living away from the earth. If my machine has endless possibilities and is powered by not just my body but my spirit, given the right place and the right time, my life could begin again…. Elsewhere. It's all just a question of how you look at things.'
In performance it's a queer thing, partly installation, disconnected from its audience. Tucked into a corner of the square outside Greenwich Observatory is Sharmanka's engaging creation: something that is a clock and space shuttle and time machine rolled into one; but also a home. Coloured cords run over a multitude of spoked wheels and bladed wings fan out to the sides. Clare Cunningham, playing the character of Jane Janes, the woman who wants to live away from Earth, clambers about the machine, using looped strops to stand sideways upon it. She's alone, but has occasional radioed directions from the machine's inventor (The Watchmaker) which are strangely slurred and indifferent, 'spinn the wheeeel on yourrrr lefffft—no! not that one!' There's a muted, distant quality as Jane prepares for a take off that never comes: the twin washing machine drums at the top of the device rotate and throw out strips of gold; the wings beat; it stirs the crowd but goes nowhere.
Jane Janes has a blog. I read it after seeing Sputnik and it's a nice thing: situating each individual performance within the context of a larger story so that you didn't see something, you saw a part of something. Retrospectively I find myself playing games and wondering if the cow skull mounted inside the machine was just a residue of Sharmanka's regular gothic vocabulary or whether it's intended as a sinister clue to the possible motives of The Watchmaker. These thoughts aren't unwelcome and I'd certainly be interested whether Sputnik has a larger arc that will be resolved at its final performance of the season (the Bristol Do in September)—but I do feel that any nested interior narratives don't have enough visibility or counterpart in the show as it is presented live. With a little more thought on how to integrate the detail of its frame the dispassion and distance could become the restless, searching quality which I think is the production's aim.