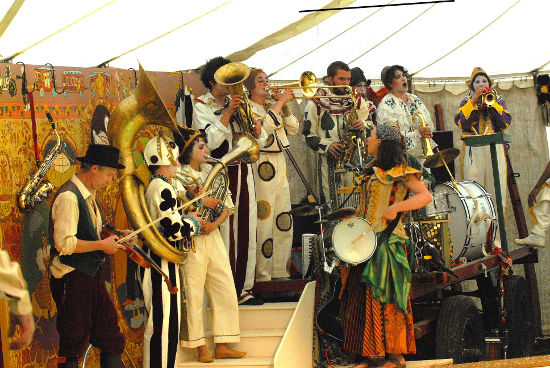 The tent is an art object. A ceiling of translucent white fabric, sawdust in the ring, bales of hay, block and primary colours on the wooden walls, a red velvety curtain for backstage, check patterns and stripes. Everything that's painted is handpainted, in a palette of reds and browns and oranges and rich blue. You feel good about being there.
Giffords Circus has been going now for a decade, touring year-after-year to many of the same towns, and the afternoon I was at Yasmine I overhead a lot of talk about previous productions and Times When—there was that old pleasant sense of festival, and of a community temporarily finding its focusing point. The show itself sits within this, the frame of familiarity and warmth that the company has been patient in building, and resonates quietly with the same virtues of care and friendship.
Yasmine – A Musical is based on (or around) the life of the equestrienne Yasmine Smart, who appears in the show and trained the horses that walk the ring, but within this premise it strings together a run of acts. Sarah Schwarz performs strong, simple tightwire; He Yuan recreates Rudy Horn's famous trick, riding a giraffe unicycle with one foot and using the other to flick a saucer, a cup, then a spoon up to catch on her head (and one-ups the original by riding the unicycle atop a walking globe); Les Frere Taquin do a statue-come-to-life mime act with a slightly sickly piece of audience interaction; and there are dancing (women masked as) pigs. Picking favourites I'll go for jugglers Bibi and Bichu, whose half-smiles (sort of like: how about it?) and fraternal camaraderie win the crowd, and a wiry, capering Gabor Vosteen—outfitted in waistcoat and bowtie and besporting the sort of resplendently gelled electro-hair that you only see on children's television presenters—who plays one, two, three, four, then five recorders (with two in the mouth and one in each nostril, he invites the audience to guess how he might blow air into the fifth).
Then there are the horses, sending a thrill through the audience when they first rush into the ring. There's a raw kind of excitement or charge that they carry, different from the nerve-shredding sensation of watching voltige or handlers with big cats, but for me the experience was mostly nostalgia—I live in the city, I grew up more or less in the country; I was reminded of that.
Pulling everything together there's live music from the twelve-piece band—several of whom step into the ring for a duelling banjos stand-off or the odd bit of game transvestism—playing old-style swing with jazz choruses that the sheet music in the programme (get the programme) saves me the work of trying to phoneticise. They go like this:
Doo da__ Doo da ba -did-ly – o -doh doh Doo da ba – did-ly – o-doh doh doh
Pretty rockin', though I'll admit to not having a particularly firm grasp on the lyrics (when they were actual lyrics) and to coming away from the production with the vague understanding that Yasmine fell in love with a goose called Brian, then got older and was left at the dance by someone, then got older still and became a famous equestrienne. Now I've read the programme, that's not entirely inaccurate or even very incomplete. The production's less about presenting a narrative biography of Yasmine than it is about setting her at the head of a show which, by its very fabric, honours all the best qualities of the circus world she is from. I'll go back next year.