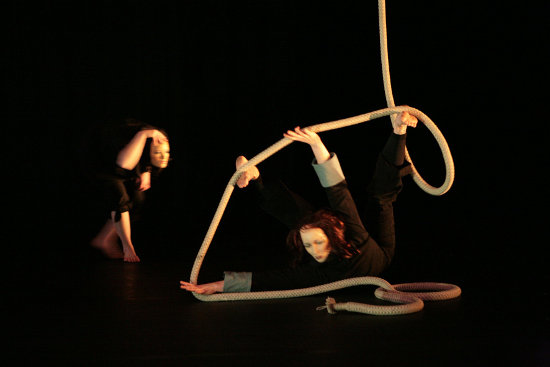 There's a disorienting scene in Mue where a woman with a mask on the back of her head—a mask with shoulder-length hair that obscures her ordinary face—climbs a rope, straddles and inverts and turns. Watching, you experience a disturbing constant Magic Eye flutter as you switch between either perception: is it a mannequin with joints twisted every which-way, or a real human body without a face? You can't see both at once.
It's a characteristic scene in a performance that uses the language of doubling and illusion—and particularly masks and prosthetic limbs (cast in plastic or rubber)—to continually disrupt the audience's sense of the body in space, and to populate the stage with ghostly presences. Gaëlle Bisellach-Roig is led this way and that by a disembodied arm she clasps at the hand, pulled nearly, gently off her feet as the sound of wind and rippling fabric sweeps her companion upward; a clutch of feet, cut off below the knee, lean forward as if about to sprint; a performer clasps a rope with her hand, which then detaches and clings to the corde in air. You are not sure if they're dead spirits or live ones. Midway through the piece the performers are quadrupedal; walking on their own feet and on clacking plastic replicas, they perform a dance, something like a rain dance, and shuffle expectedly to the back of the stage. Dozens of arms, rubber arms, fall at once from on high. Is it a joke, or a cataclysm? A little of both as one character constructs a small cairn and another sweeps the arms into a heap, running and flinging herself onto them as though they're nothing more macabre than a pile of leaves.
Objects come alive too, though briefly, as if by moving they spend the energy of their enchantment: a juggling club swimming upward from Marijke Gevers' hands is caught and returned to the pattern of her manipulation; a tail of rope rises and snakes so imperceptibly you can't be sure it isn't your stirring imagination. They're beautiful moments and part of the calm magical intrigue of a piece that constantly changes the angle of your viewing—as when a performer at the top of a rope she has recently danced on films another at the bottom, lying on the floor and clasping wildly at the slack so that in projection she appears to be falling through space; or when a small table of cotton threads is filmed and projected to overlay a curtain of long ropes at the back of the stage, Marijke Gevers' hand at the table appearing as a giant godlike fist over the ropes, chasing the tiny emerging head of Gaëlle Bisellach-Roig over and across.
Though you can recount the images, and they're worth recounting, it's hard to join them. There are repeated figures: a triangle sigil started by Gaëlle's own forearms and completed by a prosthetic third, is later made by the three women together, joining their arms to create a central window through which each twists and passes her head in turn, as if in the ritual of a dark spring dance; and the snake, captured in the animate rope and in lengths of chain that are shaken and woven across the stage, returns at the end in the sinuous flow of the performers' joined bodies. But even if you can spot the occasional sign of the greater scheme, Mue is on the whole directed by a process that remains hidden and discrete. Taking and encoding its material from the inner lives of the performers, it chooses to abstract that both from the context of any outer life, and, seemingly, from the present mood or state of the performers on stage, who feel like players or actors in their own set choreography. The music for the show, which loops and builds recorded samples (a stony rolling noise, water, clanking metal) is sound and rhythm, never melody, and matches the style of the performance: image and mood; layers rather than sequences; spirals instead of throughlines. You end up with a flat pace, but I suspect quite on purpose. Mue seems to me to achieve all the things that it intends, and if it remains a secretive and inturned work, difficult in a sense to warm to, then its interests don't lie in sociability and exterior connection. It doesn't reach out; you have to come inside.