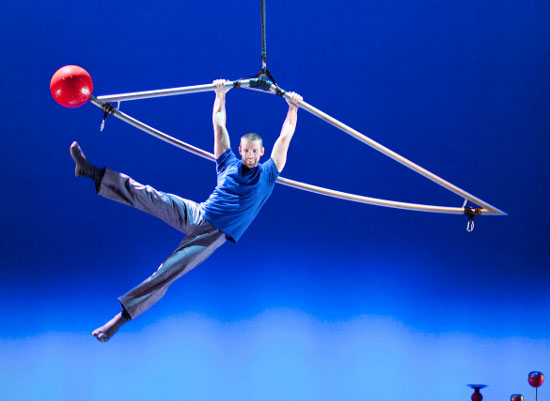 I've been a dedicated stalker—wait, wait, supporter—of Ockham's Razor since I first saw them perform Every Action at Circus Futures in 2006. About 20 minutes long, played out on a length of rope run over two raised pulleys, it's a sweetly inventive aerial farce which, like a lot of their work, gets right to the soul of circus. Hang On is their first show for children, a collaboration with established specialists Theatre-Rites, and the first thing to say is that the kids in the audience seemed to really like it. There was a lot of talking and shifting around but that works the opposite way with children: it's an expression of the keenest delight.
Hang On has six performers: four from a circus background, who are the mischievous characters in the piece, gradually constructing a giant suspended mobile which they clamber over; an actor/improviser, who plays the schoolteacherly role and is overly concerned with health and safety, always trying to forbid the others from climbing the mobile; and a slinky live percussionist, Nao Masuda, who wheels on ever more complex custom instruments. What the show does very well is use escalation and a careful management of surprise/recognition to create its narrative rhythm. So before the aerial mobile is even constructed its constituent shapes, triangles and connecting balls, are established on a small scale: the show opens with the cast picking their coats off triangle hangers that are wired to the ceiling; one of the cast, Sefano Di Renzo, is a ball juggler. These shapes are worked into every aspect of the design, sometimes with hidden surprises: at one point Nao works hard at pushing a huge globe slowly across the stage (kids: what's she doing?), then spins it to reveal that it is cross-sectioned and contains a harp (kids: wowwwwwww).
I did feel, though, that Hang On didn't have quite the same buzz as the last Theatre-Rites show I saw, Lighten Up, and that this was perhaps because the circus performers weren't so adept at whatever you care to call it—traditional/vocal acting. Eric MacLennan as the H&S worrier (who is revealed at the end to have a phobia for heights) was working very hard to rev things up, but there wasn't enough for him to play off to really get that sense of running energy. But the circus cast did the circus well, and I think the youth contingent were mostly captivated. I was unfairly distracted by my terrible hunger for new technical material—I like to see aerialists who have developed their own tricks or who have a distinctive movement style, and in Hang On they had made the decision (I think the right one) to underplay their abilities: to do things loosely and naturalistically, as a child might. Watching the cast climb up the spinning mobile one young boy insisted several times to his mother and most of the balcony seating that he could do that.