A showcase, a signal boost, a planning session, a large-scale meeting of minds, in December of this year Tel Aviv will host a three-day event to introduce Israeli circus to the international field, to step-up the organisation of the national sector, and to further involve cultural ministers in supporting the circus arts. The event, the first of its kind in Israel, has been organised by the Foreign Ministry and by ON – Contemporary Circus Creation Center, a structure that promotes contemporary circus and supports young creators through the provision of its facilities, through collaboration with CircusNext, and by feeding artists into ON – Company where they can gain performance and touring experience.
'The circus scene in Israel is developing more and more,' says Orit Nevo, the artistic director of ON. 'Israeli creations are starting to develop, and young circus artists want to express themselves in this language. Two years ago, in 2013, the Israel Lottery Council For Culture & Arts put out a call for contemporary circus projects, then another call came in 2014. So for the last two years we've had some funding for a number of professional groups. The time has come for the international community to see what has been created here in Israel.'
Until now, the Israeli circus scene has done much of its growth outside national borders: young artists tend to undertake preparatory studies in Israel, then go abroad for further training. You find them at Le Lido, Carampa, DOCH, and other schools around Europe. Now there's a will to bring that scattered community home and to found a strong professional field in Israel by bringing about conditions under which artists can create work.
Over its three days the showcase is split between venues in Tel Aviv and the performing arts school Sandciel (in Yakum), an institution where students can study a three-year course incorporating dance, acting, clowning and various circus arts. Alongside presentations, a roundtable on Israeli Contemporary Circus, and exchanges between Israeli cultural politicians and international visitors, there will be four performances in all: work in progress showings of HUMAN by Yogi Dekel and Coquille by TemaKarys, and then presentations of Avital Dvory's Little red riding hood and of ON – Company's Revolt #2.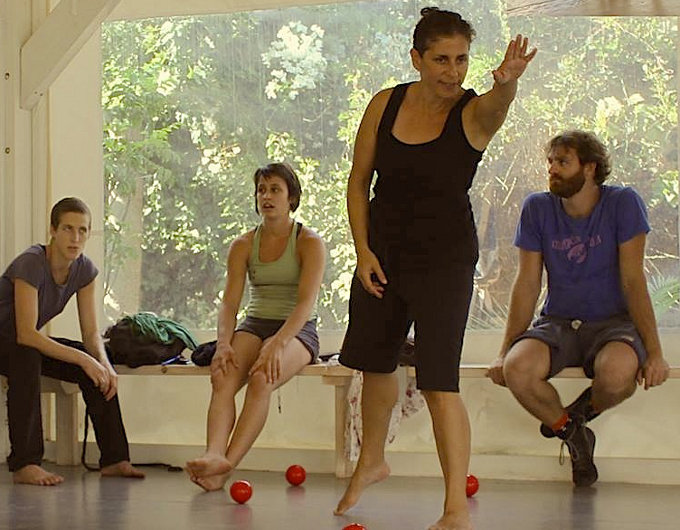 With the support of the Ministry, the event will invite circus artists and professionals from around the world. 'I believe it is time to showcase the work done here in Israel to the international field,' says Orit. 'It's also the moment for us to introduce representatives of the Ministry of Culture and other institutions to our colleagues from abroad so they can learn how the contemporary circus scene has been – and is being – developed in other countries and see what the proven advantages are of funding this unique performing art. With this new understanding, and working with the Israeli institutional and professional network already in place, we hope to create a strong foundation for professional creation and artistic development in Israel in the future.'
'We have something to show, and we have a lot to learn. This is why this is happening now.'
The showcase event will take place 8-10 December 2014 in Tel Aviv, Israel. It has been organised by ON – Contemporary Circus Creation Center, and by the Foreign Ministry's Division for Cultural and Scientific Affairs. For more information contact Orit Nevo –
oritnevo@icloud.com