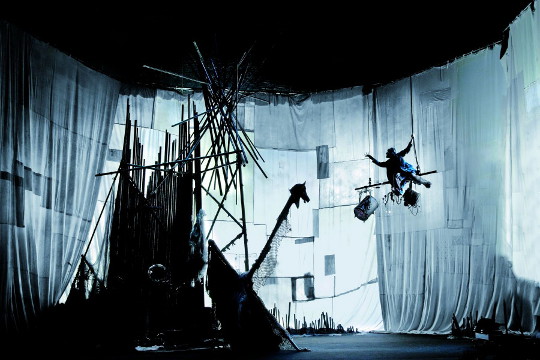 The North Star of contemporary circus. Perhaps one of the first to be born into a contemporary circus family, James Thiérrée is a sublime and transporting artist – justly a famous name in his own France, where he launched his career by winning a brace of Moliere Awards with first show The Junebug Symphony. The productions that followed – La Veillée des Abysses, Au Revoir Parapluie, and Raoul – share in common a lightness of heart and gesture, an old-fashioned ingenuity of set and costume design that comes from the input of his mother Victoria Chaplin, a preoccupation with our myths and oldest stories, and a particular gift for poetic image-making.
Magazine
By John Ellingsworth on 22 August 2009 in
Features
Sideshow previews two big upcoming imports: James Thiérrée's Raoul at the Barbican and Cirkus Cirkör's Inside Out at the Peacock Theatre.
Airy speculation grounded by interviews with Pam Vision (from James Thiérrée's UK producer Crying Out Loud) and Lina B. Frank (one of two designers working with Cirkör on Inside Out).