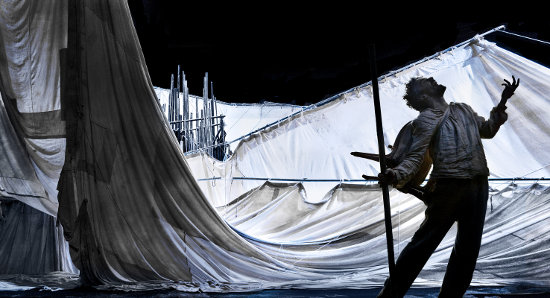 I still place James Thiérrée's La Veillée des Abysses, the first piece of circus I can remember going to, as one of the best things I've seen in a theatre. So often in circus and physical theatre work you find the dream narrative as a way of papering the cracks and bridging scenes that have no connection; La Veillée isn't a dream, or a story of a dream, but has some of the true characteristics of one: thought, meaning, experience contained as essence in the strange and the strangely familiar. A scene where James tries to sit down in a chair, and cannot, his body repeatedly disobeying, is both a classic clown routine in the mould of his famous grandfather Charlie Chaplain, and the kind of dream dislocation that comes from anxiety, indecision, unrest.
The next piece, Au Revoir Parapluie, had more hopelessness and helplessness and terror at its heart, and the relationships between its performers were more fragile—they existed to be broken or lost. I wasn't so hit by it as by La Veillée des Abysses and felt the assembled cast didn't combine with the same alchemical force of the previous show, but it was still better than 99 other shows and contained within it two flawless solos from James. One in particular sticks with me: James is sitting in a rocking chair, just the frame or skeleton of a rocking chair with no backing, and he's reading a letter and crying. The clown character walks up behind him to read over his shoulder, and where James cries he laughs. The clown goes away, and as music starts, James rocks the chair—at first slowly, but then more and more, beginning to move with it, and through it, negotiating his way around and between the frame, finding sympathies and points of balance. As a metaphor for riding out your life's turmoil it's nothing less than perfect.
James Thiérrée has had a long-standing association with Crying Out Loud, one of the UK's most interesting producing houses, and coordinators of the new City Circ season. Rachel Clare, their Director, has known James' parents Victoria Chaplin and Jean-Baptiste Thiérrée (of Le Cirque Invisible) for almost two decades, and when James put together his first show, The Junebug Symphony, she was one of the first people to help him tour the show, bringing it over to England in 2001, then again in 2002. Crying Out Loud have acted as the point of UK contact ever since, delivering the subsequent two productions, La Veillée and Au Revoir, and co-producing James' newest show, Raoul, with the Barbican, where it opens in October.
Pam Vision is Associate Producer with Crying Out Loud and, when I met up with her to talk about Raoul, I asked her whether this new show, a solo, was going to follow Au Revoir in exploring age and loss of control. 'He's getting older, so he's changing—changing the way he looks at things. This one is interesting because he's on stage alone, and it's also kind of dark but it goes back a bit more to the kind of lightness of touch he had in the earlier shows. It's much more a mixture I would say. But it is very intimate, because it's him, purely, not sharing it with anyone.'
Where La Veillée and Au Revoir were both at the Peacock Theatre, Raoul has moved across to the Barbican—because James wanted 'more of an intimate space' for the show—but even though the solo is a new format, it will carry some of the same motifs. Pam: 'One of the things I've noticed in his pieces is he always has some sort of reference to sleeping or to a waking dream or waking nightmare. La Veillée des Abysses we tried for a year to find a good English translation for it, and there isn't one. La Veillée is like a waiting overnight. It's a wait or it's the night before—but not with bad connotations. Just the night before. He always works with that sort of thing—with waiting and nighttime and dreaming.' The new show is about that, partly: a man trying to go to bed and being constantly woken, but there's probably not too much point trying to describe it. I remember hearing Rachel Clare talk about the experience of working with James Thiérrée, saying that it was in some respects terrifying as he would never know exactly what a piece was until had finished it, and then not be able to describe it. 'He's a proper devising director,' says Pam. 'He really does just take ideas and a few bits and pieces of things he finds in the Paris flea markets and then just waits until somebody comes up with something good.'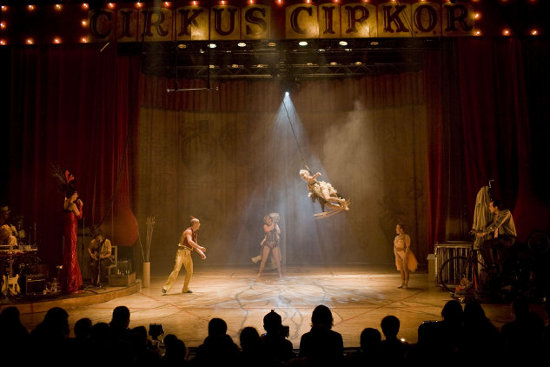 Occupying the space left by James Thiérrée's move across to the Barbican, Cirkus Cirkör are at the Peacock Theatre in October with their new show Inside Out. Now well over a decade into its life, Cirkör has grown over the years into one of the international circus scene's most prominent figures, with a strong education programme running alongside their local and touring shows. Lina B. Frank, who trained as a designer at Central Saint Martins, has at one time or another had a hand in most aspects of the company's work: living in their circus village, she started off working with Cirkör on their annual youth performance Cirkusliv that tours around festivals and schools, picking up extra work doing prop and costume design for the company and family of artists that cluster around it. In 2008 she was asked to work alongside Sigyn Stenqvist as one of two designers on Inside Out. I asked her what exactly the new show was about:
'It's all about get out of your comfort zone, don't be so uptight, dare to do things. It follows a girl called Saga—just a normal person who sort of falls into the circus.... Inside Out is part of a trilogy. So the first one is 99% unknown, then Inside Out and then there's been plans to do another one. What the general theme is for the trilogy is to see how circus relates to the body, the inside as well as the outside and the physicalities of how they affect each other. And so at different times in the story you dive into people's bodies, into the brain or into the heart or whatever.'
Given the choice of which world she wanted to design for, Lina ended up working on the world inside, but with more input than normal: at the start of the process the design, movement and narrative were all being developed in parallel. Starting with a 'really rough script' that had been laid down by Cirkör's artistic director Tilde Björfors, Lina, Sigyn and Tilde worked on solidifying the ideas, and, eventually, fitting them to a technical script—the production having gained full momentum before they even knew how to make it possible. 'It's a very unusual way of working,' says Lina. 'That's where the chaos comes in but also why it's great sometimes.'
'The trademark of Cirkör is every show is different, every time, and they have a thousand versions. And in the meeting before the show you decide which version is going to happen.' So what can you say for sure about all the versions of Inside Out that will play at the Peacock? That the cast will be around 7 or 8 people, that this show is 'more theatrical' than previous shows as it keeps a narrative, that there'll be live on-stage music from Irya's Playground (who you can taste-test ahead of time at the band's website), and that it'll incorporate traditional circus skills at a very high level. Even if you don't know exactly what you're getting, it's worth a go, and, without really expecting it, the company has found Inside Out by far their most popular production. 'We weren't sure if the narrative would come through, we weren't sure at all, but it's turned out to be the biggest success ever because I think it's a theme that people can relate to—they relate to the main character, who comes out at the end and has her moment. Sometimes the simpler circus skills are the things that people can relate to much more.'
Raoul plays at The Barbican 13-24 October 2009 and Inside Out at the Peacock Theatre 14-31 October 2009.