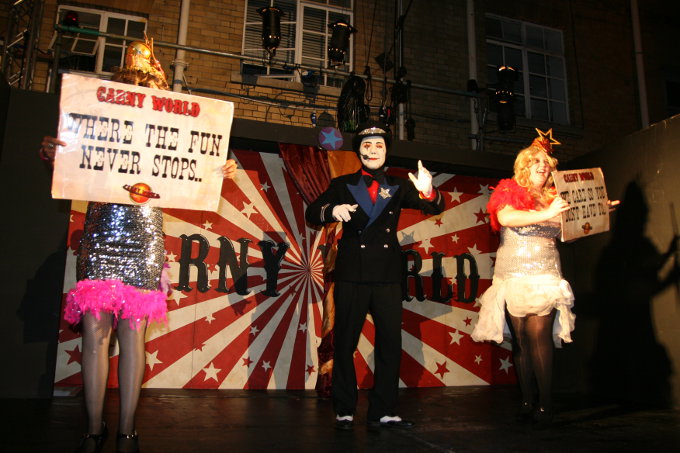 A self-training space-laden utopia that produces next to no circus for theatres. What's going on in Bristol?
Slipping Away
Down then into the sunken arena at the back of the Book Barn by your choice of stage staircase—plain ones, starred ones, podium steps radiating out—the ambient, omnidirectional light joining you from high side-windows and skylights streaked with mossy rain sediment. It's closed, partly, sectioned off on the one side by the thick blue canvas of an old circus tent laid in overlapping strips, looped rope ties hanging free like the fastenings of a giantess' divested corset. On the ground: patches of green striated school carpet, crash and jigsaw mats, great quantities of localised bird shit. Up against the furthest wall there are leaned-to squares of wood flooring, an old iron-bound teeterboard, and supermarket longlife bags bulked out with the foam-block springs that give a tumbletrack its bounce; someone has scored 41 on the dartboard hung above.
The Invisible Circus' whole Bristol history is here, in some places organised—the wood sets racked up like clothes on a rail; the fridge graveyard; a collection of mannequins taken apart into their top and bottom halves, legs arranged to stand like they might be having an excellent time at a sophisticated party; the many shelves of paint (Durable Acrylic Eggshell, HW04 White Protection Coating, Retardant Coating, Stain Block, Liquid Rubber, Aqua Steel, Vinyl Silk, Diamond Matt and Supermatt (next to each other, as though competing), Weathershield Smooth Masonry Paint, etcetera, etcetera)—and in others looking as though moved here by a helpful but careless spirit that inhaled everything then just blew it all the fuck out. You could lose time in here, especially if you had a guide to explain to you what the life-size, wall-mounted tiger was used for—or the stacks of astroturf, or the dentist's chair, or the fake wedding cake iced with grouting, or (still game for a spin) the handmade Wheel of Misfortune where your possible endings are Decapitated, Drowning in Vomit, Bored to Death, Sex Game Gone Wrong, Breast Asphyxiation, and Slipping Away.
Over at one side are what look like airplane parts, metal cylinders and compartments you could climb inside, divided and cross-sectioned; exposed panels are set with blue circuit boxes, so blocky and simple that they don't look real, but so neat and particular and solid that they look very, very real. Available for turning: square arrangements of round metal dials like you'd see in a 50s black and white SF film. A passing mechanic explains that these are the pieces of a training module that were formerly used by an aeronautics company in Filton. The model became obsolete and the company were going to throw everything out—so the Invisibles appeared and took it all in.
//
The Invisible Circus, an ever-changing band of artists and creative squatters and interventionists, that's what they do: take everyone and everything in. They formed—or better: materialised—in the early 90s out of the free party scene, travelling Europe performing in warehouses and derelict spaces. In 2005 they came to Bristol, where their first major venue was the Audi Garage, a multilevel, abandoned concrete structure that they squatted and used as a performance space for a couple large, site-specific shows before being forced out by a court ruling. After that they had a very brief stay in an old 19th Century cinema, and a slightly longer tenure at Horfield Police Station, before entering into an agreement with the commercial developers of a dilapidated Cathedral in an upmarket quarter of Bristol—the Pro-Cathedral in Clifton—which marked a turning point in the company's working practice and set them on their current, unusual course.
Up until the Cathedral the Invisible Circus had been squatters—the nice kind, who generally improve the conditions of the buildings they occupy, but nonetheless illegitimate tenants—and the Pro-Cathedral was going to be their first above-board project: the developers wanted the company to run the site as an arts venue for a while in order to raise its profile and—in a controlled, discrete, tasteful way—to muddy up the airbrushed image of the luxury apartment complex the Cathedral was destined to become. The Invisibles moved in, bore down on the job of scrubbing and clearing what was in those first days a wrecked building, flushed out the resident pigeons, got clearance from Health & Safety, and after five months opened the venue for an all-to short run of haphazard site-specific shows and programmed arts events; after weeks rather than months, as agreed, they had to leave.
It was a heartbreak, but not long after the Cathedral they landed something even bigger: Bridewell Island. The Island was constructed somewhere around the turn of the century (the last one) as a cluster of municipal buildings—enclosing a fire station, police station, yard, clocktower, jail cells, courtrooms, and stables—that occupied an entire city block at the centre of Bristol. You know it was built a while back because it's just got that public building thing of feeling... defensible, these great stone walls sheering up from the pavement like the sides of a fortress. For the incoming Invisibles, in 2007, it was in many respects the same story as the Cathedral: the site had developers with grand future plans, but in the meantime they wanted to have the premises occupied and infused with a certain liveliness and presence.
No one knew it at the start, but the Invisibles would eventually spend four years at the Island. During that time they ran a number of small projects and initiatives—including opening a load of cheap, affordable artist studios—but the two big ones for the circus community were that they opened an aerial training studio where artists, from inside and outside the Invisible collective, could train at low cost; and that they put on, several times, in various guises, a show called Carny-Ville that took over the entire Island site, with multiple stages and miniature cabarets, performance and music and dance spilling out all over, and the corridors patrolled by walkabout characters often indistinguishable from the punters who'd taken the trouble of costuming up (in Victorian style, or 40s style, or steampunk—it varied)—all this radiating out from the fiery square of the central yard, the floor crammed with people, the night air a vision of swinging aerialists and wall-walkers descending the stone sides of the great old buildings.
Really, it was never my thing—too crowded, too burlesque, too much like a club night—but they had massive audiences, and they were right there in the centre of town, just round the corner from a titanic shopping mall, Cabot's Circus, that opened in 2008, and at the outlet of the main high street arcade, Broadmead. It felt as well as though every circus artist I knew in Bristol had gotten involved—some up to their waist, others to the neck—performing in the show, or designing the sets, or sewing the costumes, or whatever. At its largest, Carny-Ville had several hundred people working on it and performing in it. The Invisible Circus was never full.
The shows I went to all seemed disorganised and last minute, and the final product was consequently, understandably, quite rough around the edges, but it was a reminder that the haphazard, full-throttle approach can cover more ground if there's a will or a spirit to hold the whole thing together, and it always felt to me, in those shows, as though all that was happening could only happen here, in Bristol. Earlier this year the Invisible Circus moved out of the Island and into the Paintworks, a Victorian industrial complex (formerly a paint and varnish factory) that's big and full and lively but that lies a little more toward the edge of the city. The company are changing their way of working as well—still wanting to make performances, still wanting to be invisible and down low at the roots of things, but wanting to do so on a smaller scale and in a sustainable way. The energy and industry that centred on the Island for the four years the Invisibles spent there hasn't dissipated, but it's in search now, I think, of something new.
Capacity
If you're doing it per square metre or proportional to total population then Bristol has, by a long way, the most circus artists of any UK city. Part of this is that circus artists live where they can train. Living where there's work is helpful but not in the same way essential, and the two qualities are in natural opposition: circus facilities tend to be adapted from large, old, post-industrial spaces, and the cities with the most commercial activity (and therefore the most need for ornamental aerialists) have usually either redeveloped those spaces into expensive residential/retail blocks or else still need them for actual industry. You can fly out for a gig, but you can't commute to another city to train every day—not really, or not for long.
There's work for circus artists in Bristol, and there are training spaces in London, but in the balance of these things we can say that Bristol is the training city, London the work city. Alongside that aerial studio at the Island—which is still open, even though the Invisibles have left—Bristol has several big halls up in a suburb called Kingswood (run by Circomedia—more on them later); an old church called The Albany Centre that's overseen by a collective of keyholders; and a couple of new spaces run by the Invisibles at the Paintworks.
The fact that there are so many places to train is down in part to the Capacity scheme, an initiative started in 2007 by Ruth Essex in the role of Neighbourhood Arts Officer at Bristol City Council which acts both to license out disused spaces owned by the local authority and to encourage commercial owners / property speculators to do the same. Ruth was the one who first brought the Invisibles together with the Island developers, and through the Capacity scheme she's found buildings for around fifty arts organisations/groups, including installation/exhibition or live/work spaces in the Control Room of Redcliffe's old bascule bridge, the Porch of what was once Henry VIII's Bristol home, a former motorcycle showroom, an old library, and a set of closed-down Victorian toilets.
Another early Capacity-supported project was Residence, which came out of a Theatre Bristol Open Space breakout on the difficulties of finding rehearsal and devising space, and which has emerged as a collective of thirteen independent theatre-makers that share a workspace. They were in with the Invisibles for awhile at Horfield Police Station, then in 2009 Capacity landed them their current home, The Milk Bar, an old Victorian shop which had been empty for six years. They have four floors, spread across which are two making/showing spaces as well as an office and storage basement, and from out the Residence they run micro-scratches, a book club, a look club (they see shows, then talk about them), a small library, and otherwise just get on with their work. Ultimately the building has what I'm told (by one of the Residence founders) are the four necessary qualities of an artists' space: it's dry, it's warm, it has Internet, and it has a kitchen. It was founded and operates on the assumption that if you share space then you naturally share a lot else—knowledge, resources, time, and (difficult to quantify but nonetheless critical) the pain and joy and doubts and wobbly moments of independent arts practice that might otherwise be lived through in isolation.
Capacity isn't the only project working on filling old buildings (another major one is Artspace Lifespace, a company founded by many of the same people as the Invisible Circus; they run the Island and exist to redevelop rundown sites into arts centres or social projects), and you can see the effect of all this activity on Bristol's theatre-making and live art communities: they are vibrant; networks of busy, productive people who work hard in the light of recognition and support, and who draw strength from their place within an active community. Taken together they also form a picture of something like a Bristol style: valuing the handmade and the home, working fast and with lightness, producing work that's emotionally out-on-a-limb, and having a utopian view of the audience as an equal partner in the never-finished devising process.
In one sense the Invisible Circus' tenure at the Island fits right into this picture: it was a very strong, building-based community where artists could train and perform and in all sorts of ways give each other a leg up. But there's one major difference, which is that whereas the theatre-making scene in Bristol is a loose weave of companies and individuals working independently, producing scores of shows that then (some of them) tour outside of Bristol, the Invisible Circus was geared toward the production of gigantic events that could only happen in that one unique Bristol space. So what you have in Bristol's circus community is people making cabarets and acts and the occasional short-form street show, but few companies, and practically no contemporary circus being made for theatres. One of the key agents in this—the landscape that now exists, and the one that might be about to emerge—is Bristol's only circus school, the oldest in the country, Circomedia.
The B-team
Rising out of the ashes of its antecedent, Fool Time, Circomedia was founded in 1994 by Bim Mason and Helen Crocker, Bim a graduate of the Lecoq School in Paris and the founder of the influential company Mummer&Dada, Helen a choreographer and performer. Circus wasn't unheard of in the UK at that time, nor was physical theatre, but they were a long way outside the scope of mainstream attention (being connected instead with the politically active counterculture), while at the same time the interest from artists was greater than the available training resources. Circomedia set out with the goal of combining circus and theatre, constructing a broad course that taught students mime and movement alongside circus skills. Among the alumni from the school's early years were Matilda Leyser, author of the seminal aerial trilogy Line, Point, Plane and now working with the devising company Improbable, and Al Seed, one of the few mime artists in the UK working in the highly evolved, virtuosic style that we more often associate with Russian companies.
These days Circomedia is split between two main premises: up in Kingswood their teaching spaces and offices are set within a quiet and leafy estate (making it probably the closest a circus school will ever come to being a campus university); and then down in the city proper they have St Paul's Church, an adapted 18th Century site which opened six years ago as a performance venue and which remains one of the most beautiful places in the country to watch aerial.
Today their approach is much the same as it was fifteen years ago—they train generalists, introducing students to a broad array of skills rather than having them specialise to master one or two—with the recent change that they've been accredited by Bath Spa University to run a two-year Foundation Degree (FdA) alongside their shorter courses. Among the international network of circus schools the uncharitable way of seeing Circomedia is as the B-team—they pick up the students who don't make the grade elsewhere—but actually I think they just have a different and broader catchment: they attract more people with backgrounds in acting and other theatre forms, or sometimes in outlying things like visual arts practice or computer engineering, than they do circus performers or gymnasts or sports acrobats already trained to high levels (and with the benefit, I've been told by several people who've worked with Circomedia students, that they're more open and less precious about the work they do).
The school still styles itself as combining circus and physical theatre, but these days that's actually sort of an odd distinction—contemporary circus is physical theatre—and what it really means is that circus training at the school is informed by a particular style or branch of physical practice: Lecoq mime, mask (/Commedia), and broad street theatre/provocation—all that stuff that was strange and inciting back in the 80s and into the 90s but that's now been absorbed pretty well into semi-mainstream theatre practice. And what's wrong with learning something old-fashioned? Nothing of course, but I'm not sure it goes well with generalist training. If audiences are familiar with a particular form or aesthetic then you'd better be damn good at it—there's more to compare to, more to outdo; less distraction. It's easier to accept something that's rough and uneven if it feels new, bobbing somewhere on the turbulent, expanding edge of contemporary performance. For the students, it cuts them off to some degree from the rest of the sector—who else in Bristol is doing Commedia or mask?—an effect worsened by the fact that Bristol hasn't, until very recently, had venues to attract many touring circus shows.
Classes at Circomedia mostly divide into technical instruction (circus) and creative/expressive work (physical theatre), and I think in some ways what it comes down to is how you want to approach circus—as a technical art that is then interpreted by a dramatic vocabulary acquired outside the form, or as a complete discipline where expression, meaning, character, choreography might all lie inside the technique itself. Students' first attempts at the former tend to follow along the lines of: learn some aerial technique, do some Lecoq animal exercises, make an aerial routine as a cat playing with silks as though they're curtains. Taking a nervous stab at the latter, a student might produce an abstract aerial piece about risk and falling performed to the soundtrack of their own heavy breathing. You could say it's a matter of taste, but I think it's also part of the reason why so few companies come out of Circomedia with the ambition to make full-length contemporary circus productions (compared to Circus Space generating about three per graduating year, despite London having scarcer resources in terms of rehearsal and devising space). To create something of length and substance, rather than just a character-based act, you need to go deep.
You have to spend time with a skill, any skill, to really use it, and for a long time students at the school have been grousing that they only get three hours a week of taught aerial, and then in a large group class. You'd think that aerialists wouldn't apply in the first place, but every year there are students who arrive wanting what the course can't adequately give them—or leave wanting it—and the school at present offers an 'aerial specialisation' on its degree course (which costs £1150 extra a year). It also seems that the students who don't get on with the physical theatre classes are driven into the seductive, open arms of pure skill training—which they then complain there isn't enough of—and that they tend to end up working as soloists or in duos rather than producing more formally ambitious work because that's how circus at the school, taken alone, has been taught.
There are a couple of changes that are starting to come through at Circomedia though. A recent one is the appointment of Jonathan Priest as joint Head of Aerial with Mike Wright. No one's got a bad word to say about Mike, who's a renowned teacher in the aerial world and who has, for years, given his time for free to students wanting to push themselves outside the course; but having Jonathan onboard means that instead of having two pure technical classes, students can have one technical class and one creative class. Also, last year Circomedia invited John-Paul Zaccarini, an arch defender of circus' inherent theatricality, to direct their end of year show (the students loved it: 'he treated us like actual artists'), and he'll be back again to work on another project at the school next year.
The other major change is that, as part of an investment grant from ACE, Circomedia are developing St Paul's Church as a venue, meaning they now have the opportunity to programme it rather than simply let it out as a theatre space for hire. Alongside live art and dance—which will see the Church a partner in two major festivals: Mayfest and Inbetween Time—there will (and really for the first time) be a Bristol venue that can take contemporary circus shows, bringing in the new styles and influences the Circomedia course, and Bristol as a whole, needs.
Do It Yourself
One important bit of context for all this, and the reason I think Bristol is an especially intriguing city right now, is that the arts and higher education sectors in the UK are currently under the chilly shadow of government disinvestment. From September 2012, tuition fees at Circomedia will rise from £2980 p/a (£4130 with the aerial specialisation) to a flat £7850 p/a for UK/EU degree students. This is roughly in line with the hike that's due at all undergraduate university courses in the country, and the only other circus degree, at London's Circus Space, will jump from £3375 p/a to the maximum £9000 p/a. I asked Circomedia's Chief Executive Officer, Jan Winter, what might be the impact on the school and she gave a cautious and non-committal nobody knows, and nobody does, but the best guess says that universities will seek to offset tuition fees with scholarship funding and with support, where available, from big employers (they're actually required to do this to some degree); that established universities with large bodies of rich alumni will do better than newer or less moneyed institutions; and that prospective students will think harder and look harder before they sign-up for a burden of debt their degree might not give them the tools to repay.
And so it's at this point that the cultural sector Bristol has built—one with a DIY attitude of artists and organisations getting on with their own projects, working cooperatively, recognised for their worth—will really come into its own. Recent central and regional government cuts have led to an approximate 50% reduction in Bristol City Council's Arts and Events team, but whatever happens to Capacity it's proven itself as an initiative that works—for artists and for property owners—and the Council will hopefully embed the fundamental vision of the project within its regenerative policies. The first generation of Capacity-supported organisations, also, are starting to inspire new ones...
Bristol has always been a self-training Mecca—with all those spaces, a ready supply of incredible technical artists (particularly aerialists) to tap for private tuition, and a couple of big agencies selling acts abroad—but this seems to me like it might be the time when the do-it-yourself spirit can find a route into producing ambitious contemporary circus. The structure is falling into place. It's currently in an interregnum period following the departure of Mike Martins, but there's a Circus and Outdoor Performance Producer job at Theatre Bristol, an organisation that exists to support work in the theatre sector and that recently scored core funding from Arts Council England (in recognition of the fact that it's been doing, on a general consensus, very good work). In November 2011, Bristol will host the second edition of Circus Futures, a major international circus conference that will invite delegates to showcases of UK artists as well as provide residencies for companies. Plus there are ongoing projects like Ausform, a company headed by ex-pat Swede and circus-type Lina B. Frank that works with artists in something like a creative producer role, and that holds a biannual platform event in an old collective-run theatre/cinema called the Cube Microplex, often bringing over small Scandinavian companies and artists to place alongside UK practitioners.
With the Invisible Circus still present in Bristol but less central and manically active, there's an opportunity for what has been a great mass to pull apart into a network of independent artists who collaborate and support one another in the creation of smaller projects—the kind of self-organising, idealistic movement that Bristol is uniquely able to nurture and encourage. There are a number of different ways it could go in the next few years, but it is, excitingly, the artists themselves who have the power to direct the development of their changing culture, and as London's dwindling resources push those based there to consider more sustainable alternatives, many are facing the decision of whether to watch Bristol from the outside or to head west and take a stake in circus' future. Give it some thought.
John Ellingsworth visited Bristol 22-25 September 2011 for this article. For more on the Invisible Circus see
here
, and for information on
Circomedia
see here.