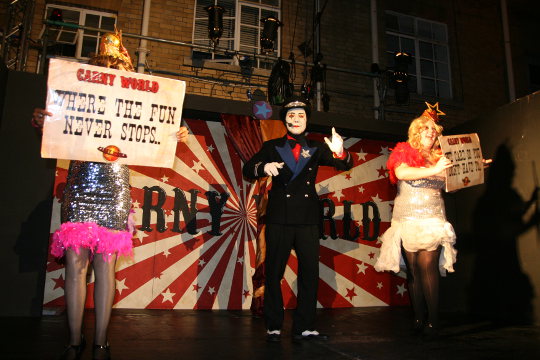 Hidden in plain sight. Moving from place to place as a loosely connected group of opportunistic artists and creative squatters, in 2005 the Invisible Circus pitched up in Bristol. They put on large-scale, large-cast shows in an old Audi garage and Clifton's Pro-Cathedral before being encouraged by the Council to take on the Island, an old fire and police station together occupying a whole block of the city centre. They stayed there four years, famously putting on several versions of their massive, immersive Carny-Ville, before moving again to Bristol's Paintworks, their current location.
Magazine
By John Ellingsworth on 11 November 2011 in
Features
'Down then into the sunken arena at the back of the Book Barn by your choice of stage staircase—plain ones, starred ones, podium steps radiating out—the ambient, omnidirectional light joining you from high side-windows and skylights streaked with mossy rain sediment. It's closed, partly, sectioned off on the one side by the thick blue canvas of an old circus tent laid in overlapping strips, looped rope ties hanging free like the fastenings of a giantess' divested corset.'
Sideshow travels to Bristol, where the relics of Victorian industry are being transformed into utopian artist-led projects.
By John Ellingsworth on 19 October 2011 in
Interviews
'We'd never done anything quite like Carny-Ville before. We'd probably never had a site like the Island; the Audi Garage was quite big, but very different: lots of closed spaces, car parks and different levels and stuff. The Island had this big courtyard... Carny-Ville came about sort of by accident; the first one we did we were sort of just having a bit of a party and thinking we could invite our friends and help fundraise to finish work on the building quicker.'
For four years The Invisible Circus occupied The Island, a huge premises enclosing an old police station, fire station, clocktower and yard at the heart of Bristol. John Ellingsworth talks to one of the company founders, Doug Francisco, about how a permissive, ever-changing band of artists, creative squatters and interventionists came to run the site...