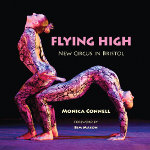 Well, first of all – if you've trained in Bristol anytime in the last five years then Flying High is a catalogue of everyone you met there: a collection of photos that focuses heavily on Circomedia students past and present and on the chaotic, ramshackle Invisible Circus, who until last year were resident at a converted old municipal building called The Island that used to house a fire and police station, and which they used to put on huge, immersive shows. As the book's photographer Monica Connell puts it in her Preface: 'I soon found myself photographing surreal, interactive, all-night circus parties such as The Invisible Circus' notorious Carny Ville, where ghosts walk down walls, lampposts explode and prostitutes beckon from shadows in the crowded courtyard of a semi-derelict fire and police station. Welcome to New Circus in Bristol.'
So then, in Flying High we have large-format, often very beautiful pictures of e.g. Invisibles ringmaster Doug Francisco in a brocaded red coat; ghosts and zombies and whitefaces; men on tiny bicycles and slackropes and escaping from straitjackets; skirts and fire and high swinging trapeze. There are cooler studio shots too of Circomedia shows and of some of the circus-theatre that goes on in the city, but mostly its about the beckoning prostitutes and shadows.
But that's sort of what Bristol (circus) is, and in his foreword Bim Mason adroigtly draws a big circle in describing the roots of Fool Time (Circomedia's predecessor) in the political, agitated, rioting mood of the 80s and comparing the Invisibles to the same. There are a few paragraphs of text beside most photos – small reminiscences from usually the artists pictured – which are small but accumulate into a rich context and a sharp portrait of the Bristol circus scene. This plus a timeline at the end, pulled together by Bim Mason and covering major events from 1238 (!) to the present day, means its actually a useful piece of documentation as well as a quite lovely art book.
Contents
51 colour plates
Foreword by Bim Mason
Preface by Monica Connell
Text reminiscences from: Sarah Kim Fielding, Doug Francisco, Dela Steward, Tim Chown, Jamie Walker, Matt Pang, Joanna Palmer, Billy Alwen and Julian Bracey, Gwen Hales, Keda Breeze, Marada Manussen, Lyndall Merry, Darryl Carrington and Gemma Michael, Emily Ball and Chanti Hobbit, Chris Bull, Simon Darling and Jo Gallagher, Alice Baimbridge and Sven Hopla, John-Paul Zaccarini, Charlotte Mooney, Alex Harvey, Tina Koch, Bim Mason, Blaze Tarsha, Eleanor Clibbens and Hazel Crimmins, Rachel Fox, Lisa Whitmore, Susi Glatt, Dela Seward, Lou Gray, Julian Bracey.
New Circus in Bristol Timeline by Bim Mason