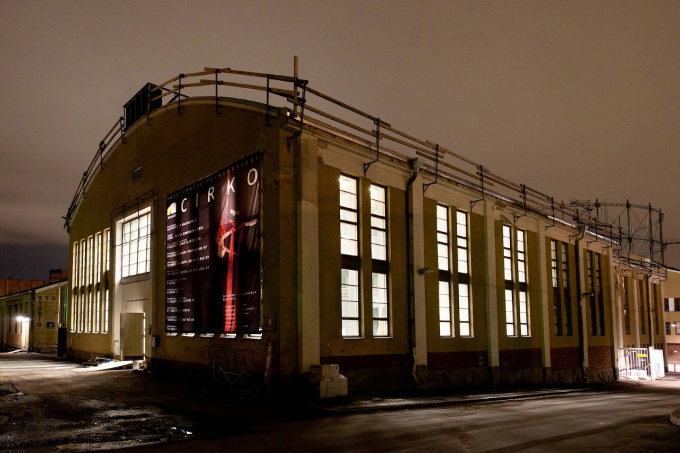 Europe's newest circus centre has just opened on the grounds of a derelict power plant – Sideshow goes to Helsinki to see the facilities of the CIRKO Center for New Circus and to hear about the site's incredible future.
Built in 1909, operations at Helsinki's Suvilahti power plant were discontinued in the 1970s and the site lay idle until 2006, when the city announced plans to renovate the plant as a new cultural quarter. Now, in 2011, it's caught somewhere between its past and future. Across an empty yard there's a huge cylinder gashouse with long slides of plaster that flake eczematically to reveal reddish bricks. Grasses grow in the guttering of the entry portico; the big dial pressure gauge above is brackish and rain-washed, the hand stuck forever at 2000 out of 20,000 units. Next to it is an icosahedral skeletal tower, iron, the kind in England that pass by the train window as you pull through the outskirts of old industrial towns: semi-silhouetted against a cloudy sky, empty inside their open frames, nobody on the ringing walkways. I don't know what they're for; they make me think of stone circles. By the Suvilahti tower, thick pipes run between smaller buildings and houses, in the spaces between lifting to 4.2 metres (says the warning sign) to admit lorries below. In the parking space between two vans are a couple of enormous valves or connecting points that look as though they were previously left at the bottom of the sea for a hundred uneventful years. Clusters of megaphones shaped like flowers shaped like trumpets, their wires cut; lines of big cable reels and piles of sand or dirt or construction dust or broken-up tarmac; metal and concrete fences and empty unnatural hectares. Wasteland.
But, then, one building is finished, with a great silk banner rolled down its front that announces it as CIRKO – Finland's new centre for circus, and the first organisation to move onto the Suvilahti premises. The director of the CIRKO Center is Tomi Purovaara, a cultivated and gentlemanly Finn who was formerly the managing director of the Finnish Circus Information Centre. He'd been talking to Helsinki's governors for some time about the need for a circus centre in Finland, and in 2006 was called into a meeting with the city's head of culture, shown a picture of the Cirko building (then a ramshackle factory house) and asked if he wanted to have it. He said Yes, probably quite quickly, and in autumn 2007 an architect was appointed and the necessary plans were laid to begin construction work in January 2009. The industrial heritage of the site had its problems as well as its charms, so first they stripped the poison ground from the basement and gutted the inside of the building so it was only a shell. A year and a half after that the CIRKO Center was ready: a four-floor building with large and small performance spaces, a restaurant, the offices of CIRKO and a handful of resident companies (including Circo Aereo), dressing rooms and rehearsal spaces, and, on the top floor, the Finnish Circus Information Centre's offices and library. On 1 March 2011 the CIRKO team moved into the building to prepare for their opening event: the launch of the space in May with the Cirko Festival.
The festival was planned with a strong line of Finnish work – including premieres of new shows from juggler Ville Walo collaborating with the incorrigible accordion renegade Kimmo Pohjonen (Iron Lung) and Gandini Juggling working with Circo Aereo director Maksim Komaro (Motet) – representing the role of the building as a national centre, and making a start on one of its main goals, which is to give Finnish circus artists a reason to base themselves in the country. 'They go abroad for the education,' says Tomi, 'and when they study in France they have connections there and get work in France and it becomes easier for them to stay there. Also in France they have this generous unemployment system that's quite attractive. But more and more we are trying to give them means and reasons to be here also.' In future editions, the programme of the festival is likely to become more broadly international, but the Center will also operate as a year-round venue and expects to host about half a dozen premieres a year from Finnish companies. Alongside this there will be residencies at the space for projects at all stages of the creation process – with companies coming at the start, for a few weeks, with nothing but a head full of ideas, or equally at the end for full-blown rehearsals. And while the day-to-day running of the Center hasn't been nailed down yet, the idea is that there will be daily open training, 12am-5pm, for circus professionals. Tomi: 'I'm working to have the proper funding for the centre so we don't have to get the money from the circus artists – we want to get the money from the city and the state to give free opportunities to the artists.'
In collaboration with the Finnish Circus Information Centre, CIRKO is working to create higher education in circus. The plan is that when in 2013 the city's four big arts universities (Music, Theatre, Dance and Visual Arts) fuse into one, circus will slip in. The university premises are actually just 500 metres from Suvilahti, so students would be able to train and rehearse at the centre in the mornings. 'But the idea for the circus education is to have a very small group, a maximum of six or seven persons and to concentrate only on some disciplines,' says Tomi. 'Maybe juggling, aerial... but to have a small, focused group, and also to have a synergy with the theatre, dance, choreography that happens elsewhere at the university.'
There should be a vibrant exchange on-site as well. Cirko are the first to move into Suvilahti, but over the next few years the number of organisations on-site will grow to around 25 – and among them there'll be a new centre for performance art, studios for visual artists, writers and performers, and a graffiti gallery (with a shop to buy spraycans and the accoutrements of urban art). The whole area will be administrated by Kaapeli, the Cable Factory,1 another Helsinki cultural centre that was built into the shell of an abandoned industrial enterprise.
«
Inside it's cavernous and empty, 41 metres in diameter and 38 metres high. We went up to the lowest walkway, at the level of the great, rusted iron dome that would have risen and fallen with the pressure.
»
There will also eventually be new facilities at Suvilahti available for CIRKO to rent. A big, blank hall or convention centre is already mostly finished – a sterilised white chamber whose open front lies under tall, slim brick chimneys collared at the base by a (you have to think inadequate) ruff of safety netting – but more exciting will be the conversion of the old brick gashouse. After debating the safety of a visit ('it has been cleaned but there's still some...' – reaching a moment for the English word – 'poison'), Tomi took some of the visitors to CIRKO into the old building in small groups. Inside it's cavernous and empty, 41 metres in diameter and 38 metres high. We went up to the lowest walkway, at the level of the great, rusted iron dome that would have risen and fallen with the pressure. Grey walls were cut with stripes of glass bricks that ran from floor to ceiling and let in low, refracted light. The ceiling itself was a delicate and beautiful wooden dome; looking up, and up, the tiny planks appeared fluidly woven together. It looked more like a fantasist's drawing of a building than a building itself.2 Dizzy from poison, I duly imagined it filled with flocking birds.
The gashouse is due to open in 2013 as a proud addition to Europe's network of astonishing roundhouses, but Suvilahti will have a new tenant before that. A short walk from the CIRKO Center there's an old gymnasium building that was formerly used for the exercise of power plant workers. As yet it's musty and untouched – the hockey, tennis, badminton and basketball courts still marked, old sports equipment in recesses, flip-scoreboards showing their last ever scores – but its curving roof has already been assessed for rigging and plans are being drawn. Circus Helsinki, who are Finland's largest youth circus with around 700 pupils, will move into the building in summer 2012.
It's an exciting time, and a bittersweet moment for Tomi, whose responsibilities change with the new space: 'For me personally it's a very interesting moment because I was there when we established CIRKO in 2002. I was there to establish the project of the Information Centre and then at the end of March I quit the Information Centre so now I'm only in CIRKO. For me it's a different, new situation, and I have to focus my ideas in a new way. Also there's a feeling of giving up something... but we're still close.'
In fact they're only a flight of stairs apart, with the Finnish Information Centre taking up CIRKO's top floor. It's a small, clean space with a canary yellow floor and concrete curving roof, small glass-walled offices at either end, and a circle-top window that serves as a spying-pane onto the studio space below. It's like the brightest, nicest bunker in which you could wait out the years of radioactive decay. Taking over from Tomi, the new managing director of the Information Centre is Sari Lakso, who tells me that the aims of the Centre are to gather and collect information for and about professional artists, to undertake statistical surveys, and to promote artists and develop the sector by, among other things, lobbying government.
«
The Centre's goal is that in four years time the total funding awarded to artists and companies should be 1.8 million Euros.
»
Sari shows me the statistics for circus funding in Finland, which are shocking and joyful: 75,000€ in 2008, 155,000€ in 2009, 300,000€ in 2010, and 450,000€ in 2011. The funding for CIRKO currently lies within those figures (they're trying to get it out and funded as a national instiution), but the subsidy to the Information Centre is already allocated from a separate fund. This was 15,000€ in 2007 and rose in a similar way to 275,000€ by 2010. The Centre's goal is that in four years time the total funding awarded to artists and companies alone should be 1.8 million Euros, but Sari cautions that it will depend on a government that is currently shifting.
The Centre are nonetheless optimistic, and planning out their major activities for the next few years. One will be to continue to build up the library, which already has a good collection of books (about 20 or so in Finnish, many more in French) bolstered by articles and an archive of some 1500 VHS tapes that were digitised last year (like many an archive, the Centre has been lucky to uncover caches of material held by private collectors). Another will be to work to establish a touring network, which, along with the higher education course that the Information Centre are pushing for, will be an important part of the strategy to keep Finnish artists from drifting abroad. They have other plans to, including a magazine and an online archive, but as yet they're still preparing to open to the public in autumn of this year.
Basically there's a lot going on. Asked why the artform has been so successful in Finland, Tomi says it takes good planning and research, and the work of committed individuals, but that the most important thing is 'you should have very good artists'. 'The artistic work should be of a very high level. I feel we have been lucky to have Circo Aereo and other pioneering companies who have been good enough for us to show to our supporters.' Now Circo Aereo have an office on the same floor as the CIRKO team. 'The first Aereo show I saw was in 1998,' says Tomi. 'They were young. Maksim was only 24 at the time; Jani Nuutinen also was just a boy. They've developed and the kind of genius of Maksim has grown so much; its been amazing to see. I'm so glad I'm still able to work with him.'
With the Cirko Festival now over, the CIRKO team are switching their attention to the next major event, Cirko Pikkolo, a festival of contemporary circus for young children, and getting stuck into the work of arranging the Center's daily operations – it's residencies, and training, and year-round programme. Important things to get right, because it's a sure thing that, sooner rather than later, artists from abroad are going to start moving to Finland.
Tomi Purovaara and Sari Lakso were interviewed 7 May 2011 in the glass offices of the
CIRKO Center
and at a table at Restaurant Lämpö, respectively. CIRKO officially opened its doors on the first day of the Cirko Festival, which ran 4-11 May 2011, and in August the Center will be producing a festival of contemporary circus for children and young audiences, Cirko Pikkolo. The
Finnish Circus Information Centre
will open its library to the public in autumn 2011.
Notes
1 Helsinki's last great success at renovating an old industrial space, the CF used to be owned by Nokia and was a factory turning out telecommunications cables – including the great long undersea ones connecting continents. I visited it. It's pretty much a citadel, Europe's largest cultural centre with these great bright halls – accommodating indoor and outdoor markets, galleries and an outlying bastion of the ever-present Institut Français. It was the former director of the Cable Factory who became the cultural director for the whole of Helsinki in 2004, and who offered Cirko their home.
2 One of the environments in Ico, perhaps.