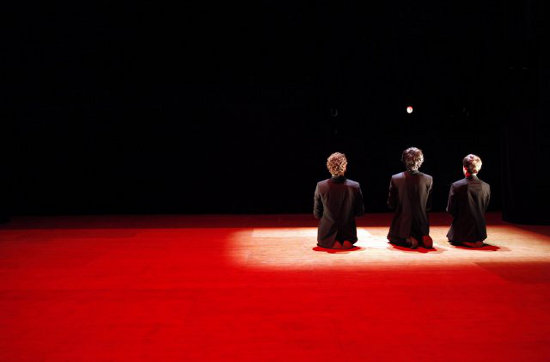 Sometimes it seems there's scarcely a juggler who's not deeply interested in mathematics and the sizeable body of music that closely abuts it. Whether it's Bach or barcodes or microtones, jugglers can be relied on to reach far outside the usual circus repertoire of tango and Yann Tiersen—and, in the nerdiest instances, to let that music score the technical aspects of their work.
Pan-Pot, subtitled Theme and Variations for Three Jugglers and Pianist, puts Julien Clément, Denis Fargeton and Nicolas Mathis on stage with musician Aline Piboule, a huge supply of white juggling balls, a mannequin (sometimes), and nothing else. Lit with painterly care and extreme restraint, the three jugglers in dark suits, Pan-Pot takes the method of deadpan clown and develops its rhythms of anticlimax and silence within a completely abstract structure. Julien Clément is a relatively neutral presence, but Denis Fargeton and Nicolas Mathis's clown personae are both subtly present—Fargeton with classic ruffled vacancy; Mathis in his walk and small, satisfied smile slightly but resonantly recalling a mincing courtier, a character he obviously hugely enjoys.
Pan-Pot divides into four movements—four distinct movements according to the programme, but while I was faintly aware that the pianist would open and shut the key cover to mark the sections, I was too caught up to have much of a sense that the piece divided into quarters. I think though, approximately, its movements were obfuscation, revelation, time and climax. The first two are simple enough—the three begin juggling with their backs to us, concealing their manipulation so that the balls appear to leap like silver fish, and then we see the same patterns as they face stage-front, and the focus becomes the eccentricity of the timing—what appeared simply a pause before is filled now by a juggler shaking his ball like a malfunctioning clock. The third quarter, which I'm saying rather fatuously is about time, is profound, warping and occasionally baffling—because now balls fly wildly to the wings not because there's no one there to catch them but because there's no one there to catch them yet: Clément and Fargeton pass at top speed for a minute as Mathis crawls across the stage, incredibly slowly, and raises his hand, incredibly slowly, arriving at exactly the right place, at exactly the right time, to catch a sudden fastball. Watching patterns appear, break, reappear and conclude as the jugglers (here sort of facilitators) step in and out of different time streams is as musically compelling as a symphony—building and dissolving and building its motifs, each time a little higher. In Pan-Pot's final section, which is set up like an encore with the performers leaving then returning laden with whole baskets of balls, patterns and intricacy are less important than sound and shape, and there's nothing, after all the structure and order, quite like seeing twenty balls bounce every which-way across the stage.
But where on Earth do they go from here? Having successively stripped back the theatrical machinery of their shows to the point where they can get a laugh from, entirely, a mannequin and a light cue, how do they move forward? Perhaps it underestimates their intrepidity as a company, but you almost feel that Pan-Pot is the end of the line: as good as it can be; a piece which can, like music, with one expansive movement, send the mind flying outward.