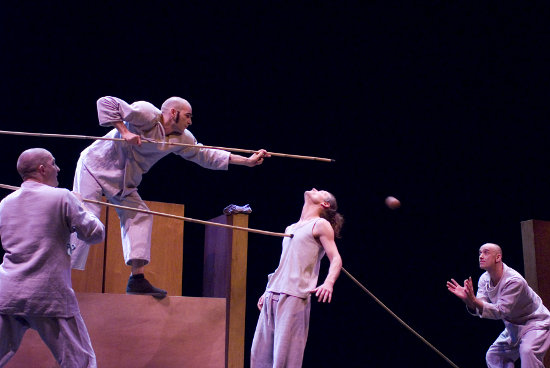 Les Argonautes are, in essence, a troupe of musical clowns, 'making circus, where movement is king and speech sleeps' as they charmingly put it. Brussels-based, the company works under the direction of musician, actor and scenographer Louis Spagna, and the other four company members are gathered from the ranks of L'Ecole de Cirque de Bruxelles (where they all trained and some now teach), the ensemble comprising juggler (former Cirque de Demain gold medallist) Benji Bernard – the newest Argonaute, bearer of a rather splendid set of 'Frankenstein' shoulders and sideburns that are a rather shocking contrast to his bald head; musician-actor and equilibrist extraordinaire Christian Gmünder; acrobat and juggler Philippe Van de Weghe; and the vibrant and fluid physical actor Etienne Borel (these latter 'three musketeers' are all longstanding members of the company).
Pas Perdus ('Lost Steps') is not a new show – it has toured mainland Europe extensively since 2007 – but makes its UK debut here in Edinburgh, where the company achieved previous success with Zouff! at the late, lamented Aurora Nova festival of visual theatre.
Gentler and dreamier than the zany Zouff!, at least in the first half of the piece, Pas Perdus presents us with a puzzling parallel universe in which our valiant gang-of-four battle with their environment, facing and overcoming absurd challenges – a kind of existential Jeux Sans Frontières. Their main adversaries/obstacles are half-a-dozen giant wooden blocks that are rather like oversized pieces in a Jenga game. Other toys that they have to play with, which come onstage at various points to challenge or torment them, are 'normal' sized wooden bricks, long bamboo sticks, and various musical instruments including a full drum kit. With a kind of surreal internal logic, they move from one bizarre game to another, each vignette offering the opportunity both for the company to work as an ensemble, and for each member to show off his particular skills. First, there are little brick towers to be built, then there is a crazy twist on the pick-up-sticks game that turns into a ludicrously intricate balancing act, then we move onto the big Jenga pieces for an extraordinary set of balance-and-gymnastics tasks, and, with the arrival of the instruments, some very special musical clowning in which the whole stage becomes a kind of giant musical instrument as drum sticks are juggled and thrown from afar at snares, violins are played four-handed, and the Jenga blocks are tipped over to become big musical stepping stones. Throughout, our team are coerced and mocked by a Deus Ex Machina gamesmaster – a disembodied voice from above that suggests, in the worst sort of Californian self-help book mode, that they 'relax' and 'take things easy'.
Les Argonautes are masters of ensemble comic circus-theatre, and the fact that most members of this troupe of highly skilled performers have worked together since 1995 shines through in the care and precision of every moment. In an example of what we might dub 'the Torvill and Dean syndrome' we actually fail to appreciate how difficult much of what they are doing onstage actually is, as they make it look so easy. Sometimes, though, in true clown fashion, they remind us of the difficulties by 'getting it wrong' before they get it right, and there are some extraordinary moments as performers are precariously perched on thin sticks, or excruciatingly stretched between blocks, dangling above the ground.
Yes, it could (as the company's PR suggests), all be seen as a metaphor for life: 'the boxes remember the time when they were trees. Men remember they will end in a box.' Perhaps more importantly, it is a pure homage to the human spirit of play.
It feels, perhaps, just a little too long: knock ten minutes or so off the set-up and early juggling sections and it would be an even stronger piece.