Opening today, across the water: Chicago Contemporary Circus Festival. With eight companies (seven North American, one Finnish) and as many full-length performances, a couple cabaret nights, a youth circus showcase, and a programme of 23 workshops/discussions/seminars, CCCF is another sign of the growing momentum of contemporary circus in the United States. A new initiative, and the first festival of its kind in the country, it's nonetheless driven by a collective desire that's been there for a long time: American circus artists would like to be able to present their own work in their own country.
'These last few years I've seen so many friends work their asses off on amazing new work only to have to move to another country to perform it – or get signed by Cirque du Soleil and have to do something completely different from the material they poured their heart into,' says Shayna Swanson, along with Matt Roben one of the producers for the festival. 'I think that we in the US deserve to see the fruits of these artists' labours.'
Chicago is one of a handful of cities in the US that already has a strong circus community and background, even if it's under-recognised and under-resourced. Shayna points to Midnight Circus and The Actors Gymnasium as two companies that were among the first to lay the foundations of a circus scene in Chicago, as well as name-checking Lookingglass Theater and the Lyric Opera as companies using a lot of circus artists in their productions. Shayna is herself the founder of the Aloft Loft, an 8000 square foot teaching and training space that houses the company Aloft Circus Arts and hosts the regular El Circo Cheapo cabarets (two performances of which are appearing at CCCF).
Co-producer Matt Roben is an independent actor and circus performer, now living and working in Chicago, who trained at the École Nationale de Cirque. 'When I was at school at the ENC in Montreal,' Matt remembers, 'I was never really prepared for the reality that I wouldn't be starring in a huge show my whole life, performing my bike act on giant stages with perfect floors and a tech crew larger than most new circus companies' entire team of performers and staff. What I found instead was that by making the choice to move back to the United States and not stay in Montreal or head over to Europe I felt like my career never really went in the direction I envisioned or was prepared for. Then, seeing all of my friends go back over to Europe and achieve success with small companies always made me insanely jealous. Why doesn't the US support this type of work? Only now do I feel like I am starting to finally see some companies make progress, albeit painfully slowly in the US, with presenting this style of circus.'
With the exception of the Finnish aerialist Ilona Jäntti, the companies and artists at CCCF all originate from or work principally in North America. Asked about the selection process and the priorities of the programme Shayna explains: 'We wanted to focus on American artists and shows, but we also really wanted to provide a diverse line up of really professional and innovative work. We wanted the work to be unique enough for US circus artists to be inspired by it, while staying accessible enough to be a gateway drug for people that are unfamiliar with contemporary circus.'
'The public still doesn't seem to understand there is something simpler and much more beautiful than the $80 million shows they think of as being new circus,' says Matt. 'This is what we hope to change with the CCCF.'
Among those presenting work at the festival are The Acrobatic Conundrum, an eight-strong collective led by Terry Crane, a corde lisse specialist who's been forcibly removed from many of France's finest circuses; Dean Evans, a bouffon / grotesque / terror clown who inhabits the character Honeybuns (subject relaxes at home); and contortionist Andréane Leclerc, whose piece Cherepaka: The Death of a Turtle is inspired by Deleuze's philosophy and Francis Bacon's paintings. The festival has also supported the development of a new piece, Running in Corduroy, by the artist Brian P. Dailey, and has plans to commission more works for future editions.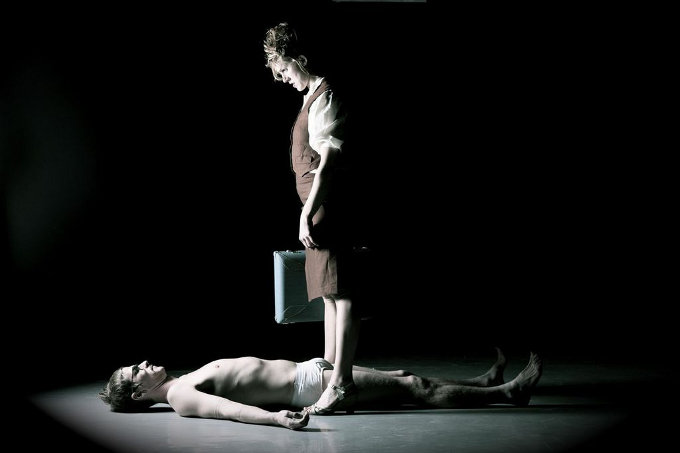 CCCF shows are spread across three performance spaces – two of them in the same venue, the Athenaeum Theatre, which also houses most of the festival's workshops. ('The idea was to sort of trap everyone in this big 100 year-old haunted building so that everyone has to meet and talk and network,' says Shayna.) The festival's professional development programme is being run by the organisation Circus Now and covers the whole professional territory, from the practical ('Anatomy Basics for Circus Performers', 'Techniques for Circus Audition Preparation') to the aesthetic ('Fail Better: Recent Developments in Contemporary Clowning') to the theoretical ('Circus Intersections: Emerging Circus Thought in the Academy'). 'The workshops are meant to bring people together and, we hope, elevate the discourse,' says Circus Now national director Duncan Wall. 'There's a lot of people making circus and teaching circus, but this kind of collective talking and thinking about the art, which is quite common in Europe, is relatively new. It's happened before, but mostly locally. The workshops are an attempt to take those conversations national and enliven them with voices from outside the sector.'
Adds Shayna: 'Throughout my career, I've sort of felt like I'm walking around in the dark looking for a light switch. It sucks. No one will really tell you anything... resources are too scarce in the US. There's not enough jobs, not enough funding, so no one will reveal their sources and techniques. That worked for individuals for a while, but has done nothing to move the community forward. We all have to overcome our fear of someone else getting The One Job and start developing new jobs for our community. We desperately need more people making shows and fewer people making acts. And, even more than that, we need more people making good acts and good shows. So we want people to be inspired by the shows they see at the festival, and then learn how to turn that inspiration into action at the workshops.'
Chicago Contemporary Circus Festival runs 6-12 January 2014. For more information see the CCCF website.