These last two weeks half a dozen circus artists and companies have been cloistered away from the outside world, visited only by a small group of lighting designers, scriptwriters, dramaturgs and others, as they work through a unique sequence of creative and practical assignments, mentoring sessions and production surgeries. The occasion is a laboratory in a church: the VOLT Circus LAB, a ten-day research intensive produced by Ausform in partnership with Circomedia and held at St Paul's, an old ecclesiastical space refitted for circus performance and creation.
The pilot for a scheme the organisers hope to run over the next three years, the LAB is a reflection of a particular approach to artistic support, or a kind of ethos: practical, flexible, individualised, and committed to drawing artists and producers together in a close, responsive relationship. Lina B. Frank, Ausform's director and executive producer and the driving force behind the LAB, stresses this point most of all when talking about the scheme: each artist has their own project and their own path, no two alike, and so they receive support tailored to their particular needs. In some cases this will mean practical tasks – a workshop on writing marketing copy, or a production surgery on how to apply for funding. In others, it will mean the artists being challenged in their creative process – often with the input of outside mentors.
'The lab is about asking questions and finding some solutions,' says Lina, 'but it's also about artists challenging themselves in their practice and being open to discovering the usefulness of things they hadn't previously considered relevant. For instance, for some companies I felt it was essential that they learn improvisation tools from a theatre practitioner. Ziggy Slingsby worked on her solo show Horse with Edward Rapley, a theatre practitioner who's incredibly experienced in devising solo performances. Before coming to the LAB Ziggy had mainly worked with Butoh practitioner Holly Hoult, and Edward's session was to remind Ziggy of how to be alive for an audience while keeping the material and performance quality she'd devised with Holly.'
Lina points to this meeting of diverse practitioners as an integral part of the LAB's approach, but clarifies that the idea is for circus artists to draw on the 'research techniques' of other disciplines, not necessarily the mediums. 'Circus often feels isolated and I don't think it needs to be,' says Lina. 'Circus has an incredible all-encompassing DIY attitude so it's great to mix this with theatre practice where everyone is specialised in something. I find that the expertise which is less obvious, such as the role of the outside eye or dramaturg, is often undervalued. I also find that artists aren't aware of each other's processes. The obvious example being that a scriptwriter has a process to create narrative, not just to write words to be spoken... These processes are languages and are terribly useful behind the scenes. Increasing your vocabulary for show-creation and drawing on the expertise of others will ultimately increase your ability to create the show you intend your audience to experience.'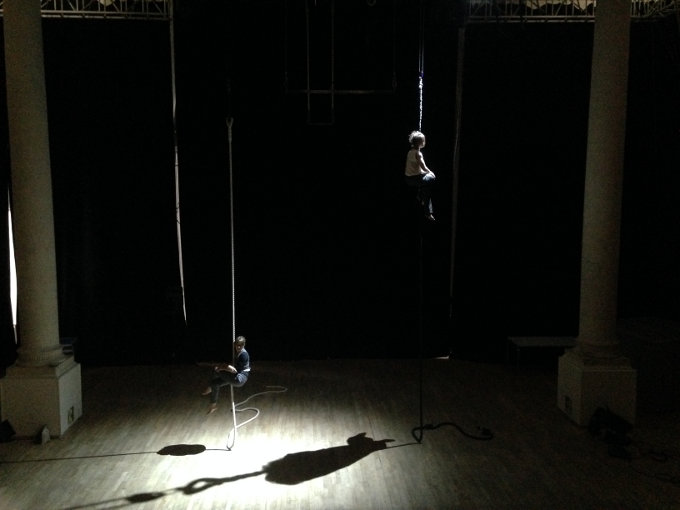 In all there are six circus artists/companies working in the LAB, supported by ten professionals from various artistic and production backgrounds. Willow Vidal-Hall and Grania Pickard have been working on The Glass Ceiling, a piece which looks at repetitive behavioural patterns as a way into speaking on gender inequality. The Two Flying Williams (Will Davis and William Wagtail) have been developing Reach, a performance reflecting the intricacies of a relationship through new doubles technique, and Bella Kinetica have been refining their show Life on Wheels, a performance on roller-skates and aerial apparatus set in the post-war era. Ziggy Slingsby has been working on her piece Horse, a performance for one rope artist and one bone-white horse skull that looks at the relationships, both theatrical and instinctual, between the human and the animal. Mike Bell & The Play People have been developing the clown piece The Unstable King, and, finally, the artist Truan Mathias has been looking at extending his comedy and contact juggling work into a longer show.
Although the LAB artists are focused on their own projects, they work in parallel sessions at St Paul's. 'I wanted us to feel like we live in the church for the two weeks,' says Lina. 'Participants come and go, no one outside is around. There are three spaces and two sessions a day. Three companies will be working at any time in different spaces on different aspects of show creation. Between the morning and afternoon sessions we all have lunch together and talk about things other than the work.'
The LAB, which is funded/supported by Ausform, Circomedia, Bristol City Council and Arts Council England, is part of a larger push to make Bristol a kind of lighthouse or beacon for anyone working in or with circus. 'The city is already strong for circus training,' says Lina, 'but we want to make it a "circus destination". A bit like people travel here for the graffiti. We want all kinds of circus processes and learning to take place in Bristol and we want to make the world feel that circus is for everyone, whether you love high art, clubbing or exercise.'
For more on the project, and to read reflections written by the participants, check the LAB's
blog
. The LAB ran 4-8 and 11-15 August 2014; it was produced by Lina B. Frank for
Ausform
in partnership with
Circomedia
, and was funded by Bristol City Council and Arts Council England.
The participating companies were Ziggy Slingsby, Will Davis and William Wagtail, Grounded Aerial, Bella Kinetica, Mike Bell & The Play People, and Truan Mathias, with support from Linn Broden, Ed Rapley, Adam Peck, Bim Mason, Silva Semerciyan, Tom Richmond, Anna Johnson, Rebecca Fitzgerald, Hannah Sullivan, and Lina B. Frank.