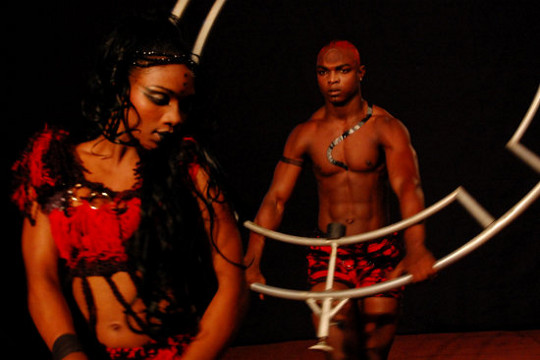 Musclebound attitudinal big boys. Coming out of the Colombian school Circo Para Todos – a project to take street children and displaced youths and improve them through the virtues of intensive circus training – Circolombia is a company formed from the school's students and graduates. Members of the troupe first appeared at the Cirque de Demain festival in Paris in 2009, with a larger group going on to make the full-length show Urban, a piece (roughly) about life in the city of Santiago de Cali that's toured widely around Europe.
Magazine
By Dorothy Max Prior on 21 May 2010 in
Reviews
With a dearth of circus or physical theatre work in the Brighton Festival, it came down to the Fringe to fill the gaps. Enter the Freerange: a great red plastic geodesic dome which was parked on a church green in central Brighton—a temporary refuge for circus, variety and cabaret.
By John Ellingsworth on 1 February 2009 in
Features
I might as well be at the Eurovision Song Contest. Awful brassy music is playing as lights sweep across the tent and stage and performers march on from either wing, waving national flags. Topless men; women in spangly leotards; obvious clowns. A troupe of girls in white appear to continue Chinese circus' gleeful indiscriminate sacking of western popular culture by wearing ten identical Uma Thurman Pulp Fiction wigs. As the lights swing out to rake the front audiences the compere welcomes us to the 30eme Festival Mondial du Cirque de Demain, held here in the enormous 2000-seat Cirque Phenix in an outlying park in south-eastern Paris. He is actually welcoming me for the fifth time.