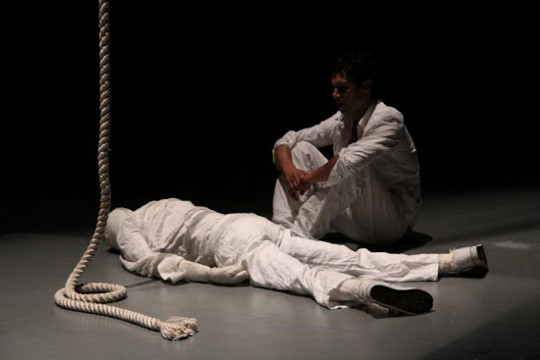 Circus on the couch. One of the founder members of the late Company FZ, John-Paul Zaccarini is a performer, director, choreographer, dramaturg and mentor who recently completed an artistic research PhD with DOCH in Sweden. The subject of his thesis was circoanalysis, a hybrid of circus, psychoanalysis, ethnology and phenomenology that's both an intellectual methodology and a practical route map for working with circus performers.
Magazine
By John Ellingsworth on 30 August 2009 in
Interviews
'We go into the circus because we know that there isn't a script. We're not playing someone else. I know actors will say "when I'm playing Macbeth I'm not playing someone else, I'm playing the Macbeth inside", and that's one school of acting. But essentially we go into circus because we don't want to do someone else's thing. We want to do our act. So what we're doing is telling a personal—a really personal—story there. So why do you need another story?'
Circus and rope artist John-Paul Zaccarini talks about Circoanalysis—a blend of circus and psychoanalysis that aims to strip everything back to find the metaphors and stories at circus' heart.