To open the new year, Sideshow invited a selection of circus artists to respond to a simple question: what are you going to be working on in 2015? Here Arron Sparks approaches several new projects, Le Poivre Rose take their baby on tour, and John-Paul Zaccarini doubles down on artistic research.
Arron Sparks
My year starts with a couple of weeks with the constantly touring Smashed – in Budapest and Istanbul I think. In February the first Beta_Testing tour starts. We're touring across the UK for a couple of months, from theatres to community halls and I can't wait. At times it's going to be pretty full-on and I'm looking forward to negotiating life on the road.
I'm aiming to do the Brighton Fringe with Down-Up, so I need to spend some time reworking the piece before then, probably adding a scene or two and polishing. Matt Pang and I also have creation time for the show Project_Vee, and will be premiering it at the City of London Festival. The idea is to create an outdoor show, fairly classic in format and yet mindful of overly recycled cliches. I have no idea how it will turn out, just that it will be dangerous and fun; we have built a beast!
I'm not sure about my summer; Edinburgh Fringe is calling but I'm not settled on that yet. All I really know for sure is I'm revisiting a gig I've worked before: the German Variete. I'm spending two months in the autumn working pretty much every day in a beautiful small theatre. Most likely I'll be performing a new number – I have a brief that it needs to be up-tempo and between 5-7 minutes.
While I'm away I'll be planning my next show, and hope to work on that towards the end of the year. I've been interested in logic and sceptical thinking as long as I can remember and think I need to make a show about that.
www.circusgeeks.co.uk / www.arronsparks.com
Le Poivre Rose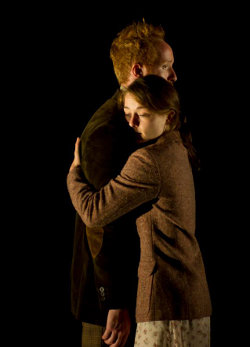 For us 2015 is the first year of our baby. We made a show, like you make a baby, from love and through pain. We delivered it last summer in Prague. Now it's time to raise it! It is a thing that is alive by itself now, with its own personality and its own smell. We are excited to get to know it better and to see it grow and mature.
Our newborn will keep touring in different festivals in France, Spain and Belgium in the spring. We played at CIRCa a few months ago and that gave us a little push for bookings so it seems like there will be some nice touring this summer and next autumn.
Creatively, each member of the collective is still involved in other projects so that will keep us extra busy and wide-awake! Thomas will be touring all around Europe during the summer with 15ft6. Valerie is performing with James Thierrée's Tabac Rouge in Australia, Russia and the US. Claudel will be in creation with Nadere Arts Vivants on a new show (Montréal) and with Gynoïdes Project (Sweden).
We also have to play without our live musician for the first time, have to replace one of the company for the summer, get our stuff ready for overseas touring, get a new pole, and do a bunch of administrative work, plus both duos are having training residencies in Stockholm (trapeze) and Montreal (portés). We are looking forward to getting on the road and seeing what the new year brings for our project!
John-Paul Zaccarini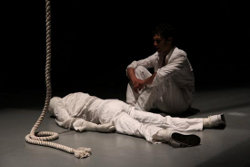 I have two main focuses in 2015. First, continuing my own journey as a postdoctoral artistic researcher. I'll be starting the next phase of my research project 'The Socio-Political Dimension of Circus', called Circus at the End of the World, with a group of circus artists, pedagogues and actors. The last project was entitled The Ethics of Circus – how can we make space for the spectator rather than fill it, how can we make time for the spectator rather than take it? The only way to start thinking about politics, for me, is to start with ethics, and from there to name a concern.
Research for me is about deep personal engagement with the socio-political and affective conditions that surround us as artists, as lovers, friends, parents, etcetera… it is to never once to think how the work could be sold, yet always to bear the spectator/participant at the centre of the work's concern.
I'll also be curating, together with colleagues at Stockholm University of the Arts, CARD2 – a Circus Artistic Research and Development Conference here in Stockholm in December 2015, and putting the finishing touches to a new Masters in Contemporary Circus starting autumn 2016.