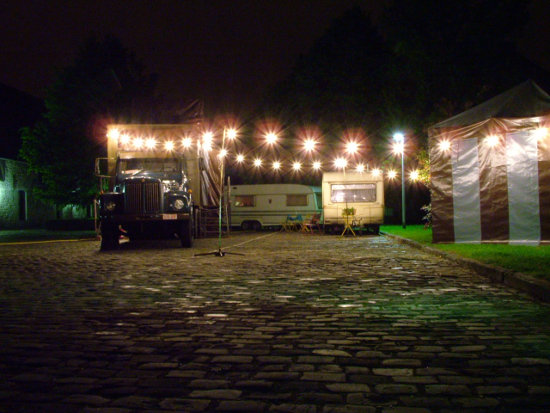 Sideshow visits the Southern French town of Auch for Festival Circa, a nine-day programme of student and professional work, and one of the big events on the contemporary circus calendar...
I: An Analogy
Central Auch has a network of public service tannoys strung down its market streets that play music selected from random eras; they have pretty weak range, the tannoys, so the effect is sort of walking through pockets of historic groove – accordion dubstep, hits of the 90s, R&B – the way you might walk through the lit conical zones of streetlamps. 10am in the morning, everything closed, shutters bolted, no one on the street, hot sunlight and chilling air, you hit a bit of Salt-N-Pepa.1
It seemed to be all hours, the Auch music network, and I liked it so much that trekking between venues I'd go the long way round just to walk through the hooked-up streets and see what they were playing – and to spend more time speculating on the individual who would put together this genre-blind, country-crossing megamix of mostly questionable quality (Salt-N-Pepa exempted of course).
II: Country-crossing
«
Not everyone who works in contemporary circus is at Circa, it wouldn't be possible. What it is instead is about as close to everyone as reality will allow.
»
Everyone was at the El Sol. The northernmost of the two cafés either side of the Place de la Liberation,2 it caught the afternoon sun while its southern twin, Le Daroles Brasserie, lay shadowy and unvisited. I arranged a couple of meetings at the Sol, and I bumped into some people, and whenever I passed the clientèle was refreshed but, at all times, you could see, from the festival: French producers, identifiable by glasses (as in spectacles) with wide, transparent, coloured armatures; circus students, always in groups of five or six, excited by whatever show they'd seen the previous night; non-local audiences, meaning hardcore audiences, with programmes and maps, talking for the most part less excitedly about whatever they'd seen the previous night; and the artists themselves, drinking tiny coffees, familiar yet difficult to approach.
Not everyone who works in contemporary circus is at Circa, it wouldn't be possible. What it is instead is about as close to everyone as reality will allow. It's the place you come to meet face-to-face with colleagues from around the world, and the undertow of the festival is its industry programme: networking events, receptions, books launches, panel discussions, and two all-morning blocks of artist presentations organised by Circostrada. I went to one of these, briefly; it's a real marketplace. A long room with a projection screen at one end and the artists at a small table, each presenter afforded about five minutes to put their project across, the professionally obliged audience of promoters slid down a little in their seats with their arms crossed, getting up and leaving in shifts for a fag outside on the sunken patio before the main doors. (I scooped up armfuls of leaflets from the trestle tables and left.)
In attempting to catch the broadest possible spread of attendees, Circa throws out three strands: the industry programme; the professional programme (i.e. the fifteen-sixteen public, finished productions); and the student programme. The students are from twelve attending FEDEC schools – drawing from France, Italy, Belgium, Germany, Switzerland, Sweden, Canada and Spain – and at Auch perform in a rotating series of presentations, the Circle. It's open to the public, but it's not for them: it's for the students. The school that's performing on stage on a particular afternoon gets a little performance experience in front of a large and vocally engaged crowd, but it's more about the eleven other schools sitting in the audience, and giving them a really unparalleled opportunity to see the methods, techniques and aesthetic lines of their international peers.
On a smaller scale, this is how Circa began. It started in 1988 as a meeting of circus schools under a single tent, and was called La Jeune Chambre Economique. It attracted some interest, FFEC (Fédération Française des Écoles de Cirque) and CNAC (Centre National des Arts du Cirque) came on board, and the single chapiteau became a whole village of tents pitched just outside of town. Then after ten years or so the first generation of students, by now working as artists, returned to Auch to add a professional programme to the festival. In 2003 the festival moved into the town centre, arriving at the format that Circa continues in today.
III: The Megamix
«
It's still a tent festival, with chapiteaus by the river, in car parks, hunched low outside the gates of Auch's towering cathedral, at the head of the Parc du Couloume
»
It's still a tent festival, with chapiteaus by the river, in car parks, hunched low outside the gates of Auch's towering cathedral, at the head of the Parc du Couloume – among the life of the town.3 It's protective too of its origins as a student festival, and careful not to let the professional programme or other activities overbear the meeting of the FEDEC schools. I got to talk a little with Circa's Director, Marc Fouilland, one morning, and he was adamant that the festival is for the students, and that each year the professional programme is assembled to give them the widest possible view of developments in the artform: 'Every year I want to present the new circus for the students – where contemporary circus has gone in the last twelve months, and the shows are very different because the new circus is different.'
The one thing that might strike you as missing is any sort of workshop or development strand to further bind the festival's professional and student programmes. It's mostly a matter of having the facilities, though, and work has begun on the Centre d'Innovation et de Recherche Circassien (CIRC), a creation centre dedicated entirely to circus, with (and this is right now visible only in the architect's plans) a huge silvery perma-tent, a rehearsal studio and training space, offices for the festival staff, accommodation for visiting artists, and camping grounds for those with caravans. It will also be able to offer residencies, providing a means for the festival to develop closer ties with the work it presents (and at a deeper level to influence the artform that it showcases). One of the key features of the CIRC, built in from the start, is that it's been designed to be reconfigurable for front-on and in the round staging, and to adapt to the demands of any discipline or mode of performance. You'll be able to put anything on there.
IV: Genre-blind
Naturalism: Théâtre d'un jour, L'Enfant qui....
Minimalism: Tr'espace, Le Cercle.
Lad Circus: Ea Eo, m2.
Student Variety: Pop Circus, Avec la pêche ça passe.4
Street Performance: Les Apostrophés, Cabaret Désemboîté & Cie Akoreacro, Pfffffff.
Epic Spectacle: CirkVOST, Epicycle.
Exceptional Convolution and Weirdness: Anomalie & Les Witotos, Mister Monster.5
Concept Circ: Cridacompany, aïe & Jérôme Thomas, Ici.
Installation Circus: Burencirque, Nord/Sud.
V: Questionable Quality
«
At Circa you will see some bad work.
»
I always think the most successful festivals are the ones that manage to fold bad experiences into their essential character – think of Glastonbury churning up like a wartime trench, or the predominance of shows at the Edinburgh Fringe performed by people fundamentally quite unsuited to performing.
At Circa you will see some bad work. My early conviction that Ici would be the worst of the festival was proven terribly, terribly wrong by aïe, where even the highest points seemed only shallower troughs in a murky and torturous journey through an inert, alien sea. I was horrified to see an encore, but talked to at least one person afterward who liked it, in a provisional sort of way, and was introduced to the idea that many of the shows at Auch are in a raw state, and for the professional audience the skill is in identifying which shows might, down the line, with some attention and care, begin to shine.
Marc confirmed it: 50% of the shows at Circa are programmed before they've been made. That's an attractive point for promoters; perhaps as a luxury of not paying for my tickets I find I can enjoy it. For regular audiences I don't know. The evidence is that they keep coming.
It might seem strange that a festival that is, at its heart, a pedagogical exercise should be so large6 and successful, but I think – alongside the natural and tangible benefits of gathering so much common experience and interest, so much likeness, in one place – part of it is that mixtape vibe: a programming style that's not trying too hard to please you, and that's not constantly second-guessing what you might want or want you might like. It feels just... relaxed. And good. Unusual. I'd say go.
Festival Circa
ran 22-30 October 2010. The Centre d'Innovation et de Recherche Circassien is due to open in time for the 2012 festival, giving you a little less that two years to plan out how to get there.
Marc Fouilland was interviewed 29 October 2010 in Festival Circa's offices.
Notes
1 PUSH IT.
2 A roundabout.
3 This is perhaps carried to the point of being a little wilful: pitching a tent outside the main gates of the city's cathedral and archiepiscopal palace is bold, but the inclined road can't be technically ideal. I suppose it's more about staking ground before Auch's major landmark. Coming over the river Gers, it's the first thing you see: the twin towers of the Cathédrale front-face, the highest point in Auch, rising up from a thick-walled, ringing citadel that seems actually to be a part of the town, sloping down into the flow of houses and streets.
4 A boisterous 35th anniversary celebration of Auch's local youth circus, featuring current and graduated students alongside the school's teachers, and thematically touching on cat burglars, power ballads and Mexicans.
5 My language improved a little in the course of the week (at any rate people's faces seemed less to reveal that my French was broken glass that I was asking them to consume), but was still defeated by the mid-section monologue of Anomalie & Les Witotos' Mister Monster, the whole production a boiling chthonic nightmare where the white minimalism of a dinner party salon bleeds out into a timeless shadowed forest where walks The Beast. I guess I understood one thing – 'La forêt est dangereux' – but otherwise the production just sort of sawed at my nerves, slowly – accretively troubling and dissonant like some traumatising fairytale about a dark nightly visitor.
6 Circa is big. Official 2010 factsheet sez: 11 festival sites; 630 students from 18 schools; 193 volunteers; 255 festival organisers; 38 shows for 79 presentations; 24,474 paying audience members.